2016 Mercedes Benz AMG GT
September is always a  month of surprise, from weather change across the globe to the arrivals of the new technology. Many people knew and were waiting for Apple's new IPhone 6 and had put a reminder on their calendars that September 9th will be the official release day. Though the new IPhone wasn't anything new except few minor evolutionary changes with no WOW factor but there was something more exciting for the September 9th and not many people knew about it. Yes it was also the official debut of the new two seater sports car from Mercedes code named C190; or commercially called 'Mercedes Benz AMG GT'.
Mercedes was working on the new sports car segment to fill the gap due to the departure of SLS AMG with gullwing doors. SLS will still remain an iconic breed in the automotive history.  Mercedes wanted to target the German rivals in form of Porsche 911 and Audi R8 with the introduction of its 2016 Mercedes AMG GT. Mercedes was short behind in this area till now.
The GT, in looks resembles the SLS with the long hood and wide rear end but not with gullwing doors. When Mercedes designer started working on the design of GT, they took their design clues from the impressive SLS and it is somewhat visible in the new car. The GT is lighter, smaller, and cheaper than the SLS, which easily was above $200 thousands.  With expected base price of $120K, Mercedes wants GT more and more on the road and make it affordable to buyers and putting somewhat a sales dent into R8 and 911 statistics. Mercedes is hopeful to see around 3000 units a year in United states.
"The new Mercedes-AMG GT is a sports car in its purist form", says Gorden Wagener, vice president of design for Mercedes' parent Daimler. "Breathtaking proportions, powerfully sculpted surfaces and flowing lines turn the new AMG into a contemporary sports car which embodies the spirit of the glorious Mercedes sports cars."  
The GT is powered by Mercedes Benz new front mounted V8 Bi-turbo engine "M178". This new engine will be used in a lot of new upcoming performance AMG vehicles. Power is sent to rear wheels by a new AMG SPEEDSHIFT 7 speed dual clutch transmission with paddle shifters. There will be two variants for the new car.  An AMG GT  with output of 456 hp and acceleration: 0-60 Mph 3.9 s and top speed of: 189Mph (304 km/h) while a faster version  an AMG GTS 503 HP with acceleration: 3.7 s and top speed: 193 mph (310 km/h).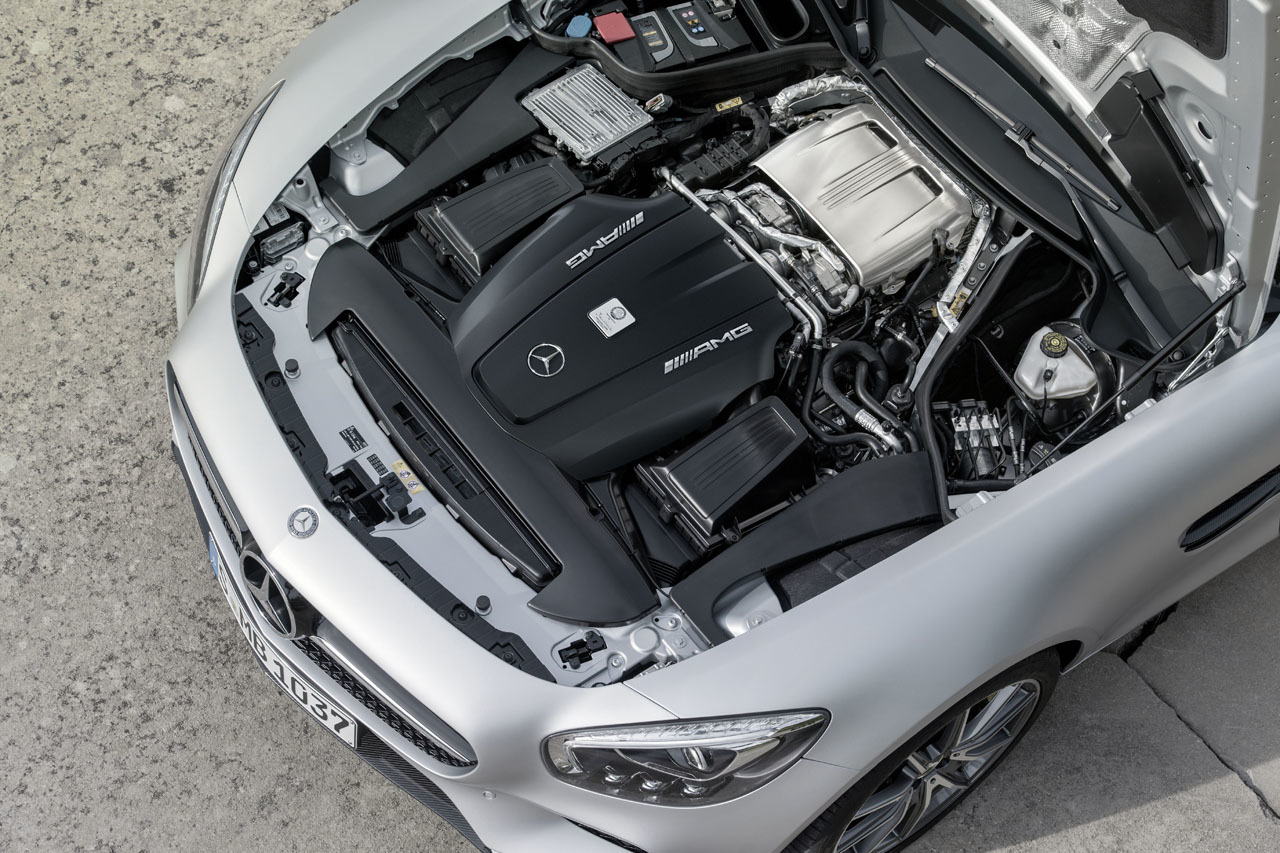 A sport-tuned exhaust system, electronic locking differential and adjustable sport suspension will all be standard, while carbon ceramic brakes will be optional. To keep weight lower, the GT's frame is 90% aluminum as well as most of the body panels except the trunk lid which is made from steel. With a bodyshell weighing just 233 kilos, the Mercedes-AMG GT is a leader in the sports car segment.
The most exciting is the Dynamic Plus package available for the GT S. The technology dynamically adjusts the engine and transmission mounts. When cruising, these are soft and compliant but becomes firm during performance/ race driving. The interior is also all new and takes clues from the current Mercedes line up with the on dash mounted LED screen as well as open round vents for HVAC.  The car will be offered for sale by mid of 2015 across the globe initially on confirmed orders.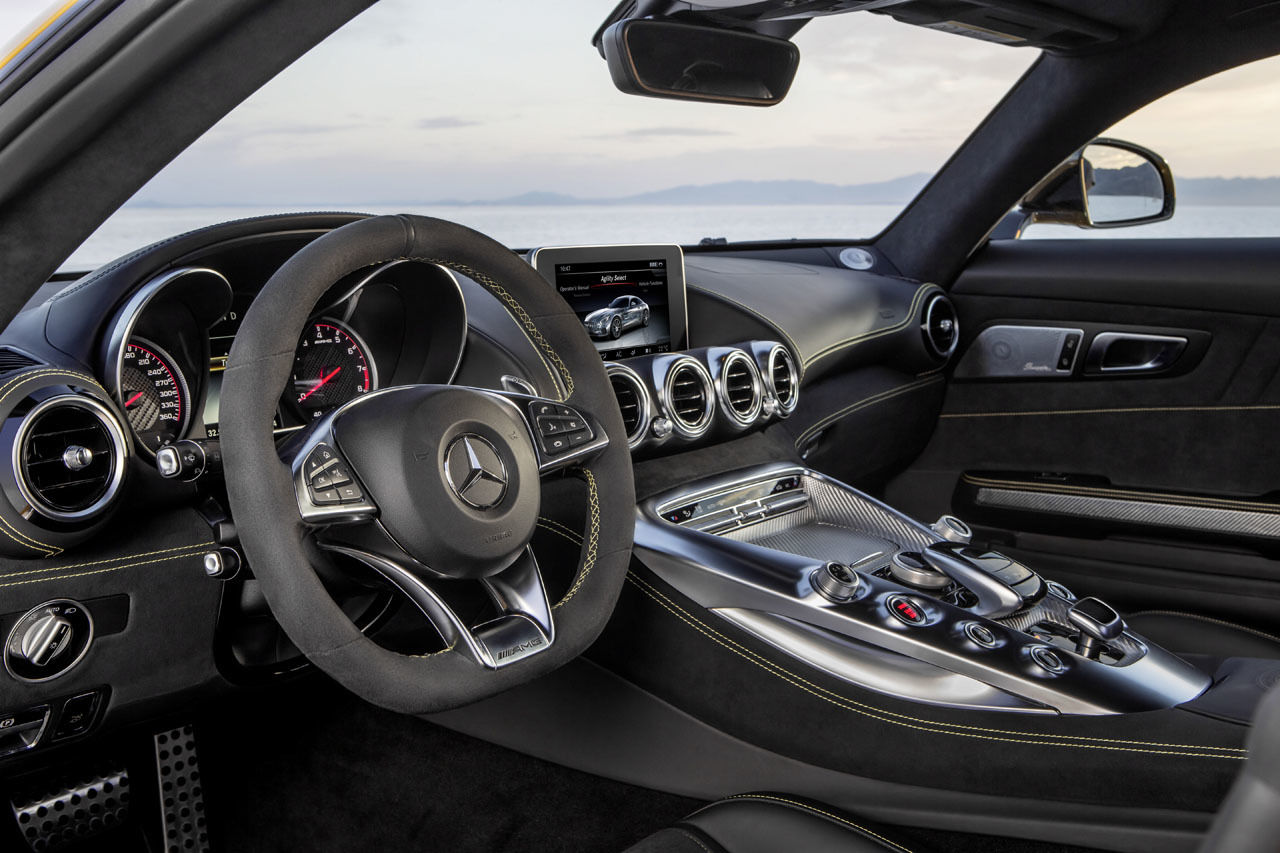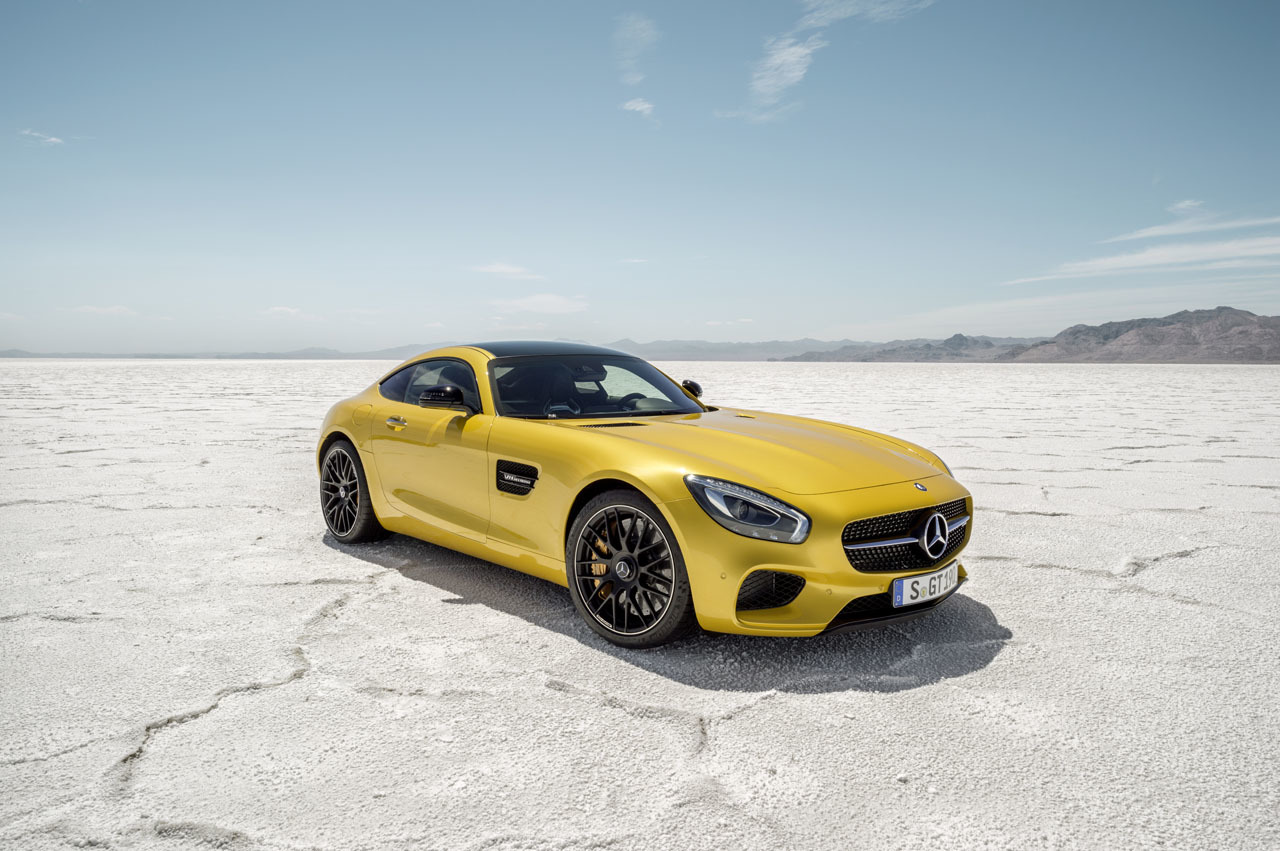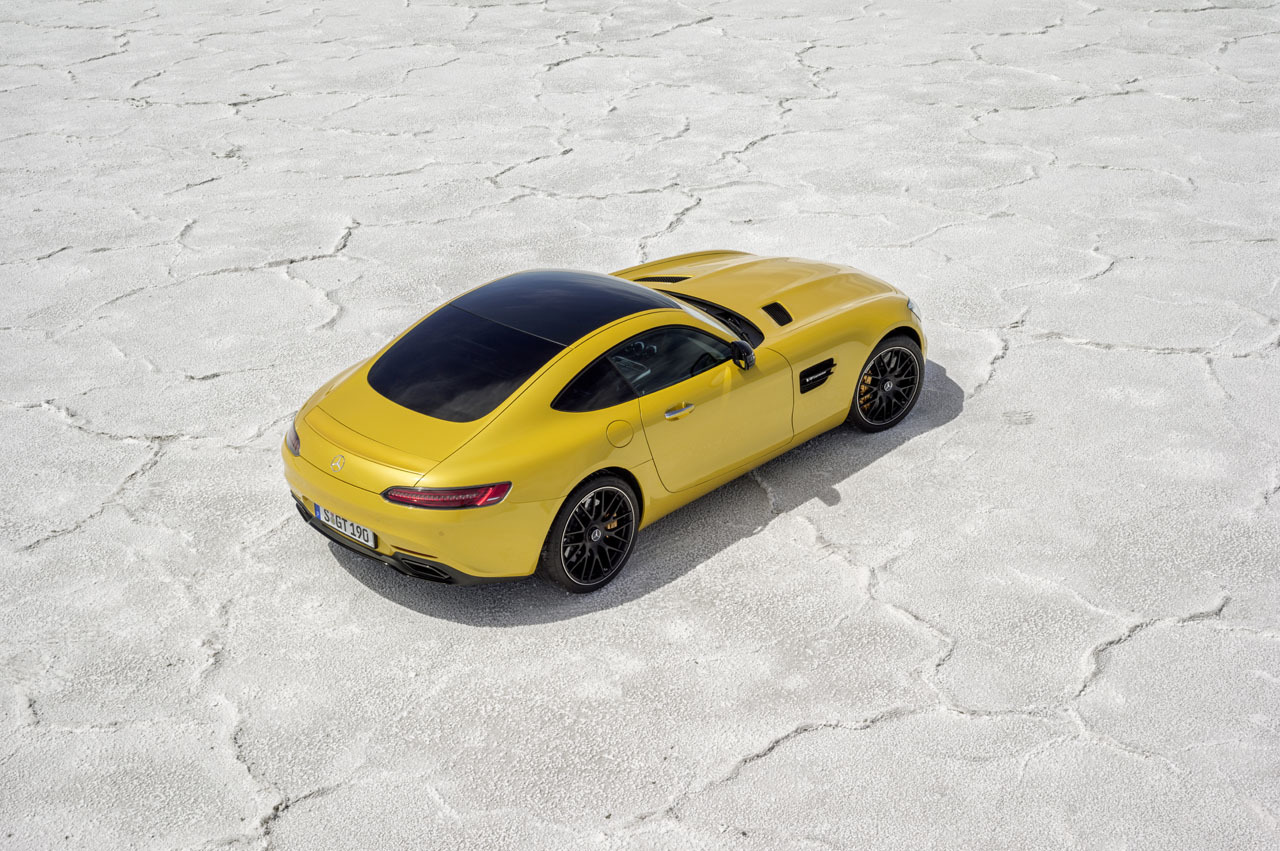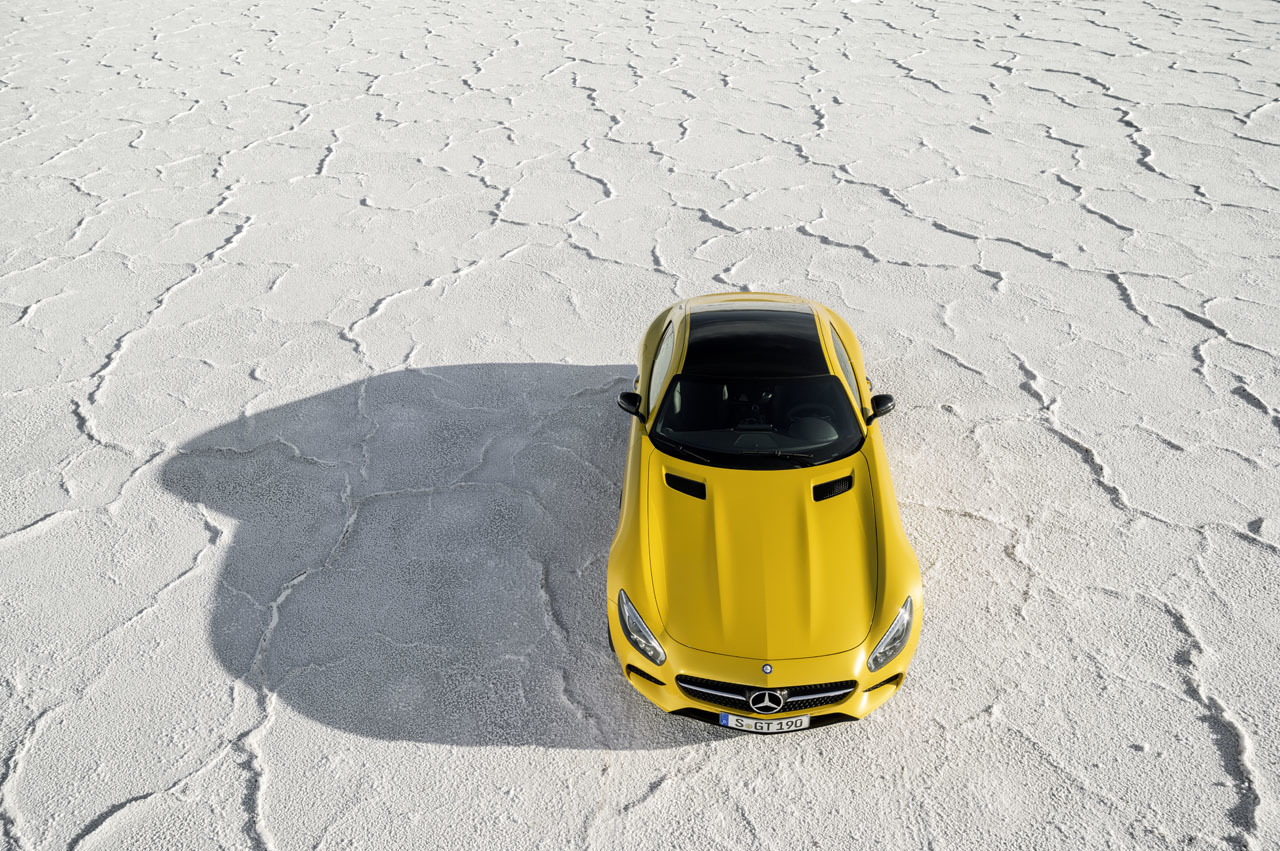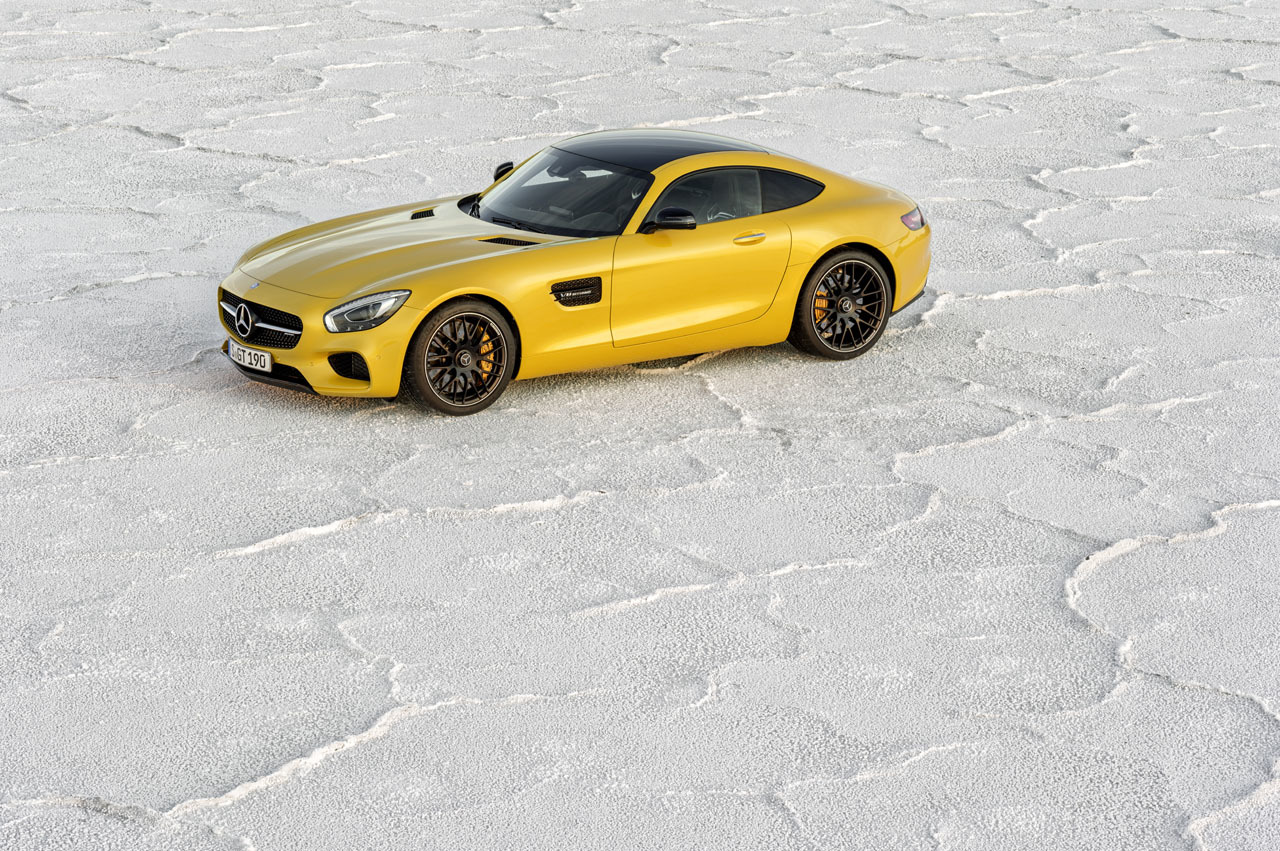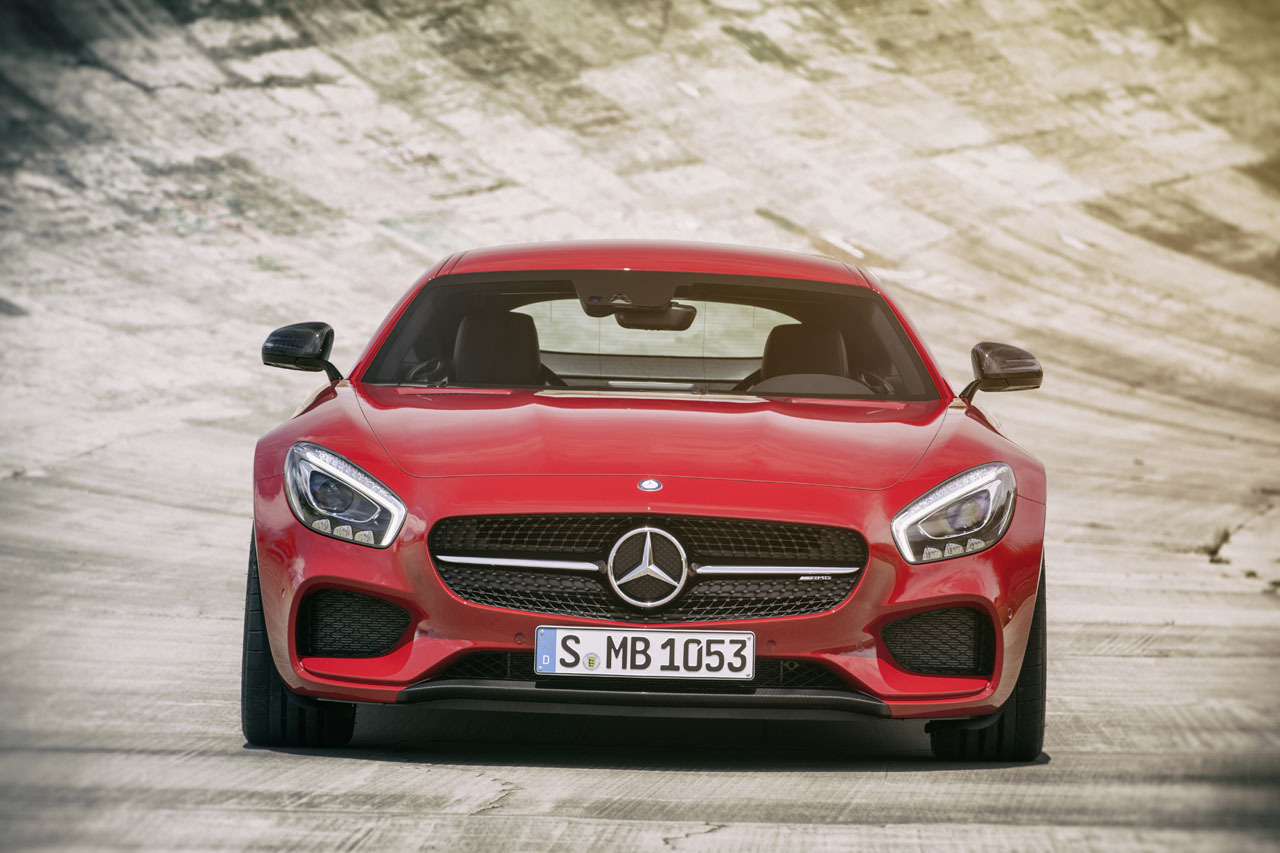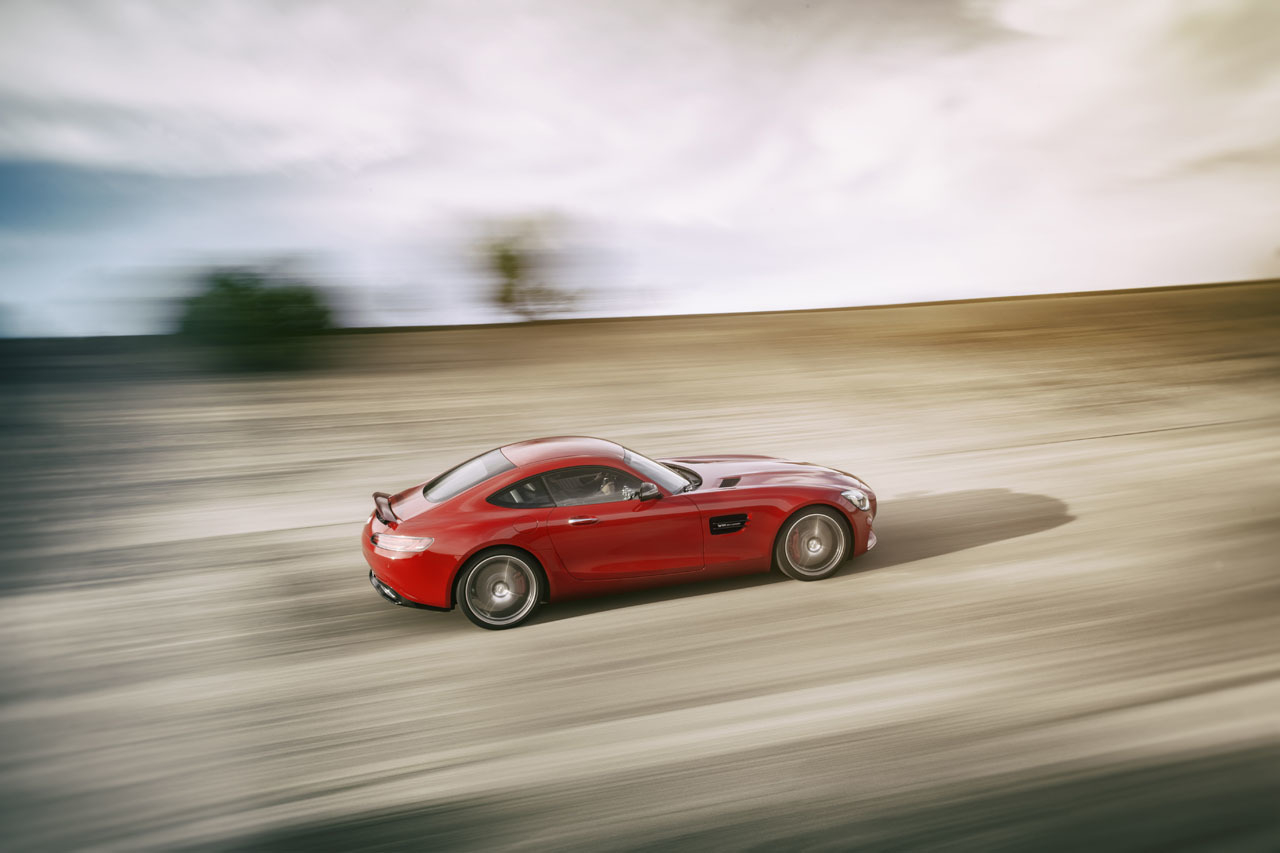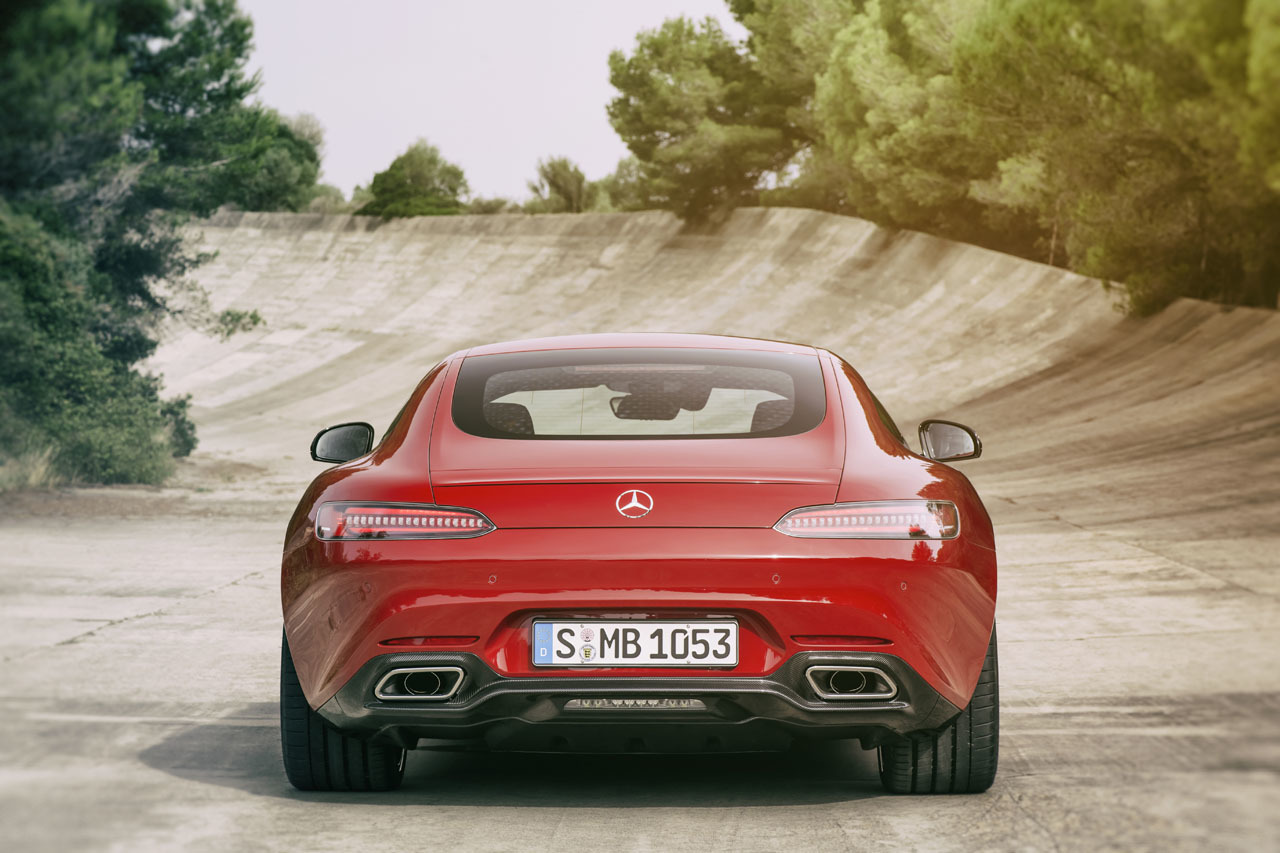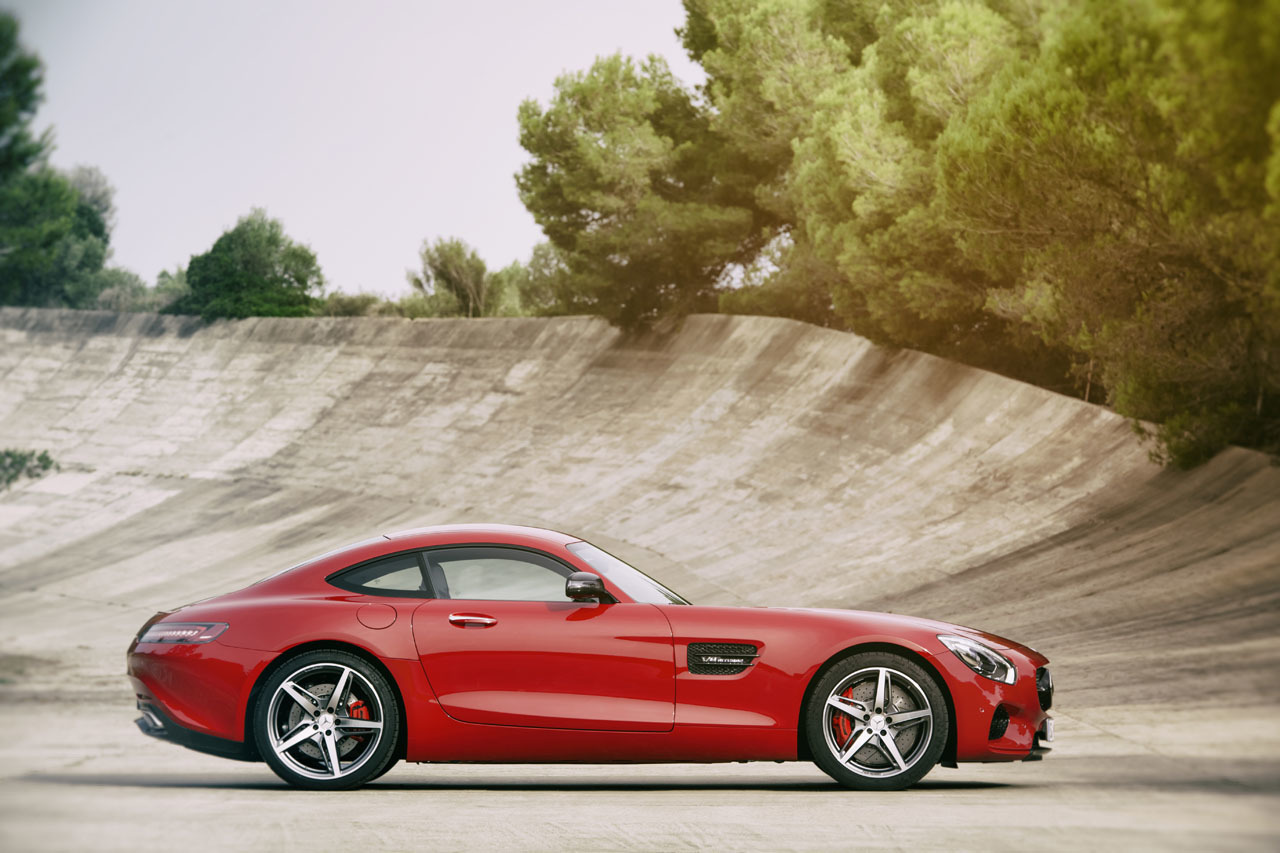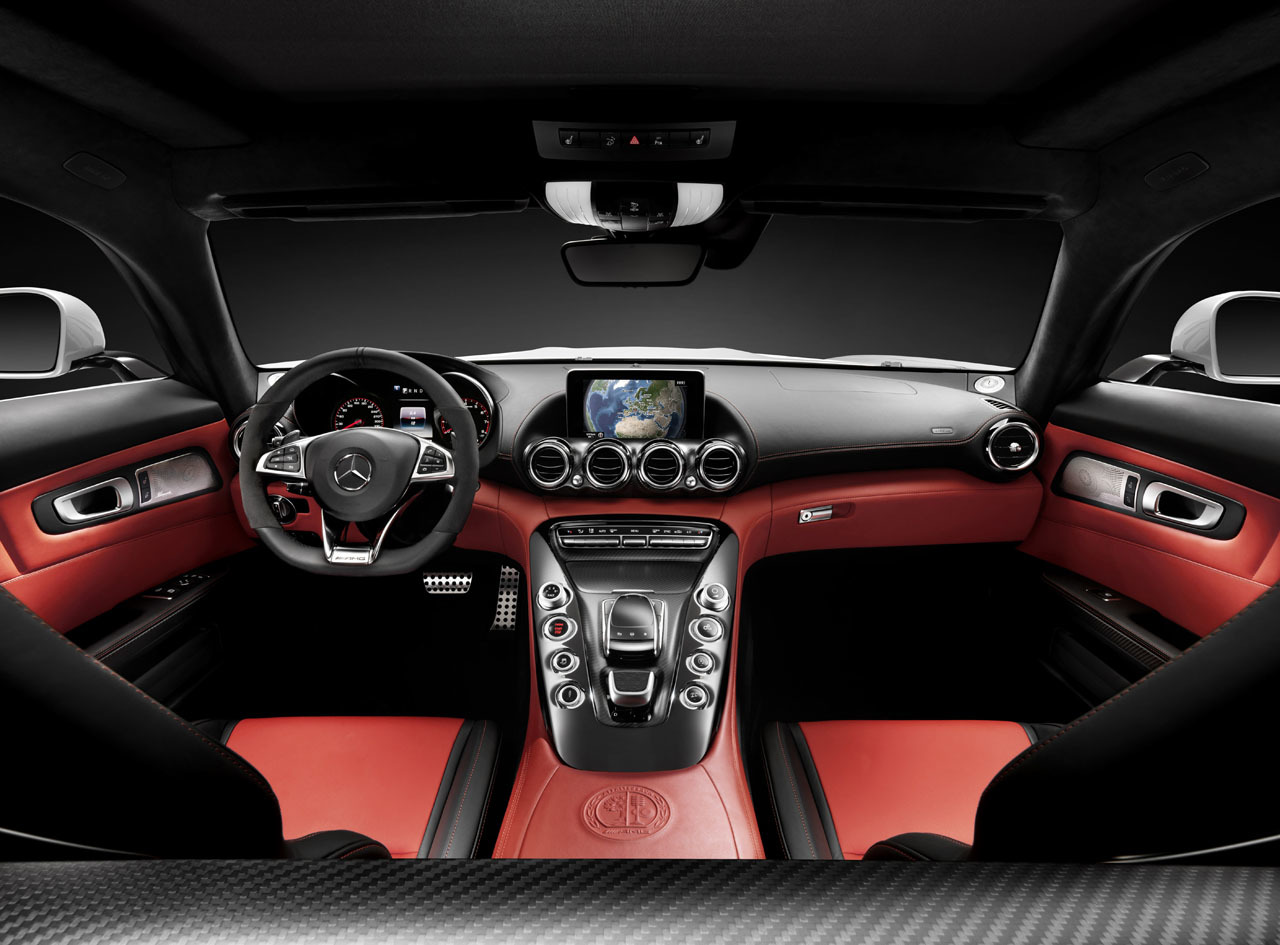 Image credit to "Autoblog".