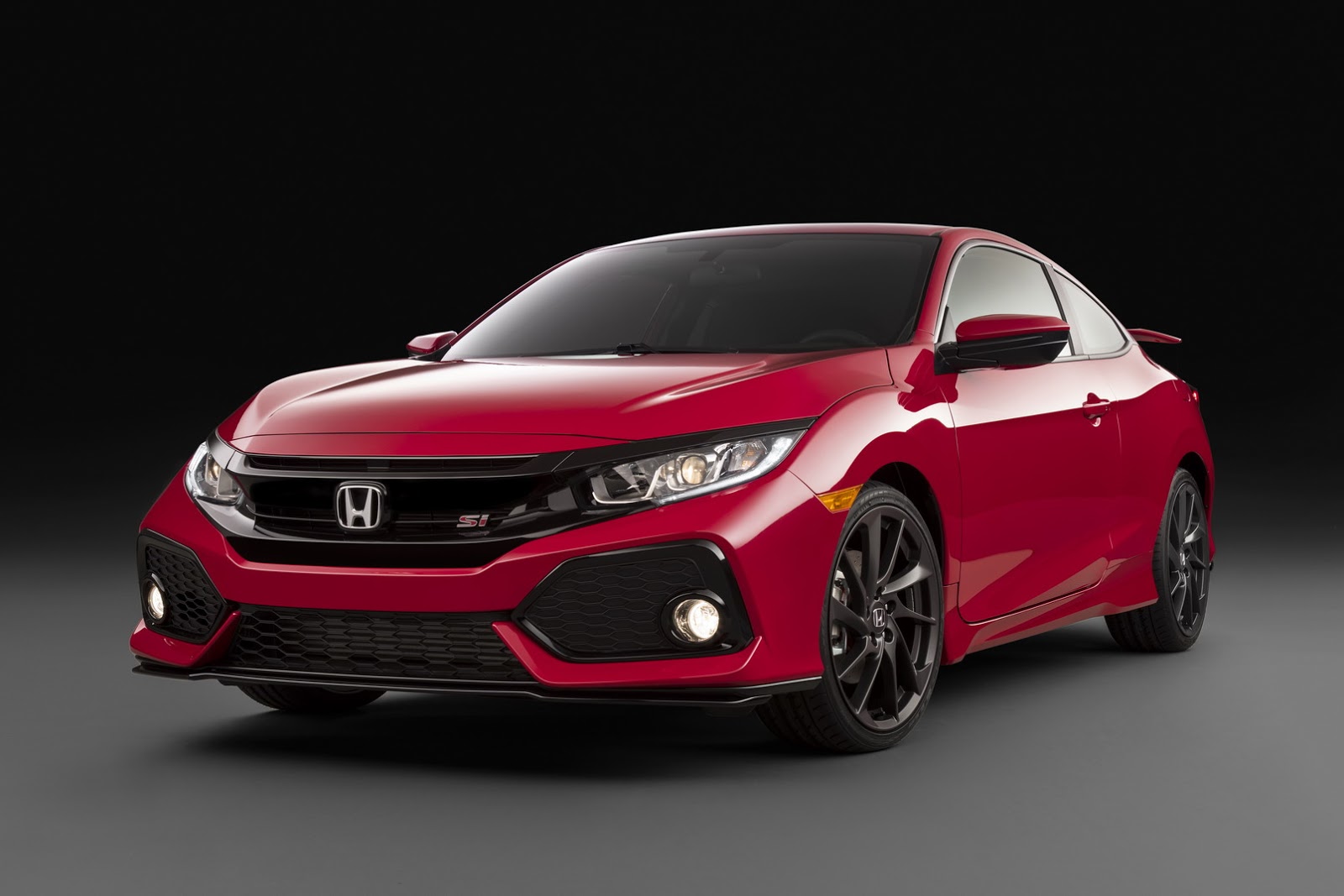 2017 Honda Civic X Si Prototype
It has been very busy time for Honda for the last year or so. It's almost a year since the 10th generation; Civic X in short, released. Civic is Honda's largest selling vehicle worldwide and the 10th generation Civic is a result of an extensive and comprehensive design in the history of Honda's manufacturing, which includes new chassis, power-train, exterior as well the all new interior. Honda revealed the 4 door sedan version and later the two door coupe for North American market; and a few months ago, we saw the Civic hatchback in real form.
Also Check out: Honda Civic
In North American market, Honda have been releasing the performance version of Civic over various previous generations. The variants are famously known as "Si"; first introduced in 1984, in the form of a hatchback. The 8th and 9th generation Si were based on the regular Civic sedans with different engines and some slight exterior differences. With every generation, the Si version of Civic got improved. Si has always been loved among Honda enthusiasts. Civic X, which is already praised worldwide for its new overall design, how could Honda miss it out in "Si" flavor.
Honda North America has been working on the next Si, soon after the release of the regular sedan version. Lately Honda in Los Angeles Honda reveled the upcoming Si. Well, Honda still calls it a prototype. Honda didn't release all the information, especially the performance numbers. Before the release, it was thought and rumored that Honda might bring a 2.0L turbocharged engine, as will be available in next generation Type R, de-tune it from 306hp to something around 220hp and put it in Civic Si. Now all those hopes are gone, as per recent reveal, the next generation Si will be powered by same 1.5L turbo engine as available in the regular Civic. But there is still a good news, Honda confirmed that the next Si will be more powerful than the previous generation Civic, which was propelled by a 2.4L naturally aspirated engine with output 205hp and 230nm or torque. So it is safe to expect something around 215/220hp from the 1.5L Turbocharged engine. Although some enthusiasts are still slightly disappointed. The Si will come with 6 speed manual as standard and Honda said that it will introduce a sporty short shifting one. It will also be equipped with limited slip differential and improved suspension. There will be an active steering system as well as dampers.
Beside the performance, the new Si looks a little more aggressive than the regular Sedan and coupe. Keeping in the mind the recent releases from Honda, the production versions are almost identical to the prototype shown, so we can assume easily that the prototype "Si" is almost production-ready and there might not be a lot of changes as far as the exterior and interior are concerned.  Si will come with factory installed aero kits [body kit in other words]. The front is more aggressive with new bumper design with large air intakes [same as seen on the rear bumper of the hatchback]. There are new fog lights and on the rear, a huge spoiler and Lamborghini-style centrally mounted exhaust [to some extent, it looks odd and overdone]. The prototype is also equipped with newly-styled performance wheels sized at 235/35/19.
On the interior, its everything as it should be; means its identical to the regular sedan as far as dashboard is concerned, with difference of style inlays on doors and dashboard. As it is a Si, you will find a red-themed cluster, unlike regular sedan, which has a blue and white. There are differently designed seats for Si to make it look more performance oriented. The prototype on display doesn't have LED headlights as on the top of the line touring trim for sedan, but it is safe to assume that we will see it on the upcoming Si. Overall, the Si would be a nice addition to the already impressive lineup. Jeff Conrad, GM of Honda North America said:
With the new Honda Civic Si, we're injecting even more sporty goodness into our 10th-generation Civic lineup.This will be, hands down, the fastest, best-handling Si we've ever offered to our customers.
The Si sedan and coupe will be available sometime early next year/2017. This leaves Honda enthusiasts to a nail-biting decision making; should they go for a Si now or wait for the upcoming, the most potent performance variant of Civic in Type R, which is still more than a year away from showroom floors.