The name Fortuner comes from the word "fortune". Toyota Fortuner 2015, also known as Toyota SW4 is a mid-size SUV. It was first assembled in Thailand, and then in Indonesia and other countries. The car is built on the Toyota Hilux platform and is available in Rear wheel drive (RWD) or four-wheel Drive (4WD). The Fortuner has been in production since 2005 but its production (assembling) began in 2013 in Pakistan. This vehicle by Toyota has been a success and is being built in large numbers in countries like Argentina, Pakistan, India and Indonesia. The second generation of Fortuner has been designed by Toyota Australia.
Also, Check out Toyota Fortuner 2018
The Specs of Second Generation Fortuner:
The new Fortuner, also referred to as the second generation Fortuner, was initially revealed in 2015 in Thailand and Australia. It was launched in Indonesia in January 2016. The design is based on the "keen look" design, which is used in the eleventh generation Toyota Corolla. The car is available in three variants in Indonesia which are:
G (Diesel Engine, available in 2WD or 4WD and in Automatic or Manual Transmission)
VRZ (Available in Diesel, 2WD and 4WD, all Automatic)
SRZ (Available Only in Petrol 2WD Automatic)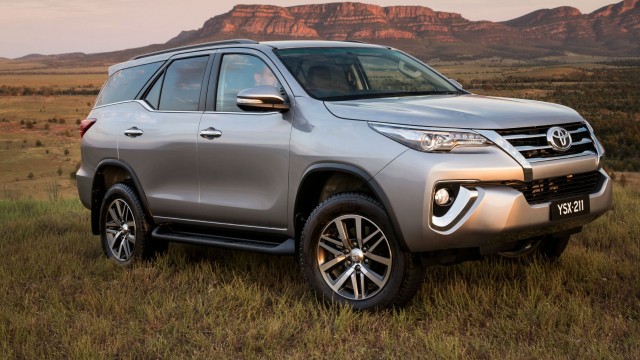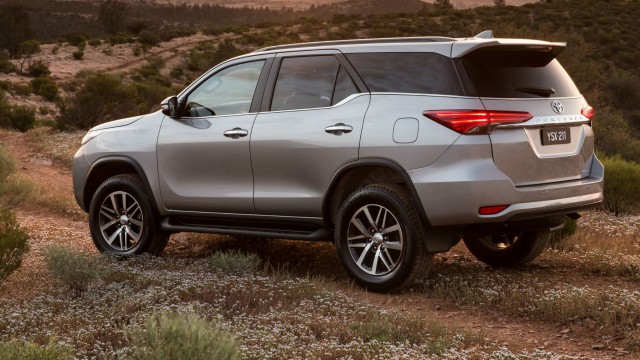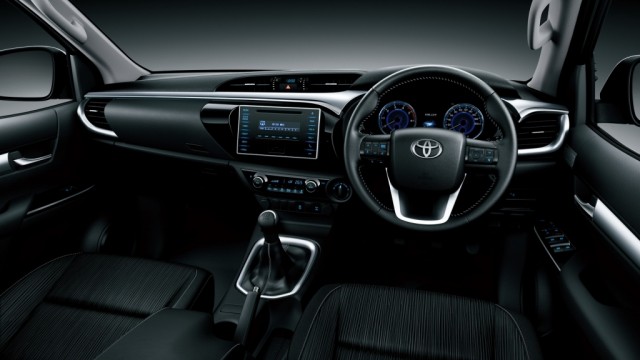 The Indonesian version of the second generation Fortuner comes equipped with 2.7 L 2TR-FE Dual VVT-i gasoline as well as 2.4 L 2GD-FTV ESTEC VNT Intercooler diesel engines.
The SRZ and VRZ models of Fortuner in Indonesia come with Power Back Door feature, which allows the passengers to electronically open and close the rear doors. Some other exciting features of the second generation Fortuner include Daytime Running LED lights with auto-levelling, interior LED lamp, Power seat adjuster and start-stop engine button. The VRZ 4×4 comes with Hill assist control, vehicle stability control, traction control, brake assist, side and curtain airbags and emergency breaks. All variants come with ABS, EBD, Knee Airbags, Rear Parking Camera, Eco Mode and Power Mode Features to help driver adjust the throttle response.
The Specs of First Generation Fortuner:
The first generation of Fortuner was launched back in 2005. The car was launched with 4 different kinds of engines 2 petrol engines and 2 diesel engines. All variants of the first generation Fortuner came with either RWD or 4WD, 5 speed manual gear box and 4-5 speed automatic transmission. A number of engine variations are available depending on the country. In Pakistan, the Fortuner comes with a 2.7 L 2TR-FE inline-4 fuel-injected petrol engine. The first generation Fortuner had been criticized by some for being unstable and not aerodynamic enough at high speeds. In 2012, the 2.5 L common-rail turbo-diesel 2KD-FTV and the 3.0 L common-rail turbo-diesel 1KD-FTV engines were both upgraded with a variable nozzle turbocharger (VNT) to make them more powerful and efficient.
Variants of First Generation Toyota Fortuner
G and G luxury (RWD Petrol and Diesel Engines)
V ( 4×4 Diesel and Petrol)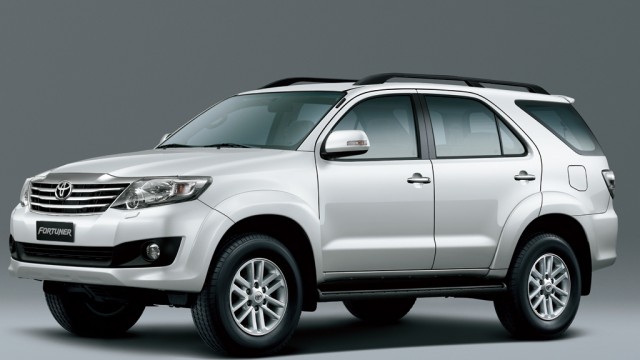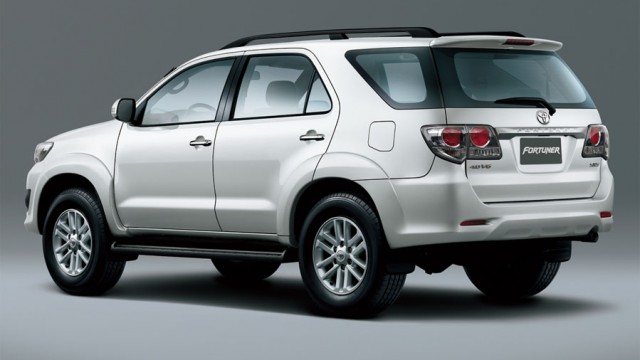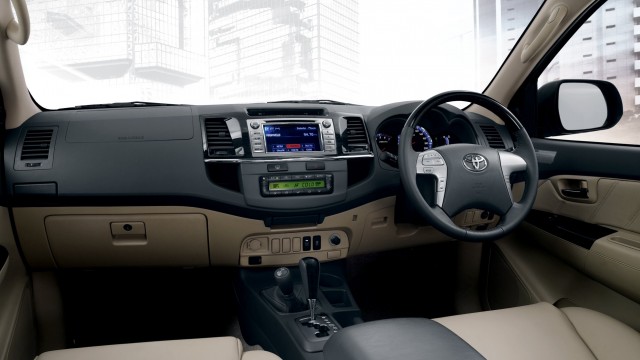 In 2007, Toyota Thailand stopped the production of the 4×4 petrol model in Toyota Fortuner first generation and replaced it with the 2WD petrol engine.
Some of the features the first generation Toyota Fortuner include Projection Headlamps, high intensity head lamps, steering with audio control, ABS with EBD & Brake Assist along with Electronic Stability Control (ESC), passenger and driver airbags, Power driver seats and immobilizers.
The second generation Fortuner has a lot of improvements in design and style and it looks quite promising. It is expected to be launched in Pakistan soon, though no dates have been officially released yet. We can't say what features the SUV will have for the Pakistani market.
What's your opinion on this?