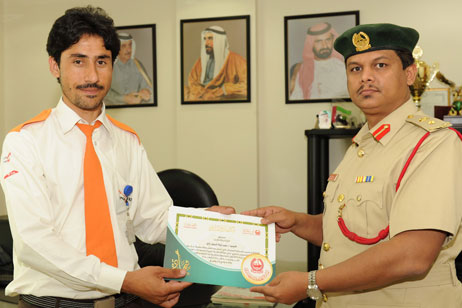 A Pakistani Taxi driver in the UAE returned a briefcase full of jewellery and 123,700 Riyal
If Pakistan has gone up any ranking in the world than it is the ranking of corruption. We have steadily climbed up that ladder but often, when the chance come Pakistani people, do show that we are all not corrupt, just the people in charge of our public institutions are.
Omar Hayah Ajmal Khan has been driving a taxi in Dubai for the past 18 months, and has done his job like any peaceful and honest citizen would do, until he was put to test when a businessman from Saudi Arabia left his briefcase in Khan's taxi as his attention was diverted to the call he was talking on and got out and left.
Khan didn't realize that his passenger had left his belonging let alone such valuable belongings. The Saudi businessman was his last customer of the day, and Khan after dropping him, went off to a petrol station to clean his taxi to finally hand it over.
He finally saw the briefcase in the back seat and decided to check what is inside, and to amazement, it was filled with 123,700 Saudi Riyals and a lot jewellery. It was treasure basically.
But without any second thoughts, Khan called his company and informed them about what had happened and told them that he's off to the police station where he surprised and impressed every policemen.
They told him that he could leave and that they would call them once the police had located its owner which they did in about an hour, that's when Khan was called back in to confirm the identity of real owner.
Hatem Awad Al Anassi, a 30-year-old businessman from Saudi Arabia was the owner of the briefcase and was overjoyed and in shock that someone had handed over his belongings.
Mr. Al Anassi said,"This guy is on a limited income, he must really have a clean soul to do such a deed."
Mr. Al Anassi further gave Khan 500 Dhs for the troubles caused to him in this ordeal while Dubai police held a ceremony in his honor on Wednesday and presented him with a certificate of appreciation for his honesty and integrity.
Talking to The National, a UAE based newspaper, Khan said;
"I've never taken a dirham I didn't earn," Mr Khan said. "Even if no one else was a round to see me, God sees all. Besides, if I had taken it, I don't think I could ever have look my 2-year-old daughter in the eye.

"I'm a much happier person with Dh500 that I earned than Dh120,000 that I didn't."
Reading good deeds and doing good deeds always leaves a satisfaction that's worth a long long time.