Al-Haj acquires Greenfield status to make Proton cars in the country
Al-Haj reportedly has been awarded Greenfield status by the Ministry of Industries and Production (MoI&P). With this development, the company will now assemble and produce Proton cars in Pakistan.
What is a Greenfield Status:
Greenfield Investment is defined as the installation of new and independent automotive assembly and manufacturing facilities by an investor for the production of vehicles of a make not already being assembled/manufactured in Pakistan.
Greenfield incentives:
Duty-free import of plant and machinery for setting up the assembly and manufacturing facility on a one-time basis;
Import of 100 vehicles of the same variant in CBU form; at 50 percent of the prevailing duty for test marketing after the groundbreaking of the project;
Concessional rate of customs duty @ 10 percent on non- localized parts and @ 25 percent on localized parts for five years for the manufacturing of Cars and LCVs;
Import of all parts (both localized and non-localised) at prevailing customs duty applicable to non-localised parts for manufacturing of trucks, buses, and prime movers for three years, and
The existing policy for the Motorcycle industry as approved by the government and notified by FBR vide SRO 939(I)/2013 and SRO 940(I)/2013 shall continue.
Previously:
In August 2018, Malaysian auto manufacturer Proton had entered into an agreement with Pakistan's Al-Haj Group to establish a manufacturing plant in Karachi. Moreover, in April 2019 a ceremony for the exchange of Licensing and Technical Assistance Agreement of Proton Assembly Project was also held. CEO of Proton Holdings Dr Li Chunrong and Al-Haj Group Managing Director Mr. Bilal Khan Afridi participated in the event.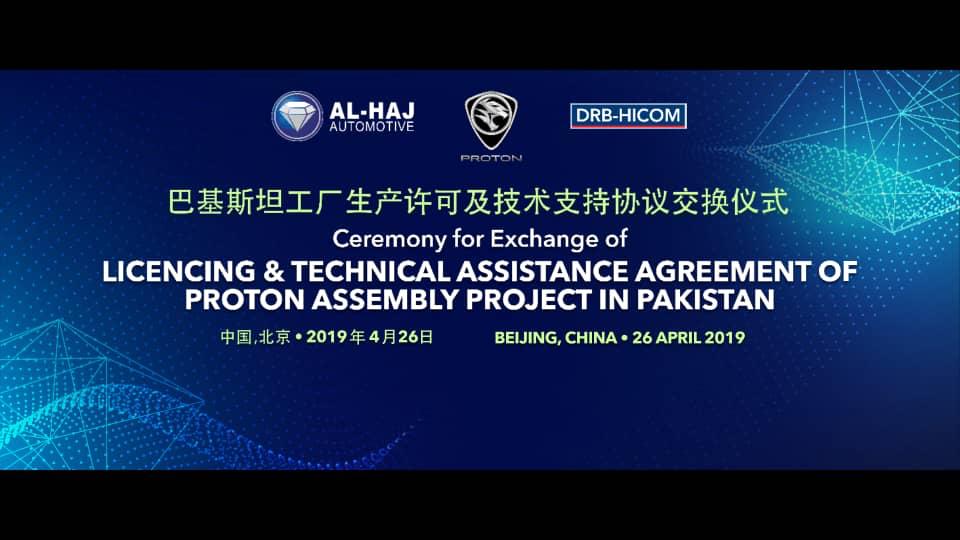 The exchange of documents followed the previous announcement by Proton Holdings and Al-Haj Automotive Private Limited to develop a manufacturing facility for Proton vehicles based in Karachi, Pakistan.
A symbolic groundbreaking ceremony was conducted on the 22nd March 2019, in Islamabad. The ground-breaking was presided by Prime Minister of Malaysia Dr. Mahathir Mohamad and Prime Minister of Pakistan Imran Khan.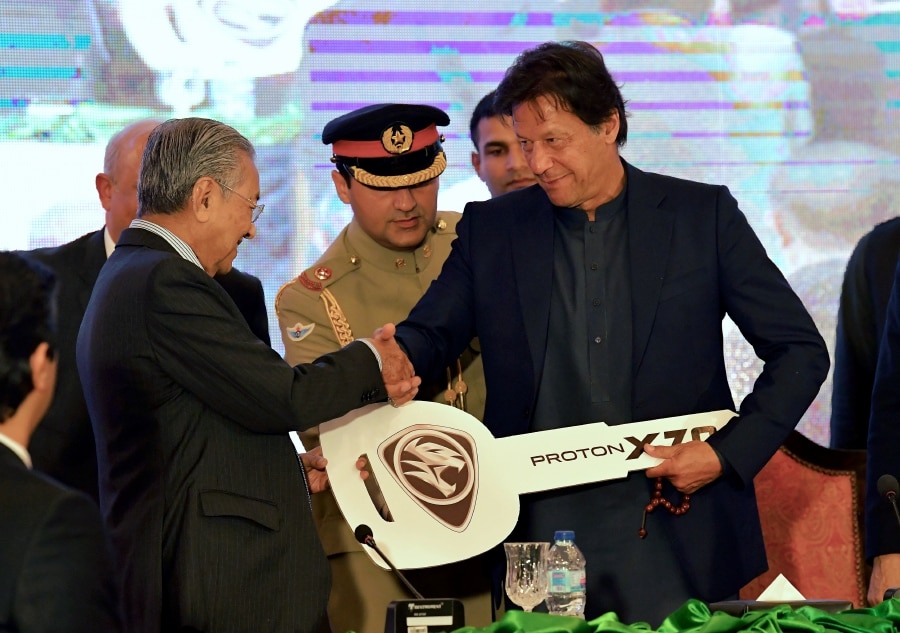 According to the agreement, Al-Haj would be the official distributor of Proton vehicles in Pakistan. The local auto manufacturer will also build a CKD plant in Karachi with an investment of $30 million.  The facility will be ready for production by June 2020 and would have an annual capacity of 25,000 units.
The manufacturing plant would allow Proton with improved access to the growing Pakistan automotive market. The company said as many as 2,000 direct jobs and 20,000 indirect jobs will be through other areas such as local vendors.
Proton Holdings is a joint venture between DRB Hicom and the Zhejiang Geely Group. Proton was established back in 1983, and since then it has been able to sell more than 3 million cars. The company already operates in more than 25 countries worldwide which includes Australia and Singapore
Al-Haj Automotive Private Limited, on the other hand, is a subsidiary of the Al-Haj Group, a conglomerate with diverse business interests such as automotive, oil and gas, logistics and estate businesses. Al-Haj Group has been associated with different Chinese and Korean Automobile companies since 2006 and has established a reputable name with vast experience in the assembly and distribution of automotive products in Pakistan.
Several new auto companies have entered Pakistan's automotive industry after Auto Development Policy (ADP) 2016-21. The government has awarded incentive-based Greenfield Status to as many as 15 new automobile companies.
Here's the list of 15 companies that availed Greenfield Status under ADP: Al-Futtaim Automotive Pakistan (Pvt) Ltd, Sazgar Engineering Works Ltd, Kia Lucky Motors Pakistan Ltd, Foton, JW Auto Park (Pvt) Ltd, Regal Auto Mobile Industries (Pvt), United Motors (Pvt) Ltd, Master Motors Ltd, Pak China Motors (Pvt) Limited, Hyundai Nishat Motors (Pvt) Ltd, Khalid Mushtaq Motors (Pvt) Ltd, Topsun Motors and Engineering Services (Pvt) Ltd, Khalid and Khalid Holdings (Ptv) Ltd and Hanteng Motors Company (Pvt) Ltd.
What to expect from Al-Haj and Proton:
It is expected that Al-Haj will manufacture and launch Proton Saga and Exora in Pakistan in the initial stage. These two cars have been spotted several times doing test rounds.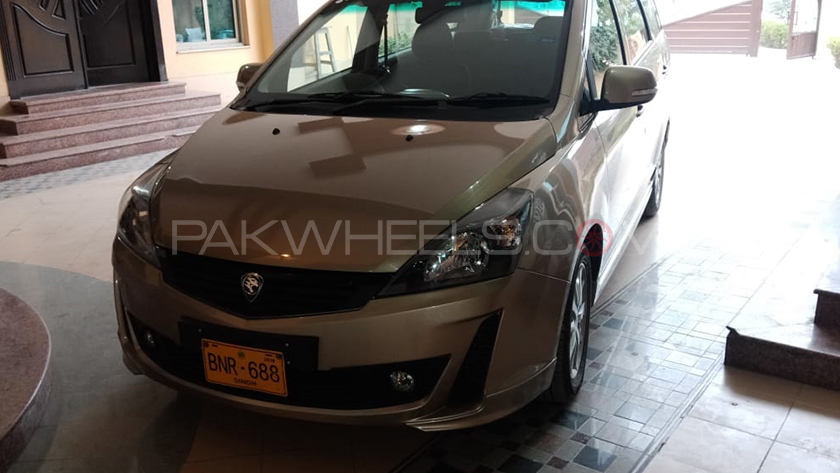 Internationally, Exora is available in Malaysia, Indonesia, Thailand, Singapore, Brunei, and Australia. It debuted on 15th April 2009 and since then it has received facelifts as well. The MPV is a front-wheel-drive and has a 7-seating capacity just like Honda BR-V. It comes in two different engines and three different transmission options. As far as the engine options are concerned, it ships with 1.6 L CamPro CPS DOHC I4 engine and 1.6 L CamPro CFE DOHC I4 Turbo. Moreover, it comes with a 5-speed manual, 4-speed auto and 6-speed CVT automatic.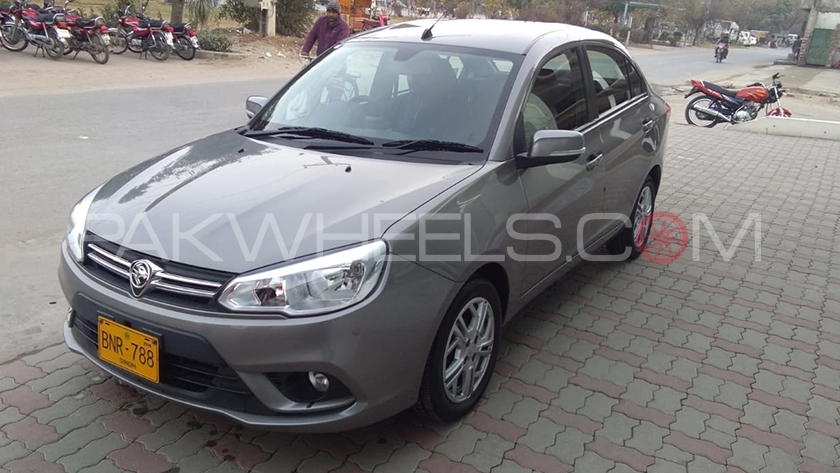 Furthermore, Globally, Saga comes in different engine and transmission options. The spotted sedan is equipped with a 1.3 L engine. It is interesting to mention here that the particular sedan has been in production for the last 30 years. Currently, the third generation of Saga is being sold by the company.
Al-Haj is also selling FAW vehicles in the country, so this new venture will undoubtedly diversify the automobile market.
That's it from our side, drop your thoughts in the comments section below.