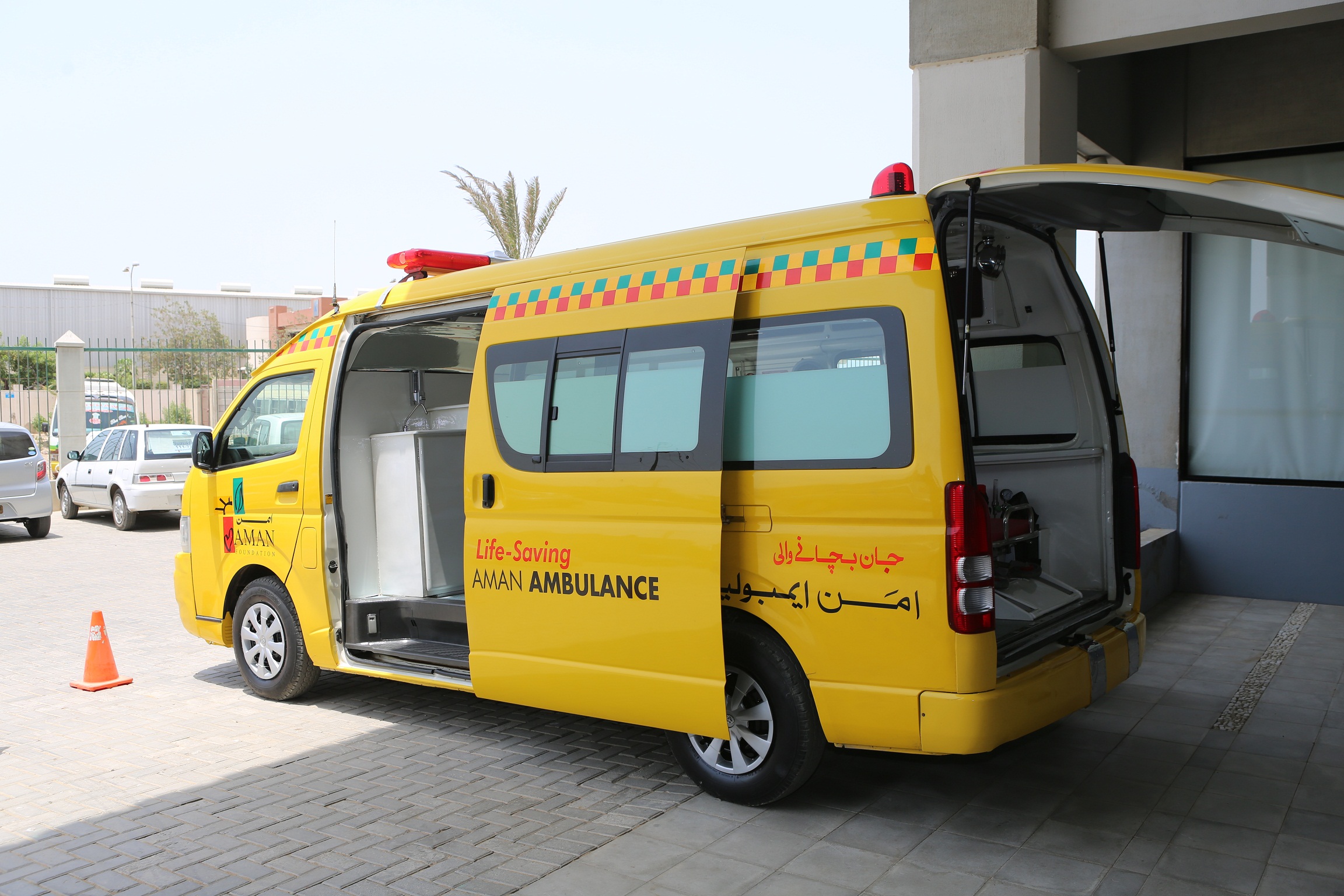 AmanAmbulance Saves Up To 400 Lives Every Day
When it comes to ambulance services, Aman Foundation is a known name which is serving the society at its best. We have usually been experiencing their ambulances on the roads of Karachi, but they are not limited to Karachi but other than Karachi on special emergencies they are serving in other locales of Sindh too.
The Ambulance service is counted among the leading ambulance network in Asia. It is the first service in the town which has well equipped doctors on board, and they provide basic and advance treatments to patients on way in order to save precious lives.
Head EMS, Ather Jamal quoted that more than 60 babies are delivered in our ambulance. It means the staff is really equipped, and skilled to perform required task without any delay. Pregnancy and delivery has always been a delicate case to handle, but Aman Foundation team trained to handle it in transit too.
Main purpose ambulances serve is to save lives, and if they cannot fulfil it therefore it is a question mark. Aman Foundation keeping their standards doing the needful for the citizens.
According to the Head EMS, Karachi is divided into two zones and 80 locations are created. Daily more than 600 cases in the city need immediate intervention and all over the city their ambulances reach within 10mins to cater the emergency situations. Along with all the efforts the foundation is facilitating 350 calls every day with their limited capacity, and now they want citizens to help them in maintaining the system and growing it at the same time.
The ambulances are distributed in three levels
Basic Life Support
Advance Life Support
Advance Cardiac Life Support
Further all these three facilities are briefed to the media, even all were glad to hear that ECG, Ventilator services are also the part of the Aman Foundation ambulance which can deal with critical emergency cases.
Media and Bloggers visited the control room, and Head EMS explained how things function and KPIs are set for the control room. Every live support staff have 90 seconds to shift to the second call, and how they connect the ambulance to cater emergencies as required.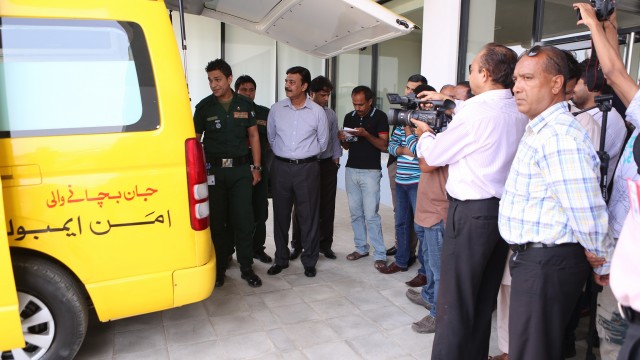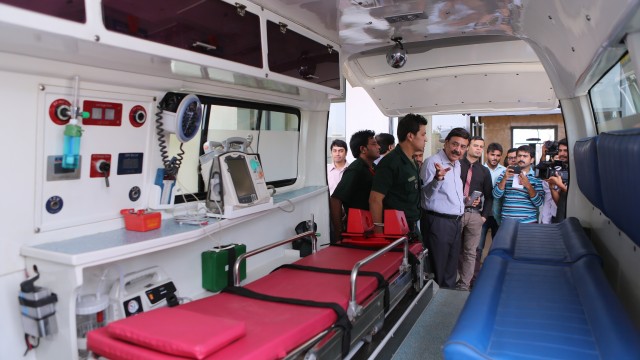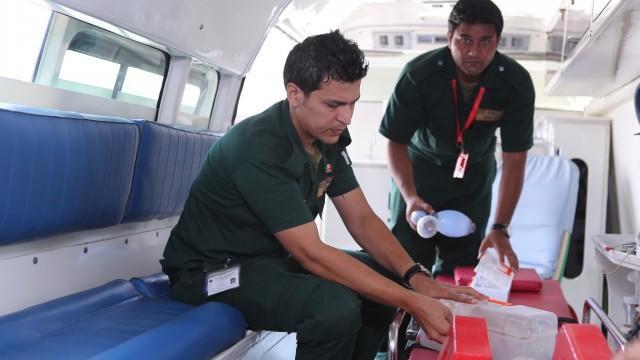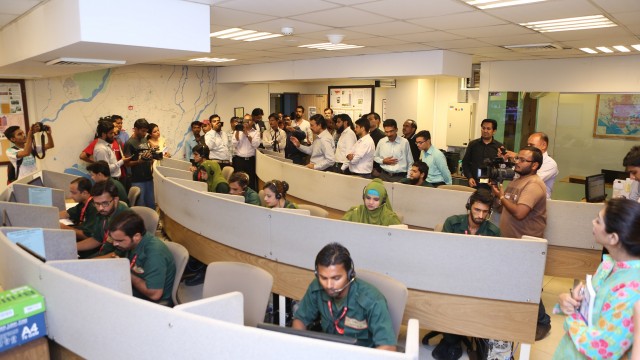 Here's the complete Press Release:
Asia's leading ambulance network, AmanAmbulance's state-of-the-art triaging system is based on international protocols used by the London and New York ambulance systems. AmanAmbulance is equipped with the latest medical equipment and is the only ambulance network that has a doctor and trained paramedic on board along with the driver.

"Research shows that 15% of severely injured children die en route to medical facilities. AmanAmbulance is the best equipped service to address extreme emergencies such as cardiac arrests, strokes, accidents and injuries and obstetric emergencies while on the way to hospital," said Dr. Saadia Quraishy, CEO, Aman Healthcare Services, while speaking at a media briefing held at AmanAmbulance headquarters at the Aman Foundation. The Aman Foundation organized a media tour of AmanAmbulance operations facility for the journalistic community.

Dr. Quraishy added, "Research has revealed that a large number of deaths and disease in Pakistan are preventable; a fact that has led the Aman Foundation to undertake major healthcare initiatives such as AmanAmbulance – its Emergency Medical Service (EMS). Redefining emergency care, the AmanAmbulance Service, has introduced Advance Life Support (ALS) and ACLS (Advance Cardiac Life Support) ambulances in Karachi – a specialized vehicle in which treatment is initiated as soon as the patient is boarded. In recognition of its services to the city of Karachi, AmanAmbulance received the Award for Asia's best institutional emergency medical service, from the Asian EMS Council in October 2014."

Speaking on the occasion, Aman Health's Head of Emergency Medical Services (EMS), Athar Jamal said: "Our command and control center is connected through a wireless communications network that provides real-time tracking of ambulances throughout Karachi. AmanAmbulance's ProQA, medical priority dispatch software, directs the process of collecting vital information from the caller. The service instructs the caller with medically approved protocols until the dispatched units reach the scene. The latest vehicle tracking system ensures a less than 10-minute response time target with delivery to hospital within the critical golden hour. Our EMS Stations spread across the length and breadth of the city, provides 100 percent citywide coverage".

Dr. Mohsin Ali Mustafa of Aman Health said, "Even our Ambulance drivers are BLS trained. Aman Health established our Paramedic Academy which enables Aman and other healthcare providers to upgrade their crew capabilities with advance training."

Stressing the need to educate the general masses, Dr. Saadia Quraishy added, "It is important to respond appropriately, giving way to an ambulance even on busy roads when the siren sounds." Mentioning the ordeals faced by drivers and ambulance crew in Karachi due to lack of awareness in people, Saadia appealed to the citizens of Karachi to own and support this public service, as the people of this city deserve the best. She asked them to provide support to the doctors and paramedic staff when they perform their duties, especially in critical situations during riots and accidents."

With doctors, advanced paramedics and lifesaving equipment on board, the Aman Emergency Medical Service has, to date, recorded more than 580,000 interventions of which 80% are for life saving. This includes care provided to over 100,000 victims in the devastating 2010 and 2011 floods. With an average response time of less than 10 minutes, this service has transformed Karachi's emergency pre-hospital landscape.

AmanAmbulance has also partnered with the Edhi Foundation's Ambulatory Service to systematically tier and strengthen emergency medical services in the city and consequently ensure appropriate ambulatory care across Karachi to reduce the incidence of avoidable deaths. It has also partnered with Aga Khan University Hospital for exclusive shifting of AKUH patients and provides continued ambulatory care.