A lot has been said since July 21st, 2016 when Pakistan Domestic Model 10th Generation Civic 2016 [PKDM] launched. If I place both good and bad on a balance; the side with bad goes down. Since its local launch things didn't go well. Right from day one we kept our reader up to date on each and everything we could. The one major point of discussion on social media as well as between true automotive enthusiast who have keen eye was the quality, fit and finish of the Honda Civic 2016. My dear fellow blogger posted two detailed article on the interior and exterior quality of the car from the day of launch. Their links are below
2016 Honda Civic in Pakistan and its Questionable Exterior Build Quality and Honda Civic 2016 Disappointing Interior Finish and Quality
Few days ago I did a detailed analysis about all the missing features from PKDM 1.5T Civic, which is said to be a flagship top of the line model presented by Honda Atlas Pakistan Limited [HAPL]. Its sad to see that HAPL really cut corners as far as number of features but quality has drastically declined compared to previous offerings as well. A better built product could have overcome the less features made available and might have balanced out.  I have been actively posting on social media about various defects and shortcomings found on the cars found on display. I came across many arguments when few people said that these quality issues are only on the display units. As a visitor, you make your perception about any product when you see it first. First impression is the ever lasting impression. Companies spend extra ordinary effort and money so that when they launch/showcase a product, it looks perfect and a the potential buyer just fell for it without a second thought. Its really a question and has been bugging me that if this all happened due to mismanagement or HAPL just overlooked it that too for the fact that HAPL banked over 5 billion in pre-orders/bookings. Even after couple of weeks, number of displayed cars at different showrooms show same poor quality of workmanship. I wish HAPL did replace these faulty units with good ones so that people who visit could take a better impression.
Read: Pakistani Honda Civic 2016: A Featureful or a Featureless Civic?
In automotive industry two words will always be there "Fit & Finish". It means how parts and panels go together, how are gaps, the spacing, the edges and how one car compares to another after its assembled. Car companies have very strict Quality Control units which can figure out any fit and finish issues immediately so that the same problem doesn't multiply and show up on the entire production. A small improper gap between car door panels can destroy the overall look of the car and will come out to a naked eye immediately. A well built car inside and out will automatically please a customer. Its same like you compare a well stitched suit with improperly cut and poorly finished suit.
Today I will go over some quality issues again. I came across hundreds of social media posts in which the weld on Civic X doors were discussed, mostly front doors. Some are genuine issues while some are exaggerated; means there are no issues with those welds. I thought, I would try to explain it in simple words for our readers so that what is the actual issue. We should also keep in mind that door welds really have an importance as improper welds and joints can result in different/severe outcomes in side impact crashes. Also PKDM 2016 Civic doesn't carry side airbags, so we all rely on the quality of doors.
Honda Civic 2016 like many other cars on the market doesn't have a single frame door. The upper portion and the lower portion comes in pieces. In other words the top "U" portion of the door which carries the door glass and the lower portion which is the main door are welded together. The weld will be there and it will be visible under the painted finished surface. It now depends how perfect is the weld work itself.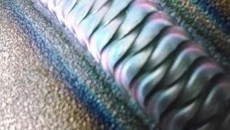 Many people were spreading wrongful info that there is a weld on 2016 Honda Civic doors and it's a fault, but fact of the matter is that the weld will remain as I explained.  Once the panels are welded, the portion of weld material is placed on top of joint which works as an reinforcement and is known as a bead. The size of the bead and how well it is made makes a major impact on the finished product/welded panels. There is huge difference between making a proper bead on joints as reinforcement and spreading weld on top of joint like a butter on a slice or in simple words apply a tape.
A PakWheels community members shared some 2016 Honda Civic pictures from Oman and pointed out that the welded joint is also there. The country of Oman import Civic from United States, so the question arises if US exported Civic has the visible weld then whats the problem with PKDM Civic? The major thing which we should look into is the matter of proper/improper welds. How the panels are welded and how the gaps between the panels are filled with welded material and how is the end finish product after all these steps including the paint. I am placing few pictures for readers for making an opinion. Fortunately I was able to get hold of picture of same panels.
These picture will explain which is a correct and perfect welded panel and which one is done in haste without any quality control.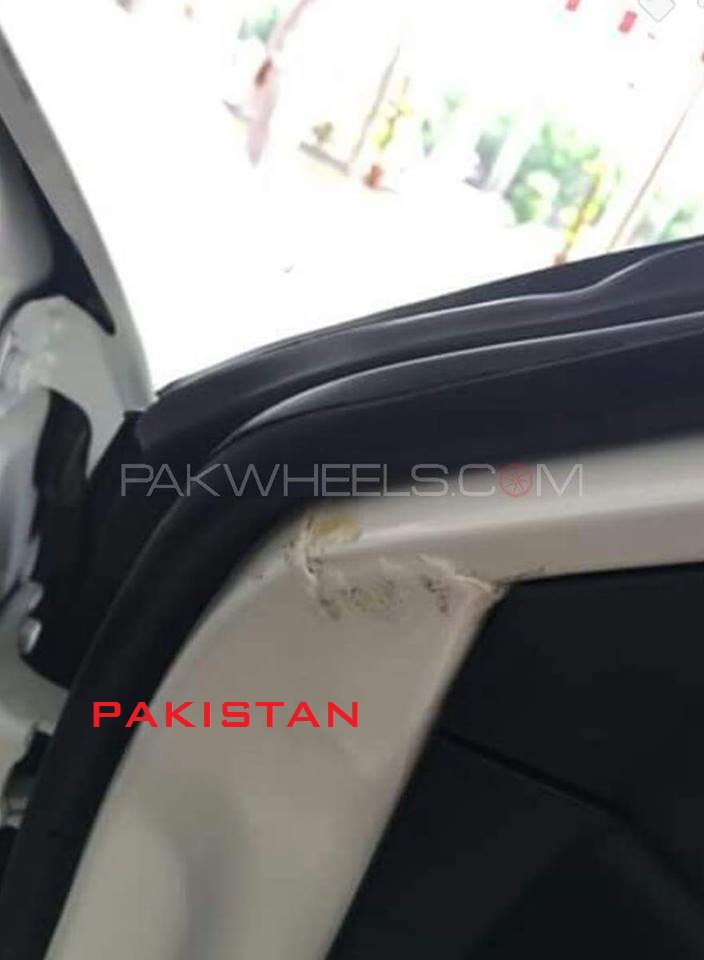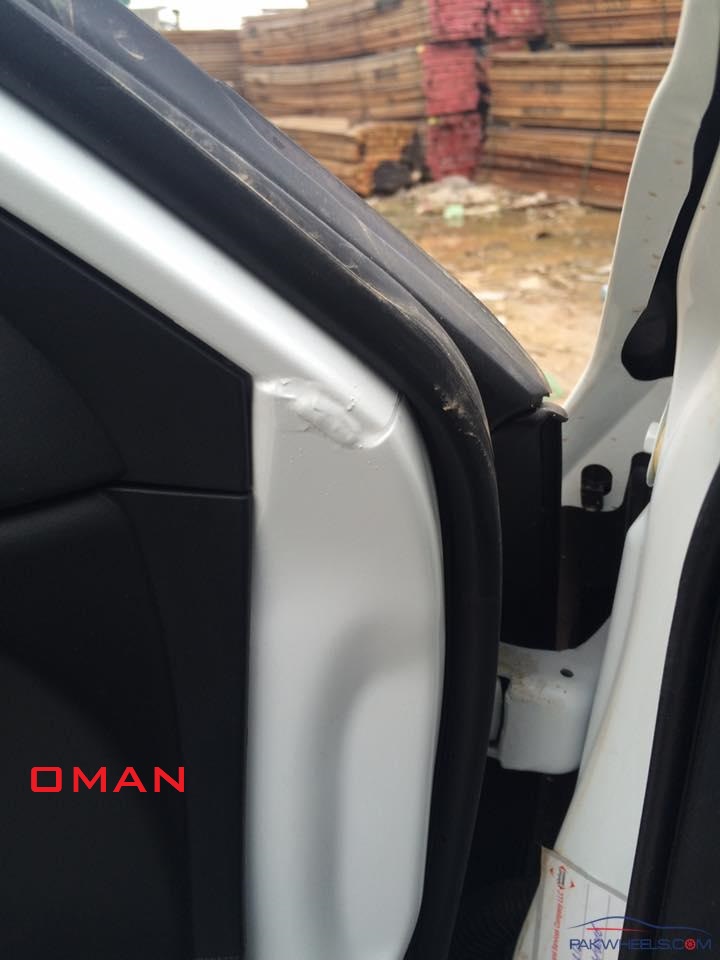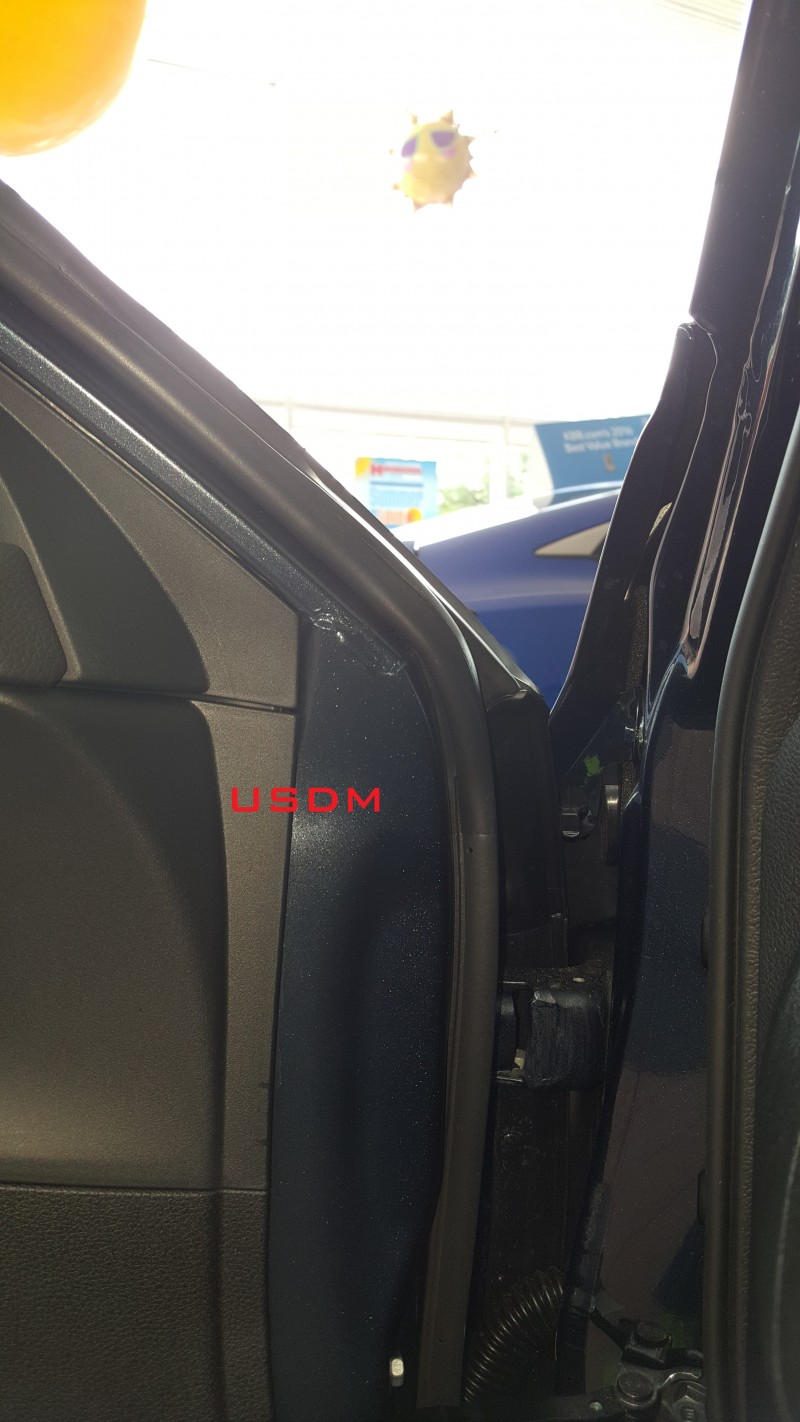 So now lets talk about some of issues on delivered cars. After discussion with many people as well as with some of owners of the new Honda Civic 2016, almost all have shown their displeasure on the quality of interior finish and specifically the door welds. No two cars show same weld pattern which further questions the process of Quality Assurance and Quality Control at Honda Atlas.
I tried to understand the process of welding which is used at HAPL assembly line but could not verify anything. Is it robotic or its done manually? Something we need to know for our learning because it's also a bigger question which needs answers that even after decades of assembly, is HAPL still using old school process and methods of assembly including manual welding?
The weld issue has gone so viral that one dealer [Name withheld] even sanded the welded portion before making a delivery to a customer and as an icing on the cake, even forget to repaint/finish the sanded weld.  The customer just overlooked it and only came to know when he reached home. Apart of the pathetic weld quality  the quality of the fit and finish of the door panels [as pointed by yellow arrows]  is really questionable as well.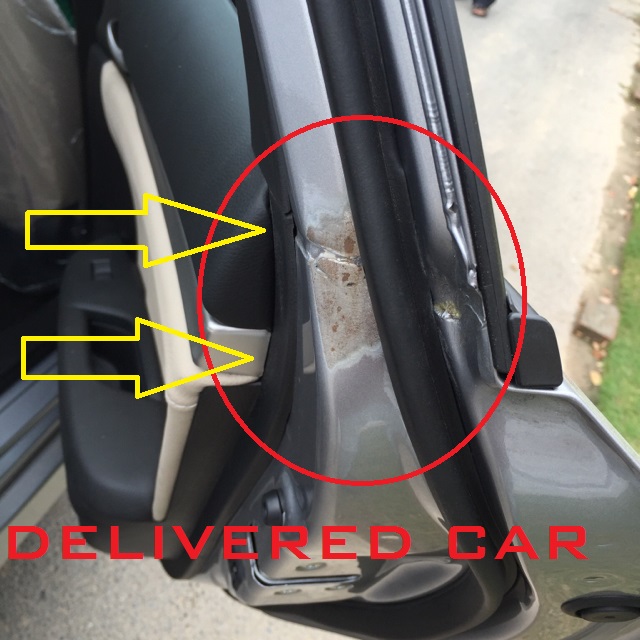 Another owner shared pictures of his delivered 1.8 Oriel Civic. This car also showed same imperfections of the welding and there is even a small hole left between panels as well as the way panels are welded, comparing with what and how its done elsewhere. This small little unfinished hole overtime will carry moisture/water and this joint will start rusting overtime from the inside. Also it seems the two panels don't even have proper edges before these were welded or over-welding burnt the lower panel which is now filled in.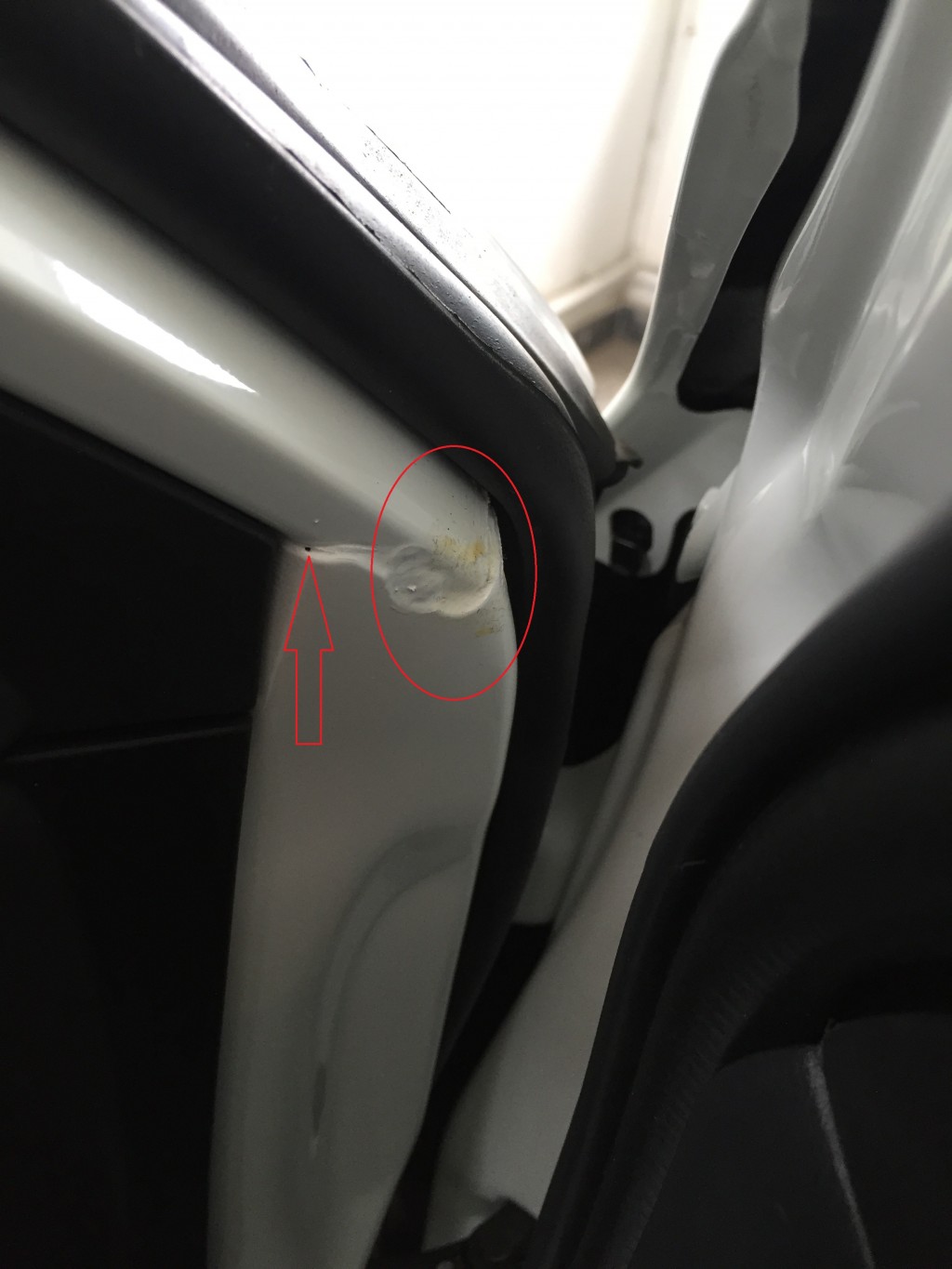 Besides the poor welds, the interior finish has been seen with some random fit problems especially with the dashboard near by "A Pillar".   Sometime it does not looks like an interior of car which has always been praised in the past for its better quality comparing other locally assembled cars. The pictures can talk itself much better than my explanation.
The quality of door panels as well the stitching of seats on cars with "HIGH GRADE" material is also not up to mark and many owners have pointed out same. The extensively discussed center console's material, its fit and finish is also very poor and needs a serious consideration by HAPL QC department.
There are some minor issues as far exterior like misaligned front bumper, misaligned front fender light as well as the trim along the front windscreen which can be removed after proper quality check with minimal efforts at assembly line.
Again I would like to emphasis that these issues presented here are random problems and you may or may not find it on each and every car but the problem areas are still there on number of cars. Few owners even overlooked these things and took deliveries in the excitement of getting a new car.
These minor things do matter as far as the overall quality of a car is concerned. The article is also an effort to enlighten potential buyers or people who already got delivery of their new 2016 Civic. Its much easier to fix these issues at source so that the customers don't get effected.
I am hopeful Honda Pakistan will look into this matter and would be working hard to rectify these visible issues on its end. Because all these visible problems push us to think about all unknowns or hidden fixtures and fittings and there quality as well. Once a buyer gets a car after spending a huge amount of money, he expects a top class quality in return. There can always be shortcoming and it does happen with even high end luxury brands. It matters how the assembler/carmaker or for that matter any producer takes customers feedback to resolve any issues.
If a Pakistani Honda customer can't enjoy all the standard features that a Honda customer gets overseas in the new Honda Civic 2016, at least he/she deserve a good and extraordinary quality even after paying higher price, because they need what you are paid for.
There is famous quote by Henry Ford, the founder of the Ford Motor Company…I quote,
It is not the employer who pays the wages. Employers only handle the money. It is the customer who pays the wages