Karachi is a gigantic mess. Overflowing gutters and water mains, traffic jams becoming routine, trash everywhere you look, the government is in total shambles, but we still see them here and there in different forms. Karachi Traffic Police are also brave to control our traffic where drivers and riders don't know the difference between red and green. We both have shortcomings but today, I have opened up to write a plea to the headquarters of traffic police to provide some training to our traffic police personnel from established sources, and teach the following:
Creating A Diversion From A Point Where One's Available:
You block a road from a section where diversion is available. Mostly, traffic police just step out on the road with barriers and blocks it then and there. As the picture below will demonstrate.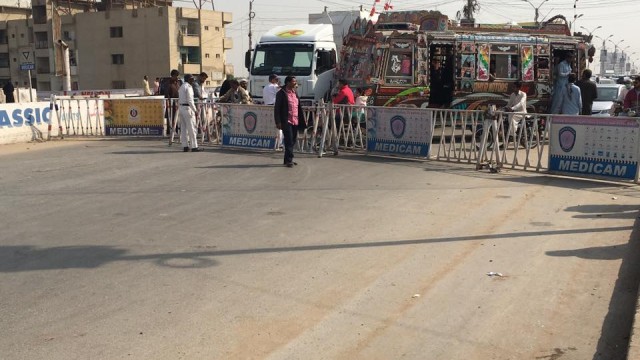 Picture by Haji Yousuf Saleem shows traffic police closed down Baloch Colony Bridge from the middle, and the traffic had nowhere to go. It happened when a sinkhole opened up at a signal on Shaheed-e-Millat Road due to Karachi Water And Sewerage Board neglecting its pipelines that continuously leak and seep into the ground that dissolves the earth around them, created perhaps my first spotting of a sinkhole in Pakistan.
Why can't they block it from a section where diversion is available. Why do they have to block it from where people can't go anywhere but only back and that is not possible because there are cars behind you.
Maintaining Traffic Flow:
The curse of our infrastructure planning and road development is that they are done without a vision and without that, Burj Khalifa's nearby tower could've been a Rufi-Mega-Dream-City-Of-Your-Pleasure-Phase-226 instead of the skyscrapers and modern shopping malls. So since we're without a vision, thus, the Malir-15 bridge that will connect the city of Karachi with the area that builds our cars, clothes, tyres, medicines, etc. is still incomplete for more than two years, a total mess. Even once it's done, the contractor doesn't correctly measures and merges the lanes of the bridge on the road. Here's the main Quaibadad Bridge, that's another link to the industry of Pakistan.
It's all over Karachi. A road with 8-9 lanes has two lanes at max exiting. Case in point; University Road: It is necessary for maintaining the traffic that the entire route has the exact number of lanes throughout or the lanes that will run towards an exit, should further be merged ahead systematically. And this planning with a vision is a must requirement for Karachi to happen soon otherwise; people, the city and the country will continue losing billions of rupees sitting in traffic. If four lanes are coming from point A, then what happens to those four lanes down the road must be planned out…you can't just make four lanes into six lanes two KMs down the road and then puff! there are just two lanes left in the patch.

But planning a traffic management system isn't easy. Proper driver education is as important (since Pakistani drivers do so much lane-splitting); however, the following picture was taken today at the Clifton Branch of Driving License Office, I doubt anything to happen from here.
Traffic Police People! Its Your Responsibility To Investigate, And Resolve A Traffic Accident:
You are not just managers with writing pads in your hand. You're policemen and women. Social media is awash with news reports lamenting the fact that a lot of traffic police personnel just stand and watch while people try to resolve an accident on their own. One recent example read that they the DHA Vigilance peronnel came to the rescue of a mother and daughter while the traffic police just stood and watched.
Also read: Petro-Activism – Traffic Reforms Through Social Activism In Pakistan
Another more horrific story was that of the father-in-law of a colleague's brother who died while riding a motorcycle when a truck's wood carriage unhinged and all of it fell over him. Clearly, the despicable way our transporters carry stuff around is a present and fatal danger to everyone around them. The driver didn't escape but the police didn't investigate, or prosecuted the person and the company responsible. The driver came to seek forgiveness from the family. The traffic police is now laced with powers to launch an FIR, and investigate and then present in court as well so the traffic violator are clearly prosecuted but it does not happens so..
Like everything else, Sindh and in turn Pakistan requires a vision behind which the systematic effort by all departments should be carried out to resolve the mess that we've turned this city into.