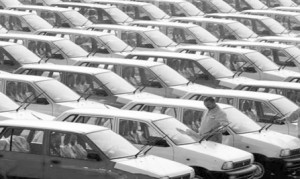 Auto industry records growth 9.1% with 110,059 total cars produced this year
The numbers game in the automotive arena is quite a frugal attempt to display prowess of the cars produced. While the numbers can suggests how well a company is doing in terms of business, whereas the numbers set on a track by said company's car suggest how better it is in terms of performance over competition and ironically, the numbers of mileage are even better, look where they got Prius to, the world's third best selling car.
Pakistan Automotive Manufacturing Association (PAMA)'s released data on Thursday that shows that buses, cars, Light Commercial Vehicles (LCVs) and two/three wheelers managed to grow by 23 percent, 9.1 percent, 5.7 percent and 3.1 percent respectively as compared to 24.7 percent, 16.4 percent, 20.5 percent and 12.6 percent respectively during the same period last year.
The data showed total production numbers of LCVs was registered with 14,971 units during this year while it was 14,159 last year, 371 jeeps were produced this year and 662 jeeps last year, 439 buses were produced this year and 357 last year, 1893 trucks were produced during first nine months of this year and 2031 units during same period last year, tractors 26,840 this year and 51,664 last year while 620741 two or three wheelers were manufactures this and  602,268 last year.
It said the two other components of automotive industry such as jeeps and trucks also showed dismal performance by registering negative growth of 44 percent and 6.8 percent respectively.
In total, Pakistan has produced 110,059 cars during first three quarters of the current year as compared to 100,870 units during the same period last year, showing 9.1 percent growth and still the auto assemblers brag about the predicament economic situation that affect business and consequently, prices.