Recently, the Commissioner Inland Revenue, Lahore, Mr. Jahangir Ahmad revealed that he had not given consent on non-filers buying cars under 1000cc.
The matter is still in consideration, and the letter issued by Director Excise and Taxation with regards to the purchase of vehicles below 1000cc is against the law, he further added.
Previously, the Government of Pakistan, in its budget 2018-19, barred non-filers from buying vehicles. However, a few days back Director Excise and Taxation, Region C, Lahore sent a directive to its officers across Punjab stating that the there is no compulsion that people cannot buy cars below 1000cc. Moreover, he said that he had met with the commissioner of Income Tax, RTO-11, Lahore in this regard as well. The circulation is as follow: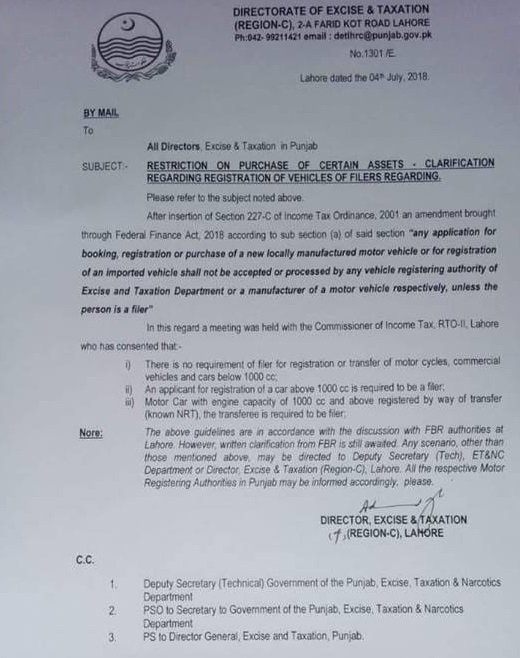 It was reported that the government might give relaxation to people, who would be buying cars below 1000cc engine capacity. But now the Commissioner Inland Revenue in Lahore, Jahangir Ahmad, as per Dawn, has confirmed that the letter issued by excise department is against law and is not backed by Federal Board of Revenue (FBR).
Read Also: Non-filers to get a permit to purchase vehicles again
It is requested to withdraw the fake instructions to avoid state revenue loss, Mr. Jahangir added.
The confusion is rising, as no clarification has been issued in this regard from Federal Board of Revenue that whether a purchase of vehicles, having engine capacity less than 1000cc is allowed or not.
It is pertinent to mention here that after the Federal Finance Act 2018, one cannot purchase/buy or book local produced or imported car unless the person is a filer. There is a lot of ambiguity after the letter of Director Excise and Taxation, let's wait and see how authorities clarify the matter.
The story is developing, stay tuned for updates.