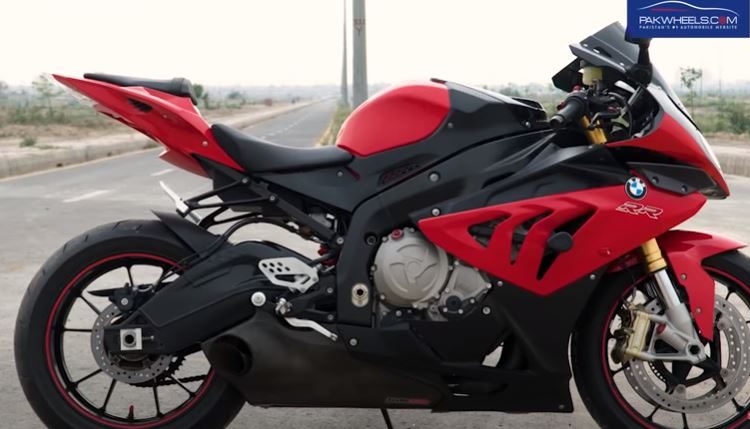 BMW S1000RR Bike – An Owner's Review
Today's owner review is of BMW S1000RR, launched in 2009. The under-review bike is 2012 model and owner bought it in 2019. This is the second generation of S1000RR, while currently 4th one is in the market.
Price of BMW S1000RR:
The owner bought this bike in Rs1,750,000. "This is my 4th BMW bike because I love the bikes by this company," the owner said.
Key Features:
According to the owner, this color scheme of red and black is one and only in Pakistan. "It has heated grips, quick shifters, different shocks," the owner said. Furthermore, this bike's horsepower and crank power is higher than other bikes in the category.

Driving Modes in BMW S1000RR:
The bike has four driving modes i.e., rain, sports, race and slick. "You have to switch on the slick mode in the bike," the owner said.
Safety Features:
The bike has traction control and ABS, which you can switch on or off, as per your wish. Furthermore, the bike has world's best brake system by Brembo.

600cc or 1000cc?
According to the owner, it depends on driver and his/her driving style. "Both classes have their own pros and cons, so its all about the likeness of the owner," he added.
Handling and Comfort of BMW:
The owner told us that he has owned four BMW bikes before this one. "The handling of beamer is unmatched, its maneuvering is very good and it adjusts with your body perfectly," he stated.
Modifications in BMW S1000RR:
According to the owner, the bike came with modification from abroad. "It has aftermarket tailer made exhaust, racing levers, chestnuts, and crash protectors," he told us.

Fuel Average of BMW S1000RR:
The bike's per liter fuel average is around 11 kilometers.
Known Fault or Issues?
The owner said if you take good care of this bike, you will not face any issues. "Just get its oil changed regularly, change its oil filter and clean air filter," he said.
Maintenance Cost of BMW S1000RR: 
According to the owner, its costs him around Rs10-11,000 per oil change, after every 1500 kilometers.
Ground Clearance:
The owner thinks that roads' condition has become better and there is no major issue in this regard.
Competitor of BMW S1000RR: 
According to the owner, its main competitor is Kawasaki ZX-10R.
0-100: 
The bike does 0-100 in 4:09 seconds.
Watch Video: