The official unveiling of the new BMW Z4 2019 is a few months away from now. A few of the major news companies' representatives also got to drive pre-production prototypes of the roadster car but even those were way too camouflaged for anyone to recognize what's inside. In fact, we have not laid eyes on a single image of the BMW Z4's new model that has been without a heavy camouflage. You may still not be able to see the car in real but, all thanks to AutoWeek – a Dutch automotive news website, you can get the idea of what it looks like through BMW Z4's patent drawings.
Also Read: 2019 BMW Z4 test mule caught on camera during a day out
The news website got its hands on a few of the renders of the BMW Z4 2019's design that were filed along with its patent. These renders show a Z4 that has no swirly patterns. One of the few things that you can instantaneously spot about the design is the retractable roof which has clearly been brought to production from the concept car of last year. The large air inlets on the front bumper have are smaller in these patent drawing while the design maintains the canted side strakes.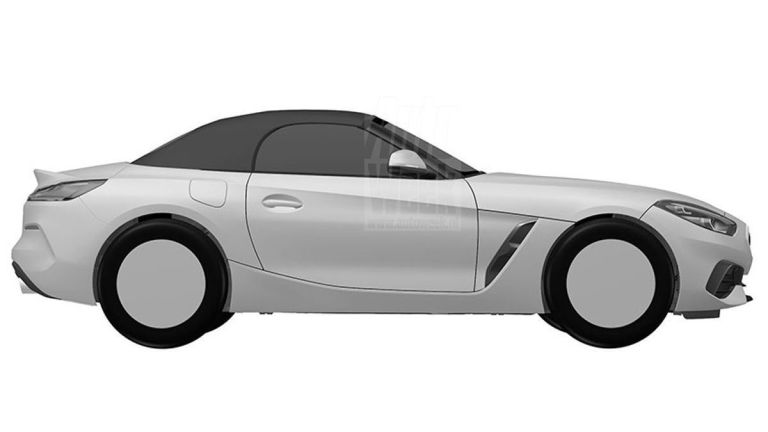 Many believe that this model in the patent drawing must be a base model because not only does it lack many visual distinctions that were present according to the Autoblog magazine (whose drivers got the chance to drive the car) but the drawings also show no sign of M-Performance and M-Sport components on the body.
2019 BMW Z4 roadster is set to be displayed for the first time to the public this August at Pebble Beach while it is due to start selling during the start of Q2 2019. The unveiling will be followed by another showcase of the car at the Paris Motor Show which is to be held in September. The official performance numbers of the car will also be announced during its display at the Paris Motor Show.
Some things that we can be sure of about the upcoming BMW Z4 is that the car is powered by a twin-scroll 3.0-liter straight six with the single-turbo engine which will produce 382 horsepower and about 370 pound-feet of torque. But we may also be looking at engine options including a turbocharged four-cylinder engine and a hybrid engine developed by Toyota.