As this is a winter season and the fog and rain are prevailing in most parts of the country which is a big cause of traffic accidents on roads leading to injuries even deaths. So we deemed it necessary to tell you people about anti-fogging and rain repellent products which will be of great use while driving through a thick fog and rain. They ensure safe driving since they not only remove dirt from glass but also enable a clearer view despite rain, snow and frost. So if you want to protect yourself and your car from great danger and damage during fog or rain do use anti-rain and fog repellents.
Why is Fog and rain repellent necessary?
The fog repellent will prevent the interior and exterior frosting which might distract the driver during travelling. And most important for a clear view to avoid any awkwardness.
Similarly, the rain repellents repel water easily off the windscreen to give the driver a clearer look. Different companies world-over are selling different types of anti-fogging and rain repellents products. However, we recommend 

Bullsone

 products as they are not only efficient but economical. Moreover, they are easy and safe to use. The company provides different kinds of vehicle protection products to its consumers; such as scratch remover, premium glass cleaner, and tire shield, etc.
Bullsone offers a variety of anti-fogging and rain repellent products as mentioned below.
Bullsone RainOK anti-fog foam prevents interior fogging and gives driver a clear view and free of driving distractions. It can last up to seven days, which is indeed great as no one can want to use a useless product which is used on everyday basis. It is applicable to any glass or mirror of the car.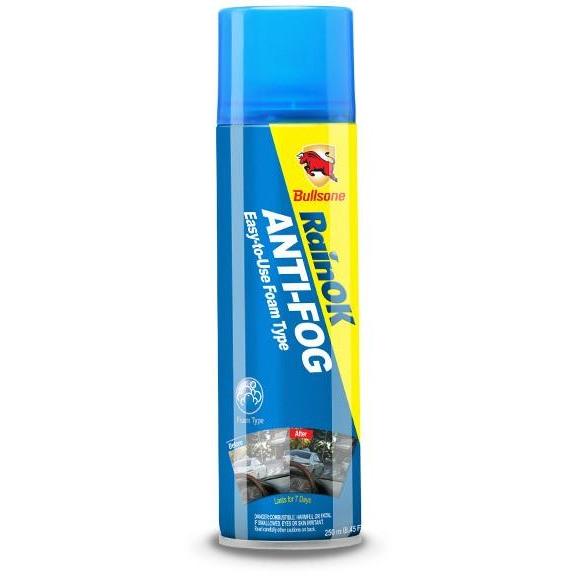 Available as:
Sizes: 250㎖ (8.45oz)
Type: Foam
Usage:
Always remember to shake well before use. Spray moderate amount onto a clean and dry cloth. And after that gently rub against the interior glass surface of care. And then spread the product evenly on the entire surface and wait for it to dry. Moreover, if the streaks form after the applied surfaces dry, wipe them away with a dry cloth.
Price:
The product is priced at Rs.550.
Aside from the BULLSONE RainOK ANTI FOG FOAM, another anti-fogging product is BULLSONE RainOK DEICER. The product is priced at Rs.665.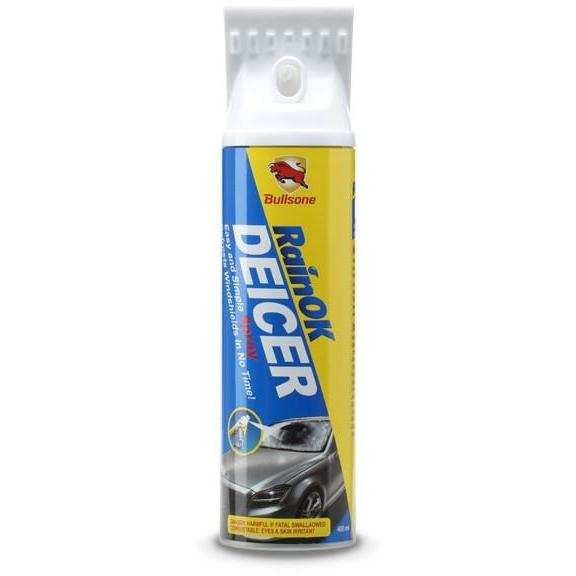 Importance of BULLSONE RainOK DEICER:
Defrosts the windshields and windows of the car, as well as a frozen radio antenna or keyholes.
Concentrated formula provides quick melting.
Easy to spray in the severe cold weather.
Now coming towards rain repellents, the company offers different rain repellents such as BULLSONE RainOK SPEED SPRAY.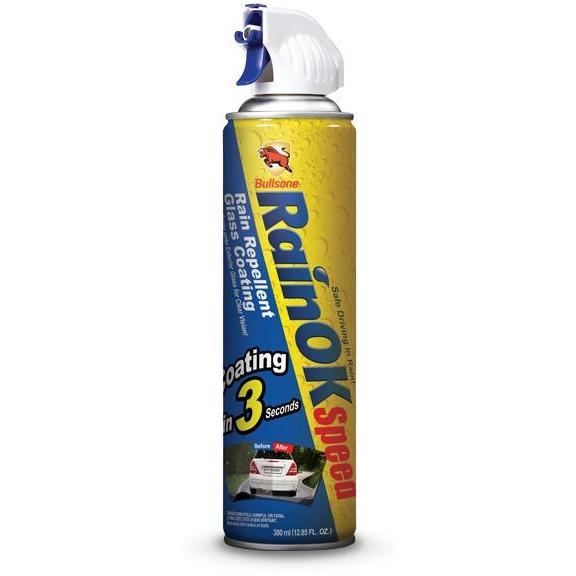 Features of BULLSONE RainOK SPEED SPRAY:
Creates a rain-repellent layer on windscreens, side, rear or wing mirrors.
Sprays product and raindrops will fly off the glass, which restores driving visibility.
Sprays 3 seconds to create a fine rain-repellent layer to ensure clear night vision.
Raindrops fly off the windshield at a speed of 60 km/h or over, which allows drivers to forgo the use of the windshield wiper blades.
Lasts for up to 2 months.
Usage and Price:
The product is priced at Rs.690.00. First off, spray the product on the windscreen evenly for 3 seconds while operating the wiper blades. And after that use less amount of the product on the side and rear windows than on the windscreen. Finally, the rain-repellent coating is applied simply by a 3-second spray.
Other anti-fog and rain repellent products are as follow:
BULLSONE

RAINOK ANTI-FOG WIPES

BULLSONE

RainOK ANTI FOG TRIGGER

BULLSONE

RainOK Rain Repellent Tissue

BULLSONE

RainOK CLEAN & RAIN REPELLENT 2 IN 1

BULLSONE

RainOK EXTREME RAIN REPELLENT FOR SIDE VIEW MIRROR

BULLSONE

RainOK RAIN REPELLENT PREMIUM WINDSHIELD WASHER FLUID – WINTER
Above mentioned is an updated list of the products by Bullsone. The details of these products and many other can be further checked on their official website.
Conclusion!
Your life is important and the car you buy is your responsibility, so always remember to use anti-fog and rain repellent products while driving your way through thick fog and rain. And more importantly refer to Bullsone products in this endeavour, as we believe in 'Safe, healthy & pleasant life!'
Disclaimer: Sponsored content!