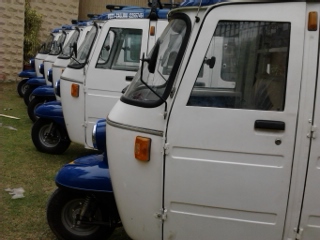 Call A Rik is the VIP movement of rickshaws
Rickshaws have been one of the most popular 'sawaris' of Pakistan, Bangladesh and India. Each year when we used to visit Pakistan in our childhood, we didn't want anything but rickshaws as our primary travel route but it was unsafe, noisy and lacked quality customer service.
Today, its even worse, privately driven rickshaws talk with a straight face and if you can't afford the unimaginably expensive price of your commute, you best don't waste their time as they don't like it. While it is not with all of the rickshaw drivers, but jacking up prices in rain or other bad situations has become common and they will leave you stranded if you refuse to pay their asked high price even though government law clearly states that it is the duty of the transporters who are given license by the government to operate to entertain any customer that has stopped them.
Now though, there are few new and unconventional rickshaws in town. With royal white and blue sporty stripes, laden with LCDs and headphones, they are built and run by a service called 'Call A Rik'.
Started by Mohsin Dharsi, these rickshaws have closed doors and comfortable seats and are just a call away to take you anywhere you want at an affordable price of Rs10 per kilometer on weekdays and Rs12 per kilometer on weekends.
While speaking with The News, Mohsin Dharsi said that the conventional rickshaws are unsafe, children could fall off and passengers could get mugged at signals and women are subjected to indecent exposure as their clothes fly around.
He further says that Call A Rik is a safe mode to travel as each rickshaw is equipped with a tracker so you could track your loved ones or employees anytime you want by just calling 'Call A Rik'.
Although there are no seat belts, there is no powerful roll-cage to withstand any collision even with a Mehran and it rides just like any other rickshaw to break you back, but with some on-board entertainment you can move your mind away from backache to Katrina Kaif's item song being played on the LCD however, with all the said, we believe that a proper company backing up these line of rickshaws will be enough for people's confidence to be a safe and proper service which will grow and improve as Mr. Dharsi has expressed plans to work on the engine to add up air-conditioning.
The feedback has been extraordinary, calls from Pakistanis abroad had come to invest in this service while Mr. Dharsi also say that he had interest shown from Bangladesh to run and operate a carbon-copy of this service.
By the end of the year, they plan to jump the number of rickshaws to 100 from 27 today and also make available the service in other cities of Pakistan such as Islamabad and Lahore.
Have you had any experience with Call A Rik as of yet? Share with us in the comments below!