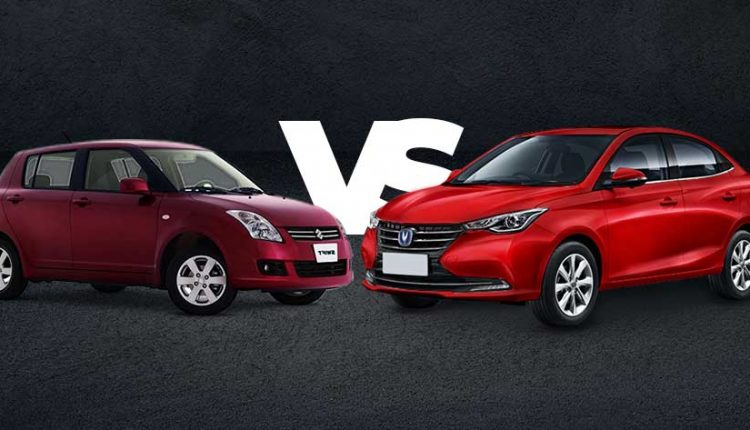 Changan Alsvin Vs. Suzuki Swift – A Comparison
As Changan Alsvin has made an entry with a bang in the local market, we are  comparing it with different cars. Continuing our series of comparison, in this piece, we have compared the new sedan with Suzuki Swift. 
Note: It is pertinent to mention that we are comparing the base manual variant of Alsvin (1.3L Comfort) and top of the line auto version of Swift (DLX Auto) because both cars have a similar price range. Furthermore, this comparison will show that Changan's sedan will definitely hamper Suzuki hatchback's sales due to the price. 
So, without wasting any further time, here is the brief comparison between both cars. 
Engine & Transmission: 
Changan Alsvin comes with 1370cc engine, which produces 99hp and 135Nm Torque. Meanwhile, Swift's engine size is 1328cc, with 90hp and 114Nm Torque. So, Alsvin's engine size, hp and Torque are superior to Swift. Furthermore, Alsvin comes with a 5-Speed Manual Transmission, while Suzuki has installed 4-Speed Automatic Transmission, giving Swift a clear edge in this regard. 
Headlights: 
The new sedan by Changan comes with Height Adjustable Halogen headlights, while Swift has Simple Halogen Front lamps. This means sedan is more efficient in driving, especially at night. The adjustable lights set their beam as per traffic in front of your car, making your and others life very easy. 
Generation: 
If we come to the generation comparison, we will know that Changan has introduced the 3rd generation of Alsvin, which is its latest one. Meanwhile, Suzuki Swift in Pakistan is also 3rd generation; however, Suzuki has introduced 4th generation globally, but not in Pakistan as yet. The comparison shows that Alsvin is modern and latest in technology as compared to Swift. 
Alsvin Vs. Swift-Safety: 
Changan has installed two airbags in its sedan; however, Pak Suzuki hasn't introduced this safety feature in its hatchback. Meanwhile, both vehicles come with ABS. Henceforth, Alsvin is the safer vehicle between both. 
Rear Camera & Parking Sensors: 
Both Alsvin and Swift come with Rear Cameras; meanwhile, Changan's vehicle has Parking Sensors, but Swift doesn't offer this feature. This means it is easier for a driver to park an Alsvin, even in tight spots, compared to Swift. 
Alsvin Vs. Swift-Fog Lamps & DRLs: 
On one hand, Changan's car doesn't have Fog Lamps, while Suzuki has installed them in Swift, while on the other hand, Changan's sedan has DRLs, but Swift doesn't. So, in one feature Alsvin has the upper hand, while in the other, Swift is dominating. 
Steering Controls: 
Changan is offering the Steering Controls as standard feature in all three variants, while Suzuki hasn't offered it in Swift. This means, it is easy to control Multimedia in the new sedan, as compared to Swift.  
Price: 
Now the most anticipated comparison, which is the whole point of this article. Changan has introduced 1.3L Manual Comfort Alsvin in Rs2,199,000. Meanwhile, the price of Swift DLX Auto is Rs2,210,00. This means, although Alsvin is a sedan car and have more features, it is still Rs11,000 cheaper than Suzuki's hatchback, which is a huge positive for Changan and its vehicle. 
Comparison Chart – Changan Alsvin Vs. Suzuki Swift: