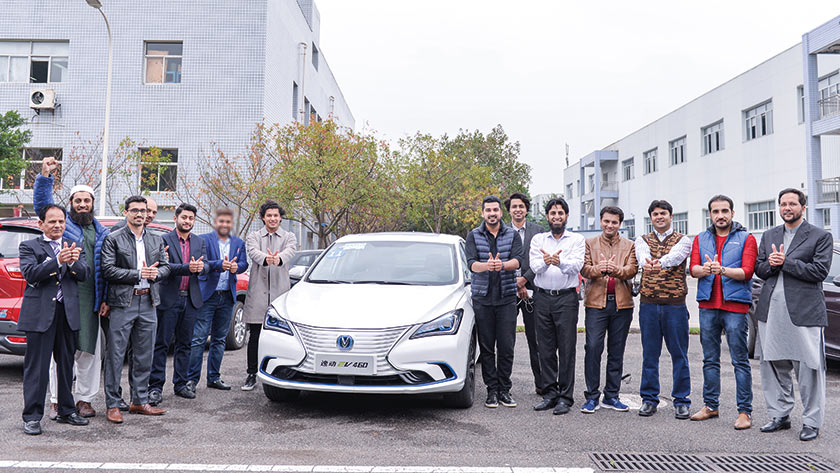 Changan's commitment to R&D and the future it wants to make come true
Changan is the #1 Chinese automobile brand for past ten years and has been spending heavily on its research and development program. From regular vehicle research to powertrain development to electric vehicles and autonomous driving; Changan is doing it all. According to an assessment made in 2017 by National Development and Reform Commission (NDRC); a state-acknowledged technical centre, Changan scored 93.6 ranking third in the automotive industry in China.
Let's take it from the beginning
At the Changan Research and Development Center in Chongqing, we were introduced to Changan on a deeper level regarding the company's roots as well as its history when it comes to research and development. Changan has been in manufacturing business in some form for more than a century. It has covered a lot of miles from manufacturing of weaponry to vehicles. Changan's first vehicle was Yangtze 46, a 4×4 off-roader in 1958. In 1984, China started making passenger cars and light commercial vehicles under technical and commercial cooperation with Suzuki Motors, later it established separate joint venture companies with Ford, Mazda and PSA. And up until 2017, Changan had produced 15.5 million cars.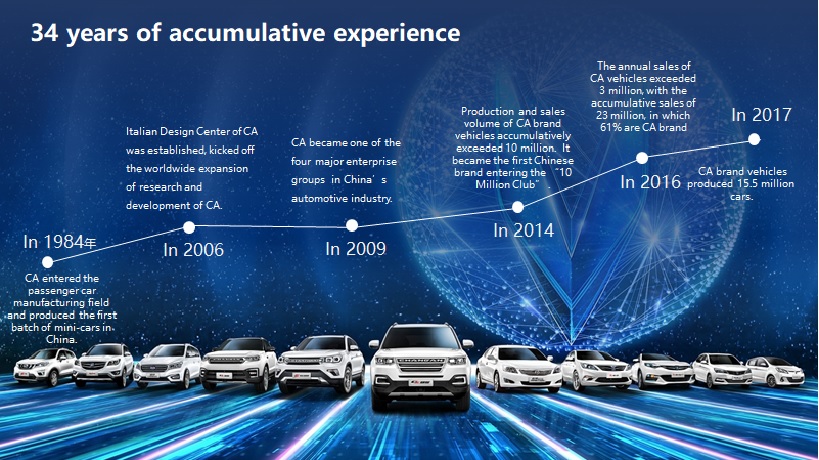 Changan has applied for a total of 10,696 patents including 3,042 patents of invention (as of August 2018). That fact that Changan spends 5% of its total sale each year on its research and development projects alone is pretty amazing. The total investment has amounted to USD 7.1 billion during the last 10 years. Changan has around 11,000 experts in 16 countries across the globe. Currently, Changan has nine R&D facilities worldwide such as Detroit, Silicon Valley, Yokohama, Beijing, Hefei, Hebie, Chongqing, Turin and Birmingham.
Developing quality vehicles for the real-world scenarios
Changan has invested heavily in designing and developing their own engines, as well as the special focus has been on vehicle structural integrity to ensure longevity as well as to improve crash testing. Few of the primary focus of Changan's research and development has been on crash safety, brake performance, chassis test, NVH (noise, vibration, and harshness) and drivetrains.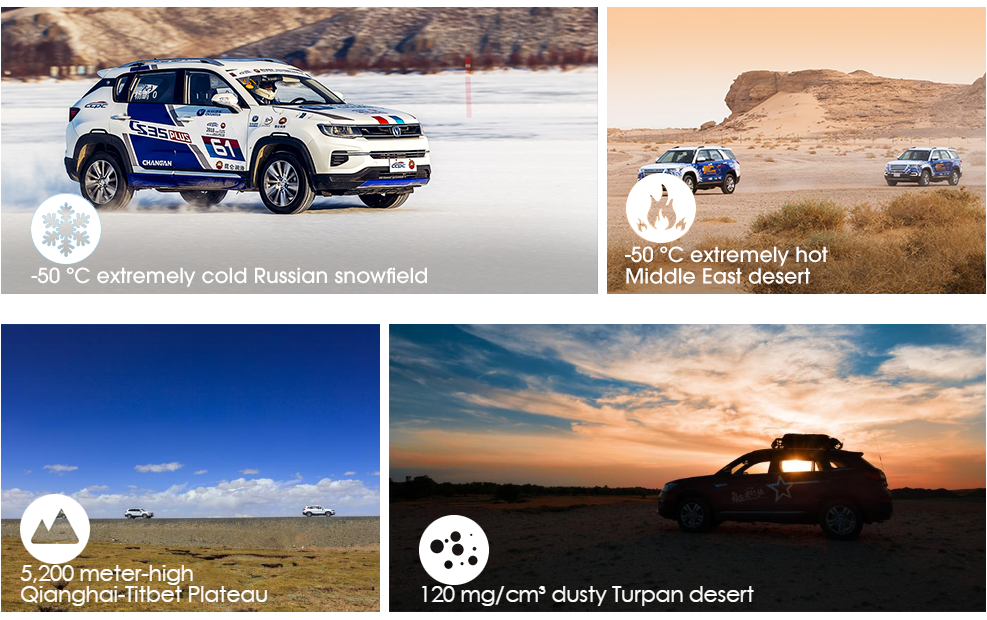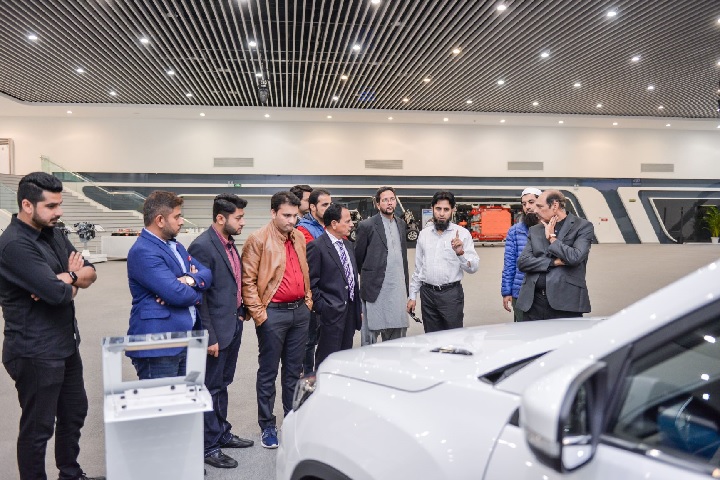 Changan has devised various processes/systems for the development of its vehicle. The development of a new car (product planning) starts with CA-PAS (Platform Development System) where the chassis of the vehicle is designed and developed. Then in the second stage, the process moves to CA-PDS (Product Development System) where the overall vehicle (product) is developed around the needs and requirements of the segment that vehicle is going to target. During the engineering development of the vehicle, CA-TDS (Technology Development System) is employed to integrate platform development and product development. When the product/vehicle is finished, it goes through CA-TVS (Test and Verification System).
Changan's investment in research and development has paid in the form of the company becoming number 1 in its home turf. Changan follows international standards in every aspect of the development of its cars. All the latest models developed by Changan earned a 5-star rating in C-NCAP crash tests like Eado, Raeton CC, CS75 to name a few.
When Changan was planning to launch its vehicle in KSA, the company conducted some extreme testing of its vehicles to show people how tough these vehicles were. The test was not only to show the potential buyers about Changan's vehicles, but it was also an opportunity for Changan experts to collect valuable data to not only improve its vehicles for the needs of the driving conditions of Saudi Arabia but also to measure the capabilities of their cars. The campaign dubbed "Extreme Heat Challenge" put vehicles through some arduous testing where participating vehicles covered more than 20 thousand kilometres in extreme weather conditions where, at some places, the temperature crossed 50 degrees Celsius.
Drivetrain R&D
BlueCore powertrain is the latest in-house innovation achieved by Changan Automobile. BlueCore combines the high efficiency and energy saving technologies like GDI, DVVT and advanced transmission technologies like Dual Clutch Transmission and Intelligent Manual Transmission. The optimized internal combustion system in the powertrain is capable of reducing fuel consumption by 20% and carbon emission by 40% without compromising the overall performance of the vehicle. It has managed to achieve high standards in carbon emission, acceleration performance and noise vibration & harshness requirements.

Changan has until now researched and developed 8 major series of engines.  When I talked to Changan's powertrain head, I was told the current generation of Changan's engines are completely home-grown (researched and developed). The highly efficient and low friction Changan engines come with latest technologies like variable valve timing and direct injection. There are both naturally aspirated as well as turbocharged engines in Changan's lineup.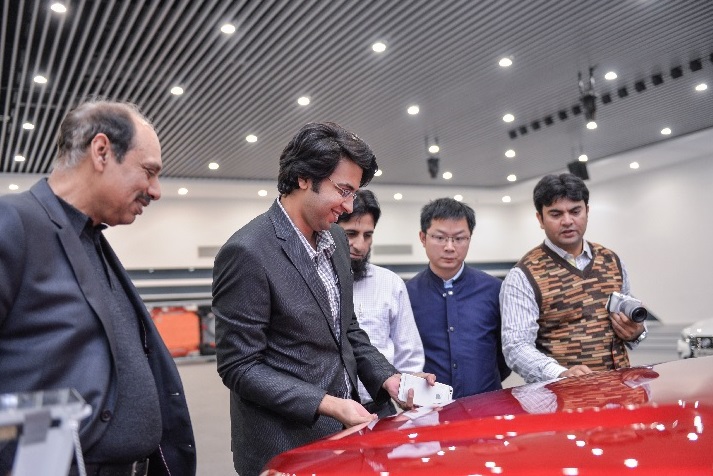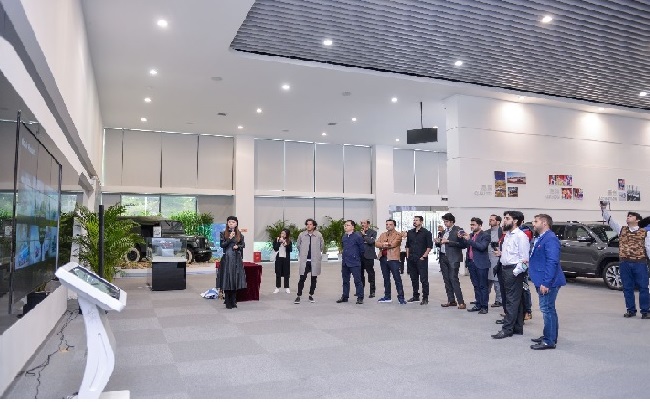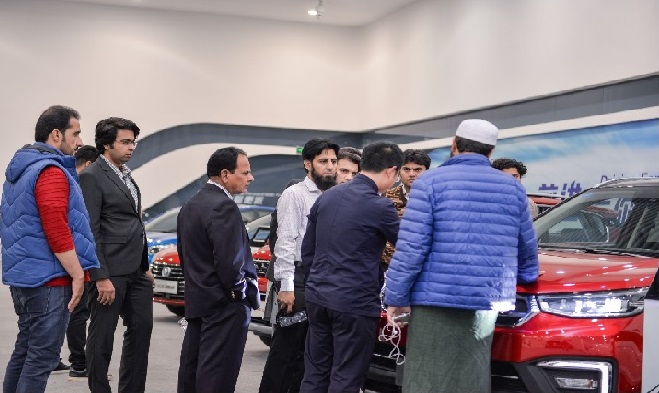 The company invested USD 289 million in building an international standard vehicle test field in Chongqing Dianjiang District. The test track is one of the largest in Asia that provides the most amount of testing scenarios. Each newly developed Changan vehicle model undergoes 4,500 different tests in 15 areas including drivability, environment, strength, safety, braking, crash, suspension, handling and manoeuvrability, etc. To check how strenuous Changan's testing standards are, the company has designed its checks to see if its vehicles will last ten years of use or 260,000 km of travel. For instance, the Changan Van, also known as Star or Karvaan, which is the first single model with more than 1 million units sold. The vehicle has achieved 500,000 KMs testing without any engine overhaul.
Changan is coming to Pakistan
Since we all know Changan is coming to Pakistan and their local partners Master Motors is getting ready to start assembling its vehicles domestically, Changan and Master Motors have this unique opportunity to showcase their product strength in the variety of climate and driving conditions of Pakistan. On one hand we have extremely hot regions, on the other hand, we have snow covered mountains. Once vehicles prove their mettle in Pakistan, Master Motors could confidently market Made in Pakistan Changan vehicles in other Asian RHD countries as they announced their export plans.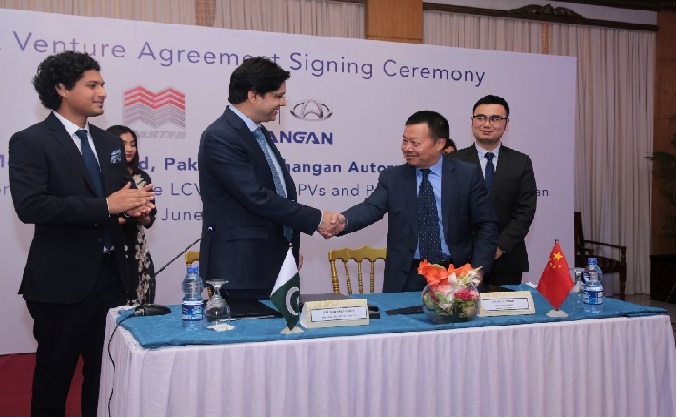 As per Changan officials, they plan to implement their original technology system in Pakistan the same way they have done in Yuzui. The plant which will have a production capacity of 30,000 units per annum and is designed to achieve phase wise automation with the end phase resulting in full automation eventually. Changan has already started working to select vendors and initiate intensive localization. This will help promote and uplift the local vendor industry and as a result, low cost of manufacturing. It is worth noting that Master Group has a background in providing high-quality parts to Honda, Toyota and Suzuki through its sister concern Procon Engineering which is one of the largest auto vendors in Pakistan since 1988. Procon Engineering produces the whole range of robot-welded structural metal parts, high-quality seats, fabric roof headlining, floor carpet to name few of them. With such engineering feats, I foresee strong localization will happen in the coming years.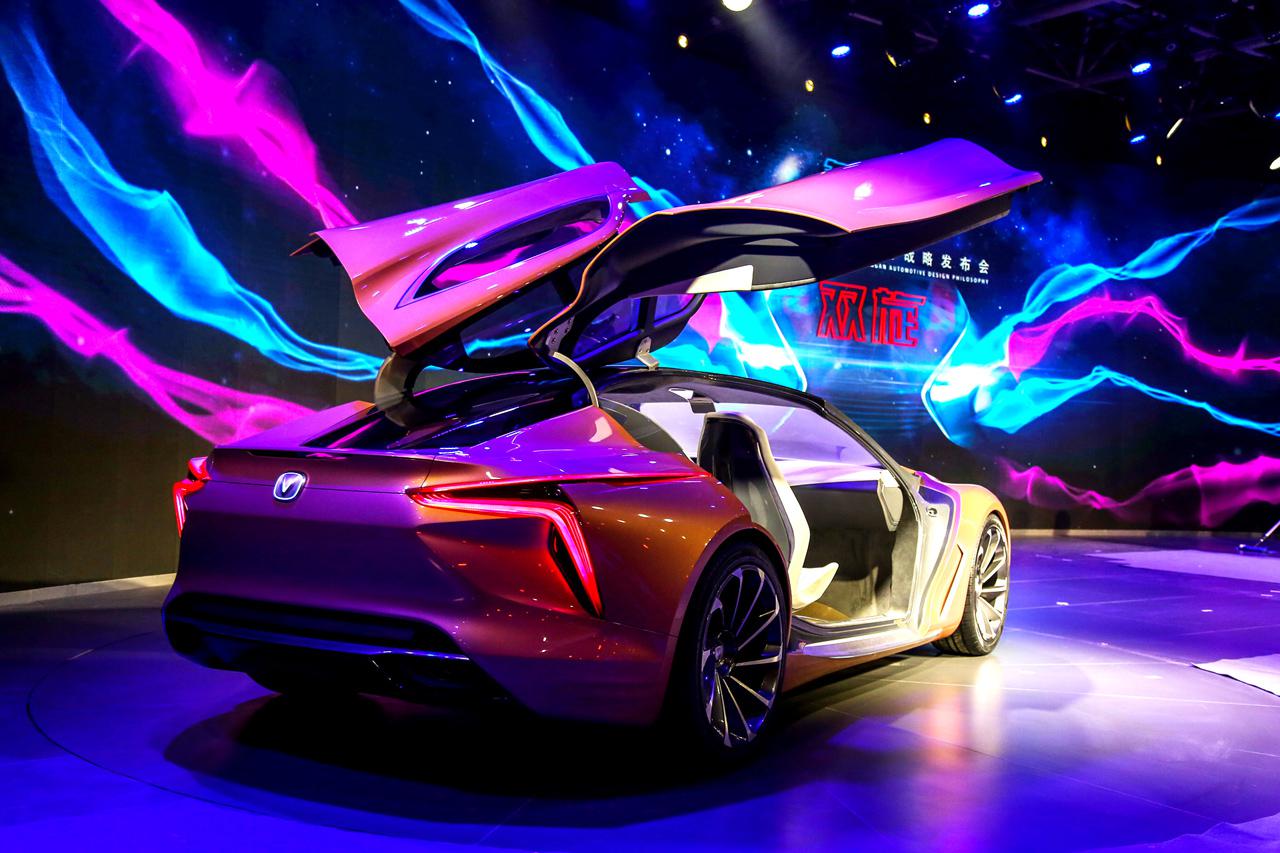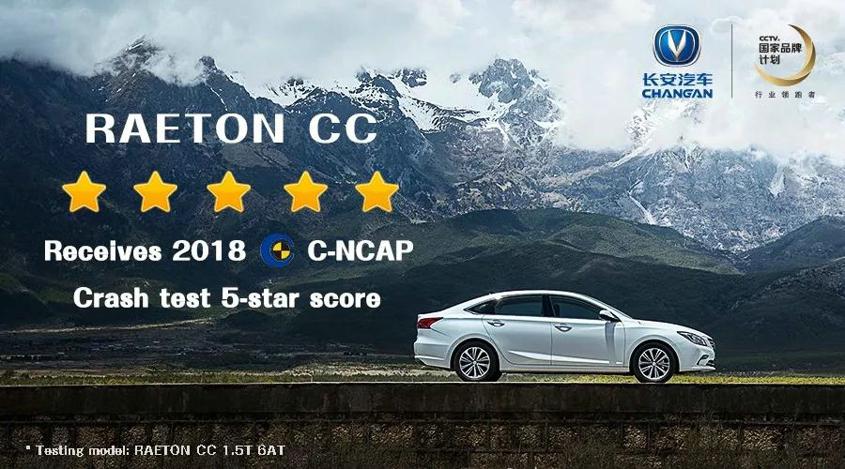 Changan has no doubt got a solid partner in the shape of Master Motors as well as strong manufacturing and R&D foundations and great product lineup. We hope that they will bring all the great cars to Pakistan and break the current status quo. Stay tuned to know how we were enchanted by the design, quality, performance and technology of their latest vehicles.