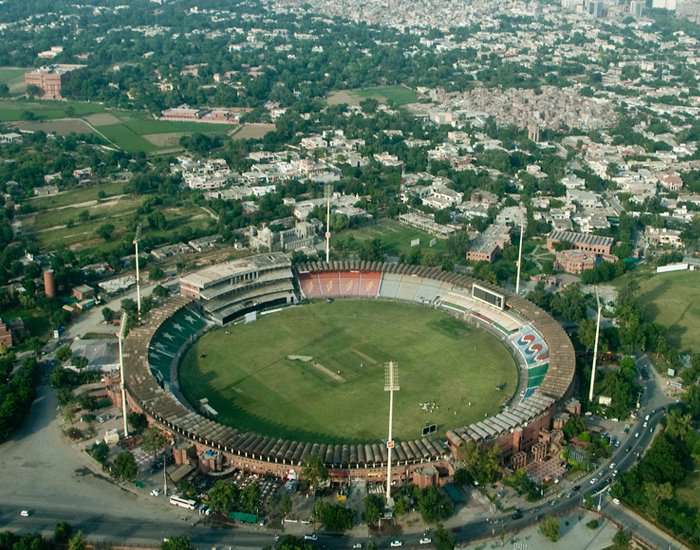 In a bid to facilitate the commuters and tackle the traffic-related issues, the City Traffic Police (CTP) Lahore has issued the traffic advisory plan for the Pakistan-Sri Lanka T20 series.
The provincial capital of Punjab is hosting the 3-match T20 series between Pakistan and Srilanka from 5th to 9th October 2019. All these international matches will be held at Gaddafi Stadium Lahore for which the traffic plan, including alternative routes for traffic, designated parking spaces, and traffic instructions, have been issued. The general public is advised to follow these instructions to avoid any inconvenience while commuting during the above-mentioned dates. The following parking spaces are designated for the citizens traveling from different parts of Lahore to Qaddafi Stadium.
Designated Parking Spaces:
The traffic coming from Mughalpura, Mall Road and Jail Road will follow the Canal route to Forman Christian College.
Those coming from Mazang, Ichra, and Wahdat Road will follow the Shah Jamal route towards FC College.
FC College Parking will also be used by those coming from Zahoor Elahi Road, Main Market Gulberg, and Hali Road.
The citizens coming from Kahna, Kot Lakhpat, and Ferozepur Road will follow the route through Qainchi, Walton Road, Cavalry, Jinnah Flyover, Firdous Market to Hussain Chowk Liberty Market parking.
Liberty Market parking will also be used by those coming to watch the match from Walton and Defence Road via Cavalry, Firdous Market, and Hussain Chowk.
Punjab University Boys Hostel ground parking is designated for the traffic coming from Motorway, Thokar Niaz Baig, Wapda Town, Garden Town, Johar Town, and Township through Barkat Market and Punjab University campus bridge.
LDA parking plaza located behind Sunfort Hotel will be used by those traveling from Cantt and Gulberg areas.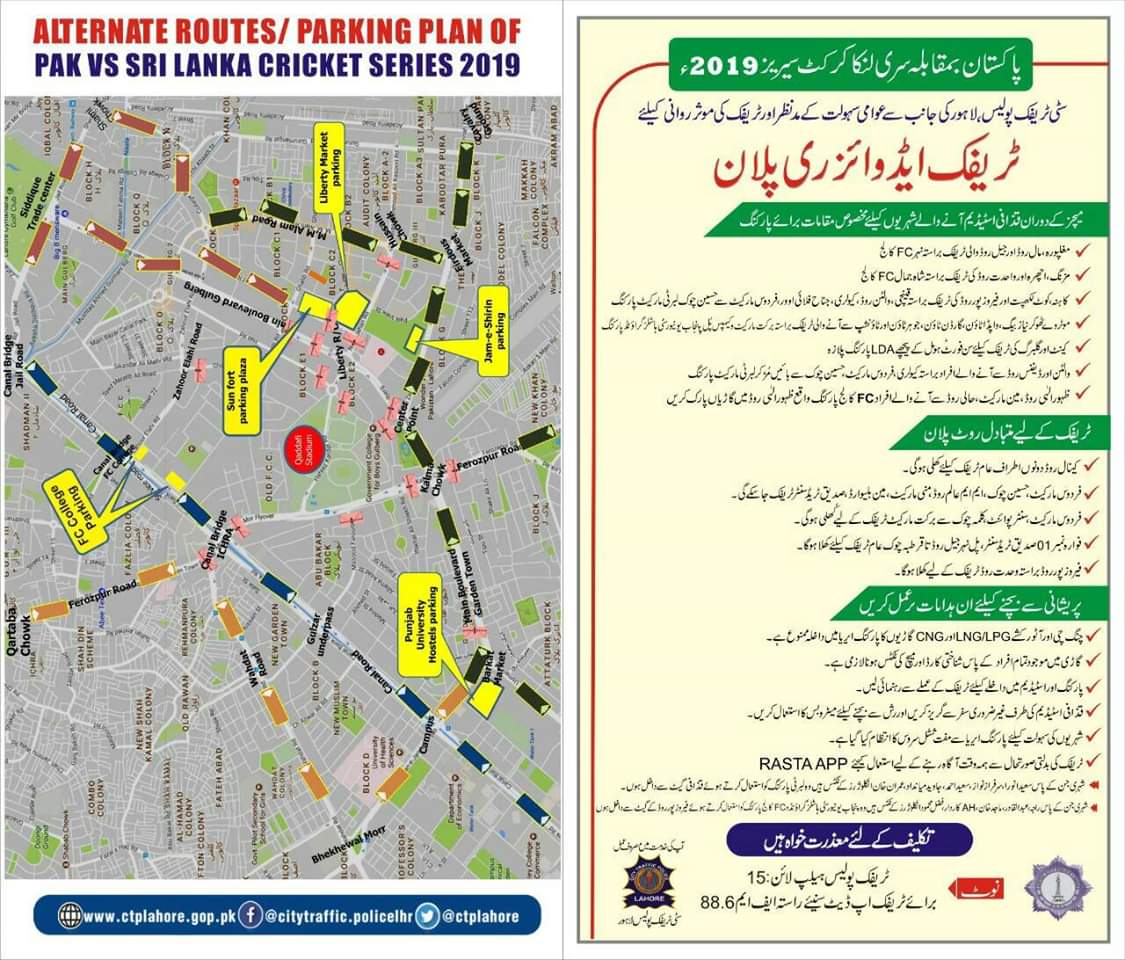 The alternative routes for traffic:
Both sides of Canal Road will remain open for the general traffic during match days.
Traffic routes towards Firdous Market, Hussain Chowk, M.M.Alam Road, Mini Market, Main Boulevard Gulberg, and Siddiq Trade Centre will remain open.
The route from Firdous Market, Centre Point, and Kalma Chowk to Barkat Market will be open for the general traffic.
The route from Siddiq Trade Centre through Jail Road Canal Bridge to Qartaba Chowk will remain open on the above-mentioned dates.
Ferozepur Road will also be open for traffic via Wahdat Road.
Important Instructions to avoid inconvenience:
All the Qingqi and Auto Rickshaws (LPG/LNG, CNG) are banned from entering the specified parking areas during these days.
All the passengers traveling in cars are required to bring their CNIC along with their respective match tickets.
Seek guidance from the traffic officials for entering the designated parking spaces and stadium.
Avoid unnecessary traveling towards Qaddafi Stadium and use Metro Bus Service to tackle traffic congestion.
To facilitate the citizens, a free shuttle service is offered from parking areas to the stadium.
Stay connected with RASTA APP for the latest updates on continuously changing traffic situation in the city.
Citizens having tickets for Saeed Anwar, Sarfraz Nawaz, Saeed Ahmad, Javed Miandad, and Imran Khan Enclosure are advised to enter the Qaddafi gate using Liberty Parking.
While those having tickets for Abdul Qadir, Majid Khan, AH Kardar, and Fazal Mahmood Enclosure are hereby directed to use the gate from Ferozepur Road using FC College and Punjab University boys hostels ground parking.
Furthermore, the citizens can use the traffic police Helpline 15 and stay connected to FM 88.6 for the latest updates on the traffic situation. All these measures are taken to ensure a smooth flow of traffic during the match days in Lahore. As a responsible citizen, we should also play our part to follow the above-mentioned instructions and directions from the City Traffic Police Lahore to avoid any inconvenience. Stay connected with PakWheels for more updates regarding any changes in the traffic plan. Also, you can share your thoughts in the comments space below.