So Civic is finally here, while build quality has raised some eyebrows, there is yet another point of concern which has long been overlooked by Honda Atlas. If you have followed PakWheels Blog, you probably know that 2016 Honda Civic has long been coming. If you don't know already here's a little heads up, Honda Atlas started booking the 2016 Civic back in the first week of June about a couple of weeks after I released the spy shots of Civic's Test Mule.
Also Read: 2016 Honda Civic in Pakistan and its Questionable Exterior Build Quality
Since the booking process started without a reveal of the car itself or of a specification sheet which outlined the equipment it will come installed with, all we knew were its "tentative pricing" (which too were announced a week after pre-booking started on a 50% partial payment of the overall price).
A lack of information, in fact, zero information, lead to a sense of total unpredictability around PKDM Civic, this meant, dealerships were to make guesses regarding Civic's features to claim bookings which meant misleading the public. Now as final pricing and spec sheet have been officially released by Honda Atlas, we know the extent of the false information which was circulated by dealers.
Have a Look: Pakistan's 2016 Honda Civic Officially Launched in a One of a Kind Way!
Here Are The Errors Made by Dealers Regarding 2016 Honda Civic Since Pre-booking went underway;
Rear Entertainment System – Standard OR Optional?
Multiple Spec-sheets which were made by dealerships merely by rumors mentioned that Rear Entertainment System would come as an optional feature for the VTEC Turbo variant of 2016 Honda Civic. While now as Civic hits the showroom floors after seeing a PKR 100,000 increase in its tentative pricing has the Rear Entertainment System as standard which is also a feature primarily responsible for the rather ugly "U" shaped press on VTEC Turbo's center console made to accommodate this system!
LED Fog lights?
LED Fog lights a feature mentioned by many dealerships on their specification sheet when pre-booking is something missing from the new Civic. What I think though is that maybe, dealers who had no knowledge about the to be released Civic at the time booking started, mistook the LED daylight running lamps (DRLs) as LED fog lights. Which may sound foolish on dealers part but provided the lack of information they had regarding the new Civic, it's not a long shot to think this as an explanation.
Dual Auto Air-condition meant what? – Rear ventilation ducts or Dual zone climate control? (This dealer thought both!)
This particular dealership who mentioned LED fog lights as a featured seemed to be confused themselves on what rear air conditioning vents mean. In the specification sheet both rear ventilation ducts and dual auto air condition (climate control) are stated. Out of these two, one attribute made way to the final product that is the rear air A/C vents while the alleged dual auto air-condition which to me suggests a dual climate zone air conditioning remains absent.
Read More: The Fragmented Lineup Of 2016 Honda Civic In Pakistan – Explained!
Prosmatec or CV-T transmission?
This particular tid-bit generated a great deal of confusion on the internet as to what sort of transmission would come inside the new Civic as CV-T is available in other regions. Now since the car is before us, we can confirm that the transmission to our relief is CV-T instead of age-ing Prosmatec.
Multiplex Speedometer or Information Display or Driver Information Display?
A couple of dealers mentioned Civic's speedometer as a "Multiplex Digital Speedometer" again something unheard off since worldwide there are two types of speedometers available on 2016 Honda Civic i.e. either Driver Information Display (which is the full-colored display) or Information Display (the which has made way to our PKDM Civic).
This specific dealer spec-sheet came up with the most accurate set of alleged feature set!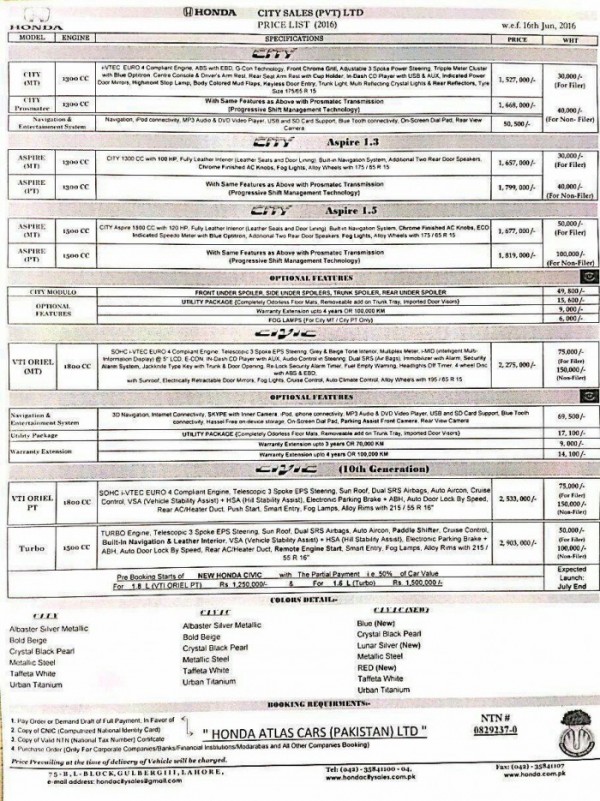 However, despite all the confusions surrounding 2016 Honda Civic, booking response remain positive. What do you think of the new Civic?