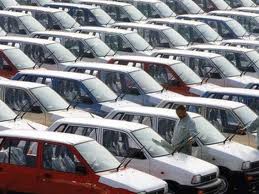 Engineering Development Board stuns auto sector by proposing drastic duty cut in CKD and CBU units
You can expect all kinds of things from the current government, while on one hand, it talks about providing relief to buyers by pressurizing the local auto assemblers to lower down the prices of locally assembled car by lowering down the duty of imported vehicles. On the other hand however, it seeks to protect the local sector which is already facing a lot of challenges in such as energy crisis, security uncertainty and unstable economy.
Despite all this, Engineering Development Board (EDB) sought it best solution to drastically cut down the duties imposed on Complete-knockdown-units (CKD) and Completely-built-up-units (CBU).
In the two-wheeler sector, the EDB proposed import duty on completely built-up units (CBU) units to 50 per cent in 2012-2013 from the present 65 per cent while duty on non-localised CKD is proposed to be slashed to five per cent from 15 per cent.
The duty on localised CKDs is proposed at 25 per cent in 2012-2013 from 47.5 per cent.
In cars, duty on non-localised CKD kits is currently 32.5 per cent which the EDB proposed at 20 per cent while on localized parts import duty will be reduced to 35 from 50 per cent next year and after downward changes in every up-coming fiscal year, the duty will be brought down to 20 per cent by 2016-2017.
The rate of duty on CBU 1,000cc is suggested at 40 per cent from 50-55 per cent followed by 50 per cent on 1,000-1,500cc from 60 per cent in 2012-2013, while CBU duty on cars from 1,500cc to 2,000cc is proposed at 60 per cent from 75 per
cent.
The EDB road-map also includes withdrawal of regulatory duty of 50 per cent on cars exceeding 1,800cc being an impediment to growth in this segment.
The local auto sector instantly rejected the proposal as it would although slash the prices of locally assembled cars and bikes but the highest beneficiaries would be importers of Pajero, Land Cruisers, BMWs, Porsches and Mercedes vehicles.
It will also threaten the local parts manufacturers as the importing parts would become cheap and already, the local assemblers seem very uninterested in implementing the deletion policy which requires them to achieve a certain percentage of localization since beginning production which they haven't.