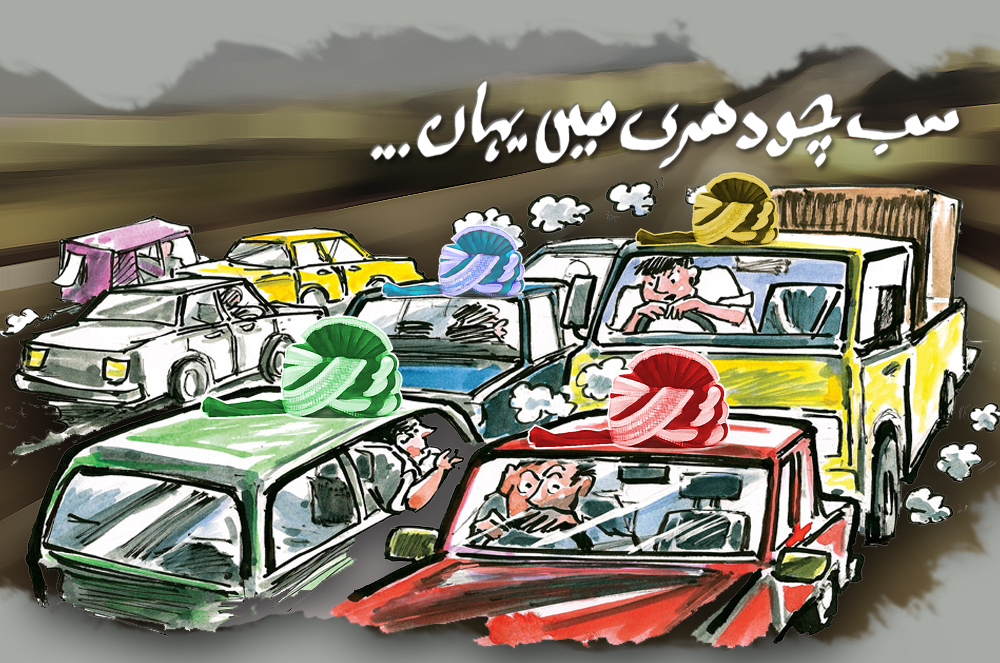 Everyone Is A Choudhry In Pakistan…
"Choudhry Ashraf's sister ran away" – my new friend whispered to me as I stepped outside after hearing an uproar on the street.
We had just shifted to a small town near Khanewal. It was the nineties, PTV and STN era, and there were no mobile phones, no cable channels, no personal computers and laptops and no internet. The whole region would turn into a ghost town after 8 pm as everyone slept early; save the few privileged ones with TV who would wait until the 9 pm Khabarnama. In short, those were the days when the air was clean and….well you know the other bit. Hence, the chaos in the street a few hours after sunset got everyone running out of their houses to see what happened. There were no crimes in that area; at least not the serious sort that we hear every hour nowadays. The common conflicts of stealing a few desi eggs from underneath someone's hen, or secretly milking someone's cow at night were settled casually in the Panchayat. This, however, was huge.
We, a couple of 10-12 y.o. kids sat there on the steps outside my house chewing on our miswaaks while the elders stood in small groups in our semi-lit street discussing the matter when suddenly Choudhry entered  from one side of the street. He was furious, raging red with anger and flushed with shame and defeat. He had lived a life of pride and arrogance, and suddenly all seemed to be slipping away. Accompanied by a few of his 'tuchchay'(sidekicks) he stomped pass us flashing his torch at people signaling them to make way for him. The ones who didn't recognize the mighty torch signal, he or his sidekicks physically pushed them away.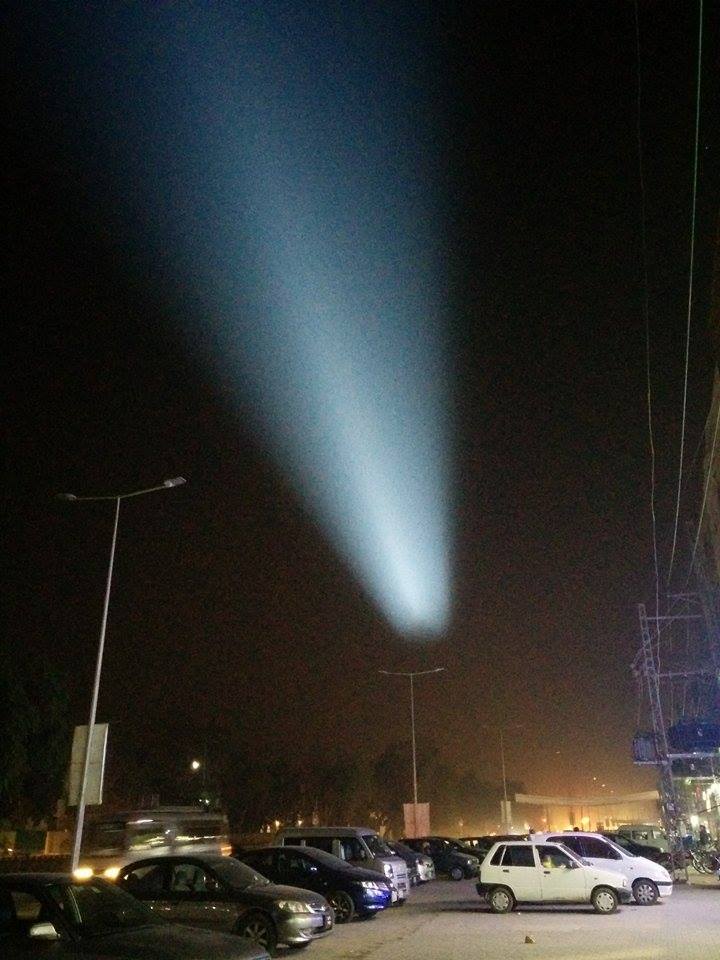 Now this was no ordinary torch, Choudhry had brought it from Peshawar – it was from the remains of Russian Afghan invasion and it allegedly shone brighter than any other torch in the surrounding 14 chak (villages). Some said it could blind the person looking at it from 3 miles away. Some said it was used by Russians to signal Morse-Code to their satellites orbiting earth. Some said a similar torch was beamed by Russians to take down Gen. Zia's plane. And some said it used the same technology which is being researched at Kahota Labs.
My apologies for getting carried away, it was indeed the ultimate torch.  My point being that since then, whenever I see someone driving around flashing his HIDs on full beam in city or on motorways, I recall Choudhry Ashraf. Each time someone 'HID ka dipper marta hai', I am somehow reminded of a guy whose sister has run away and he's out there with all his rage and lights to find her. He's tailgating you and shoving you off the lane because he doesn't want her to get far. He's honking like a maniac because if he can't find her, he won't be able to show his face to the community the next day.
I tell myself that he's doing all this because the matter must be very serious. There can be no smaller reason than his dignity at stake for exasperating everyone else on the road.  Or is there?
Unfortunately, we don't need a big reason to antagonize our fellow countrymen. Unfortunately, we don't even need a reason at all. We do it because we can.
There are those who drive in the center of the road, occupying two lanes at a time blocking any possibility of overtaking. Most of the times they are the ones driving at 30kmph in a 70kmph zone as if they have nowhere to reach. Once you do get across them, there are high chances that you'll find them busy gossiping on their mobile phones unaware and unmoved by the sea of cars they've caused to accumulate behind them. You pass them and they wave at you with their 6 incher Samsung as if you're the crazy one. You look at them wondering how a douche with 1.5 million rupees car and 50,000 rupees cellphone can be utterly cheap when it comes to buying a 500 rupees Bluetooth headset.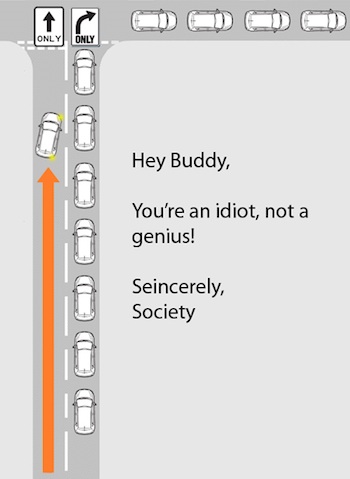 Then there are the lane intruders – they have to go straight or right but they consider themselves superior beings, unlike the other worthless earthlings waiting in their correct lanes. So they choose the left lane blocking the left turning/oncoming traffic and once the signal turns green, they start shoving their way into the legitimate lane slowing down all the traffic legally waiting for their turn. A similar scenario is seen when you're stuck on a two way street. There is always that smarty pants who thinks he's the real genius, overtakes everyone via the oncoming traffic lane and blocks both ways.
RELATED: Pakistani drivers make a mess of traffic through lane jumping while making turns
If all those weren't enough, there come the 2-minute-guys. Alright, it's not what you're thinking. These are the guys who would park blocking your car and when you ask them, they politely reply "I'll come in two minutes" – again not what you're thinking. The thing is, those two minutes are never less than half an hour; you find yourself stranded there frustratingly waiting for them while they forget about you or your possible need to leave as soon you're out of sight. 30 minutes later they arrive with a smirk on their face and throw a random excuse at you.
The bikers, on the other hand, have a world of their own – never have I seen a clan more disoriented with their whereabouts on the road than a biker doing 60. Those are still bearable – worst are the ones who kickstart their bikes, get on the main road and somehow, Dhoom 2 music starts playing in their head and with their imaginary Aishwaria Rai sitting behind them, they begin to dodge the hypothetical barriers going zigzag and ultimately crash into the sidewalk and then sit on the greenbelt holding their knee with agony dripping from their face. The normal traffic rules don't apply to them. Red light doesn't mean stop, in fact it means if the traffic warden is not in sight, go for it. If and when they are stopped by the Warden, rather than presenting their documents, they start dialing some number on their phone and urge the Warden to talk to the person on the other end.
Then we have public transport – they work together, like a mafia, like a brotherhood. You cannot argue with them, you just cannot win. A rikshaw, for instance, just needs to get its tiny front wheel in, and you'll have to provide him the way. If God forbid he hits you in process, you can't do anything. Fellow Rikshawmen will emerge from nowhere and soon you'll be begging to let go. Same goes with Qinquis. The donkey carts top everyone else with their "tussi sai keh raye ho, par ae gal khotay nu kon samjhaye?" (You're right, but explain that to the donkey). The urban transport vans stop, it seems specifically, at points where they can maximize traffic blockage. The university buses are fearless because well, in case of a mishap, who'd want to pick on 70 students on board?
Looking at the traffic conditions in Pakistan, it appears that every one of us is in a rush. What I fail to understand is where we are always rushing to? It's not like all of us have a second job we have to get to. Most of the times we'll just go home, fall on the couch and start watching the same monotonous talk shows on our TV while scratching our ummm…..let's call them 'axles'.
RELATED: Driving Advice Of The Week: Tackling With Road Rage in Pakistan
Driving, which for many of us on PakWheels is a lot more than going from point A to B, has become a hectic procession we have ceased to look forward to. We buy cars/bikes of our choice and fail to enjoy driving them. By easing our minds, relaxing our nerves we can turn our everyday journeys into a cherished affair. By being a little more calm and considerate, we can savor the technological marvels we drive; we can experience the 21st century equivalence of horsebacks – all at the cost of 20 minutes. I am sure our 'axles' wouldn't mind if we scratched them 20 minutes late.
So, what are the most annoying things you come across on the road on daily basis? Don't forget to post below and let us look for changes we can make to bring more positivity on the road.
DISCLAIMER: Actual names have changed to protect the privacy of the characters. Any resemblance to anyone living or dead is purely incidental.