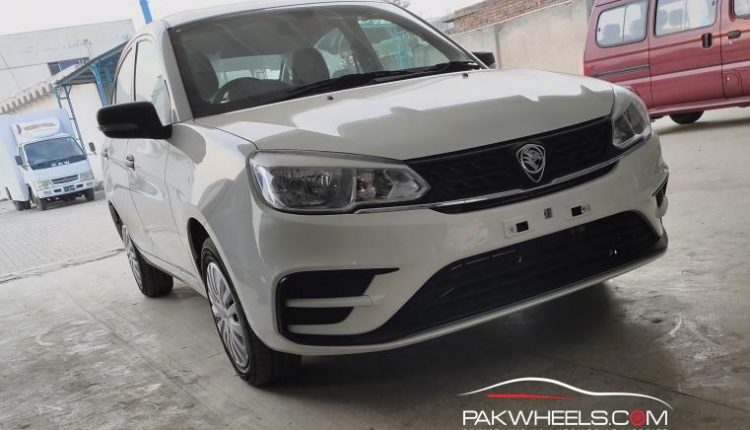 Exclusive Pictures Of Proton Saga in Pakistan!
Proton Saga 2021, one of the most-awaited additions in the local auto market, has arrived in Pakistan. Some media reports are suggesting that these are Completely Built-Up (CBU) units, while others are identifying them as Completely Knocked-Down (CKD) units. Nothing is confirmed about the nature of these Saga units. But they are here and will make an official debut in the Pakistani auto market soon. 
Here are the exclusive pictures of the Saga in Pakistan.
Proton Saga in Pakistan
Proton is bringing the Saga sedan in partnership with Al-Haj Automotive. Many CBU units are arriving in Pakistan and can be seen in the flesh at the dealerships. Once all 100 CBU units are here, Al-Haj Automotive will start selling this initial batch in the Pakistani market. The local production of Proton Saga, on the other hand, will start by the mid of 2021.
Proton Pakistan will launch this sedan in three variants: Standard MT, Standard AT, and Premium AT. All these variants will have 1299cc engines, which the company has downsized from the original size, especially for the Pakistani market. Other feature highlights include:
Alloy rims
Side mirrors with integrated turn signals
Rear spoiler
Fog lamps
Dual front airbags
Anti-lock braking system (ABS)
DRLs (Premium AT)
Stability control (Premium AT)
Traction control (Premium AT)
Front parking sensors (Premium AT)
Reverse camera (Premium AT)
Final prices of Proton Saga are still in the dark. However, the closest guesses are in the range of 2 million to 2.5 million rupees.
Everyone is intrigued to know when exactly will the Saga go on sale in the local market. Well, e don't have a final verdict on the launch date. But it will definitely happen sometime before July 2021. Because that's when the Automotive Development Policy ADP (2016-2021) expires.
The Proton sedan will steal many old-school hearts with its traditional Malaysian design, powerful engine, and attractive price. But will it be able to beat the likes of  Toyota Yaris, Honda City, and Changan Alsvin? We'll find out soon.