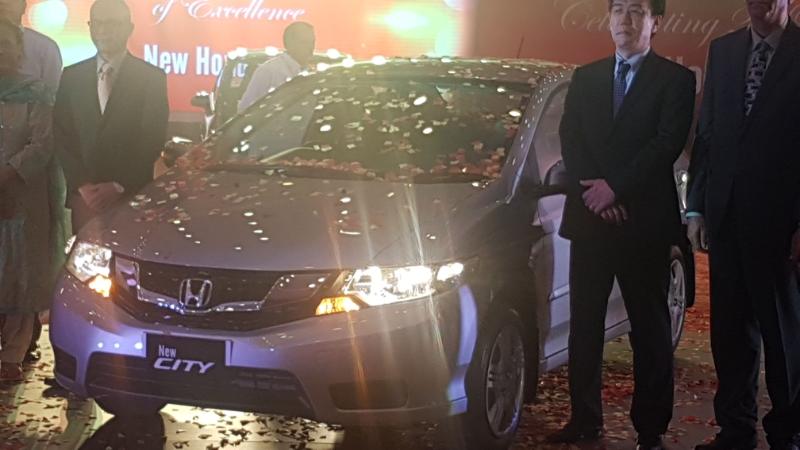 Yes, ladies and gentlemen, Honda Atlas has launched the new model of City in a private event yesterday. While many of readers can find out about the details of this event by clicking here, the point of this particular article is to highlight the key differences between the new and outgoing Honda City.
First up, Price:
With an increase of 10,000 rupees; Atlas Honda has offered this new model, we will get to the list of features in the later part of this article, but for the time being, it is important to highlight the new prices.
City 1.3L M/T = PKR 1,533,000
City 1.3L A/T = PKR 1,674,000
Aspire 1.3L M/T = PKR 1,663,000
Aspire 1.3L A/T = PKR 1,805,000
Aspire 1.5L M/T = PKR 1,683,000
Aspire 1.5L A/T = PKR 1,825,000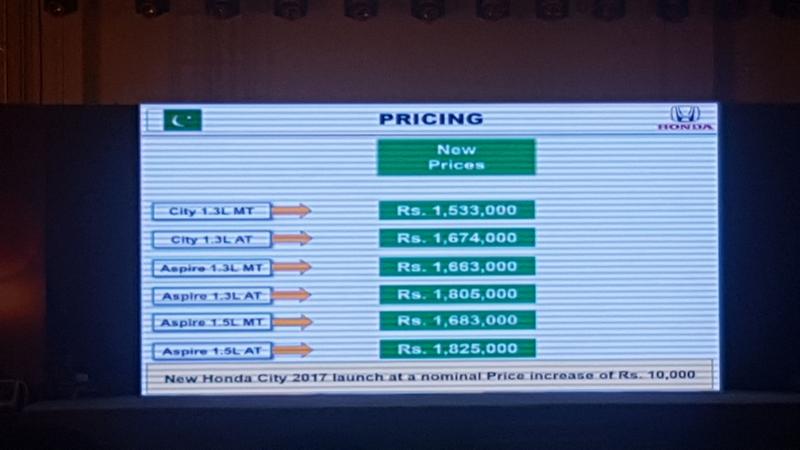 Next on the list, differences!
This is the point which everyone was looking for. For the past couple of months, social media and even some writers on this platform argued the launch of sixth generation Honda City in Pakistan. However, it seems as if all of this speculation, rumors, and dare I say arguing has been for naught, as Honda Atlas has used the old car to add:
Cosmetic changes including a new front grill, front bumper, and side moldings.
A new (standard) integrated UI infotainment system.
New upholstery
An optional immobilizer
An increase in price
There is another development in this whole situation; the company officials at the event remarked that with an additional cost of 10,000 rupees, this car would be offered to the customers who booked the outgoing model of this car.
What about the colors?
Honda Atlas has decided to offer this car in the complete color range of Honda Civic, which includes:
Taffeta White
Lunar Silver
Modern Steel
Crystal Black
Rally Red
Sporty Blue
Urban Titanium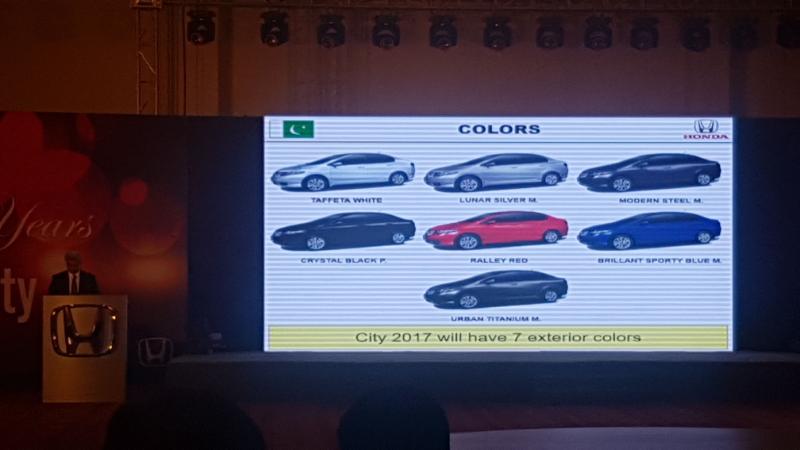 Honda Atlas has achieved record breaking sales!
The company reported a triple hike in sales during the previous year (April 16′-March 17′). Honda City registered sales of 19,712 units, whereas the company has sold a record 15,588 units of Honda Civic. The total sales figure of both vehicles recorded a mighty sum of 35,300 units (first in the history of Honda Atlas).
20 Years of Honda City in Pakistan
In essence, this is the primary reason for which Honda Atlas decided to organize this event. The company highlighted the Honda City' success during the past twenty years. Following is the video in question:
Is the new Honda City worth it?
Consider the quote "Pendulum swings both ways," now apply it to this situation and you will have a fair share of agreements and disagreements from Pakistani consumers. Some will argue that yes, this launch is a good step, but many consumers (including me) will disagree by stating that this shape has been in production since 2009; that' almost 7 years worth of life for a car and considering the evidence, Honda Atlas is likely to continue this car for a couple of more years. Nonetheless, add the optional 'Immobilizer' and minor cosmetic changes, the result is pretty disappointing. It is important to mention that since Honda City produces major revenue for the company, Honda Atlas is playing it safe by prolonging its life. Add the ridiculous seven months of wait time on this thing; it is pretty clear that Honda' sales will not face a backlash anytime soon.