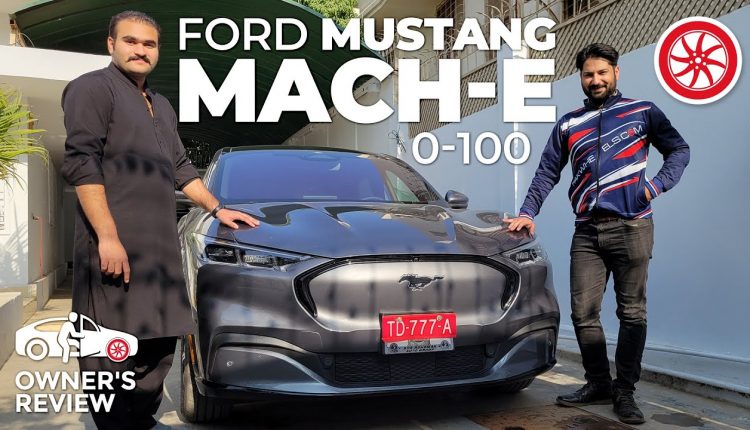 "Ford Mustang Mach e4x is Better Than Audi e-tron in Every Way" – Owner's Review
Every electric car is a work of art. Then there are a few that are just out of the ordinary. Ford Mustang Mach-E SUV is one of those. Someone in Karachi has imported a Mustang Mach e4x, a car no one has ever seen before. Here's the first owner's review of the first Mustang Mach e4x in Pakistan.
Purchase & Price
The owner wanted to buy an electric SUV, so the first option that crossed his mind was the Audi e-tron. But then he went to the showroom to consult, and they mentioned the Ford Mustang Mach e4x. The guy there convinced him to add a few more lacs and buy a Mach e4x, and so he did.
The owner purchased this Ford Mustang Mach e4x for Rs. 1 crore and 90 lacs.
Range
The best part about the Mustang Mach e4x is its range. The electric SUV goes up to 420 kilometres on a full charge. That's almost double the range of the Audi e-tron. The car's charging time is 5 to 6 hours.
Power
The car runs on a 88 kWh battery pack that produces 346 horsepower and 580 Nm of torque. 0-100 time is four freaking seconds; that's 2s faster than Audi e-tron.
Best Features
Other than its mind blowing range and power, the Mach e4x is also a thing of beauty. It has the signature headlights, taillights, and body of a Mustang. 
Like other Ford vehicles, Mustang Mach e4x has advanced features like three drive modes (Unbridled, Engage, Whisper), push button doors, stylish gear shift dial, 10.2″ digital cluster screen, 15.5″ touchscreen infotainment with a beautiful volume knob, nine speakers, wireless phone charging, heated steering wheel, heated front row seats, electrically adjustable memory seats, and so much more.
Challenges
The owner's Ford Mustang Mach e4x is one of its kind in Pakistan, so it does come with a few challenges. The biggest one is the unavailability of parts. 
Another one is that it's a left-hand drive, making it hard to handle it on our roads where everybody's used to driving right-hand vehicles.
Final Statement on Ford Mustang Mach e4x
In the words of the owner — "Audi e-tron is a luxury electric SUV. But Ford Mustang Mach e4x is something else. e-tron is a great car, but Mustang Mach e4x is awesome."
Watch Video