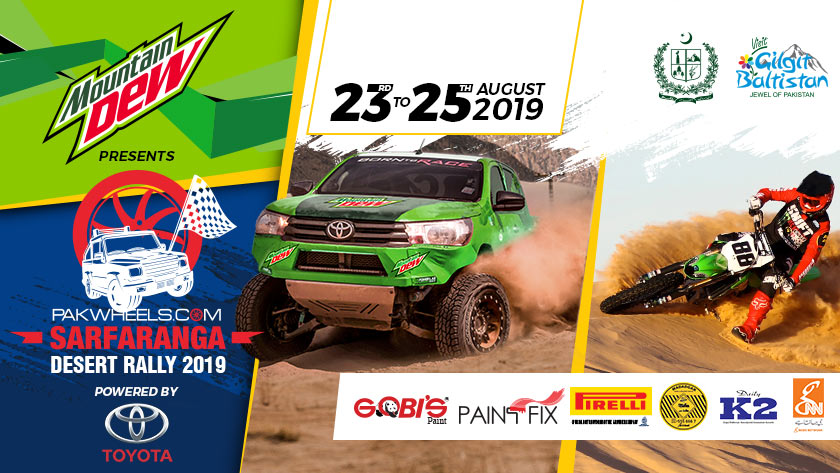 Get ready for extreme thrills at 3rd Sarfaranga Desert Rally 2019
Once again, with all its glory the PakWheels.com 3rd Sarfaranga Desert Rally, Sponsored by Mountain Dew, Powered by Toyota, and organized with the collaboration of the government of Gilgit-Baltistan and PakWheels.com, is going to be even more massive. 
Starting from 23rd of August 2019, it will be a three-day event with many veteran rally drivers being a part of it. Overall, there will be nine categories in total; 4 Stock Categories, 4 Prepared and 1 Women category. There are more than 150 drivers participating in the rally this year. 
Last year, Sarfaranga Desert Rally 2018 concluded on 2nd September 2018 with defending champion Baber Khan once again grabbing the top position in his heavily modified Ford Raptor. The three-day event was a mix of passionate rally drivers and challenging tracks, and the local competitions and festivals like Zakh Competition, Polo Match, Mayphang, Cultural Night made it even more entertaining for the visitors. These events not only project a soft image of Pakistan but also create economic activity in the region. 
This year too, contenders from all over Pakistan are coming together in hopes to become Conqueror of Sarfaranga rally. Veterans like Magsis, Patels, Sahibzada Sultan, PMRC, Team frontier 4×4, IJC Club, ZOR and many other clubs are participating in this grand event. Aside from male rally racers, female rally racers such as Tushna Patel, Asma Siddique, Zoey Ali, Salma Khan, and others will be participating in the event. 
Moving onwards, apart from car rally racers, bike rally racers will also be taking part in the rally, people having bikes above 250cc can take part in the rally. 
The best thing about PakWheels.com Sarfaranga Desert Rally is that it fosters unity and brings people from all five provinces together for thrilling race experience. The beauty of racing on Sarfaranga track is that it provides the combination of different terrains like Soft sand, Gravel, and Water Crossing. 
It is notable that in 2 years time, PakWheels.com Sarfaranga Desert Rally has become the second biggest motorsport event after the Cholistan Desert Jeep Rally. It is one of the most organized rally events that draws thousands of national and international visitors to witness the intense rally on the terrain of Sarfaranga near Skardu, Gilgit Baltistan.
About Sarfaranga Desert
Covered with serene beauty and picturesque mountains, Sarfaranga is a high-altitude desert located in between Skardu and Shigar, in Pakistan's Northern Gilgit-Baltistan region. These towering mountains attract thousands of visitors from all over the world. This desert holds a unique place in the hearts of travelers due to its high altitude and cold region.
About PakWheels.com
Since its founding in 2003, PakWheels.com has changed the way Pakistan buys and sells vehicles. From growing into an active forum of car and bike enthusiasts to organizing industry-first auto shows and rallies all over Pakistan, its passion for wheels is never-ending.