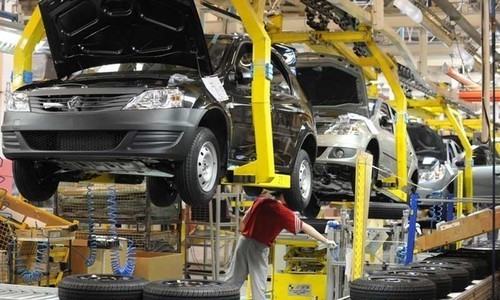 The government has initiated the process of formulating the new auto policy that will be implemented from the year 2022.
According to the details, the Adviser for Commerce, Textile, Industry, and Production, and Investment of Pakistan Abdul Razaq Dawood has chaired a meeting of the Engineering Development Board (EDB) to discuss the formulation of the new auto policy. The meeting involved all the auto players currently working in the local auto sector of Pakistan. All the important aspects of preparing the auto policy were discussed in the meeting, and the local auto manufacturers were ensured that their consent would be prioritized in the making of the new policy, which will be implemented from 2022. The Auto Development Policy (ADP) 2016-21 will be followed by a new policy that will help boost the local auto industry as it is expected to offer more incentives to the local automakers. The current auto policy was a huge step forward in promoting the auto sector of the country as it encouraged new players from around the world to invest in the local industry of Pakistan.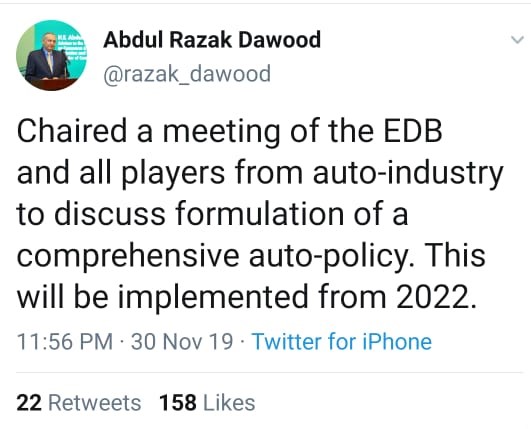 The Auto Development Policy (ADP) 2016-21 offered several tax-based incentives to the new auto players under which several global auto giants, including Hyundai, KIA, and others, entered into the local production of cars in the country. It offered Greenfield and Brownfield status to several companies for setting up a new manufacturing facility and reviving an existing assembly plant, respectively. A number of concessions on the import of CBUs and a reduced percentage of customs duty on non-localized parts were the highlight features of the policy. The main objective of the new policy would still be the facilitation to new auto players, enhancement in competition, and providing better quality products with modern-day features in the vehicles produced locally. Moreover, the industrial growth will be prioritized to ensure the welfare of the consumers. In my humble opinion, the government might also add policy related to electric vehicles in the new auto policy. The government aims to provide consistency in its policies for the local auto sector to secure the millions of investments made by international players.
The current situation of the auto sector of Pakistan is not encouraging for both the existing and new players in the market. The inconsistency in the policies of the government and the imposition of several additional taxes has turned the auto sector upside down with a major decline in sales. The economic contraction process has prolonged for a considerable period in which the devaluation of Pakistani Rupee against the US dollar majorly impacted the prices of automobiles. Let's hope the government comes up with a consistent role in the upcoming auto policy of 2022.
Mention your suggestions in the comments space and stay tuned with PakWheels for any further development in this story.