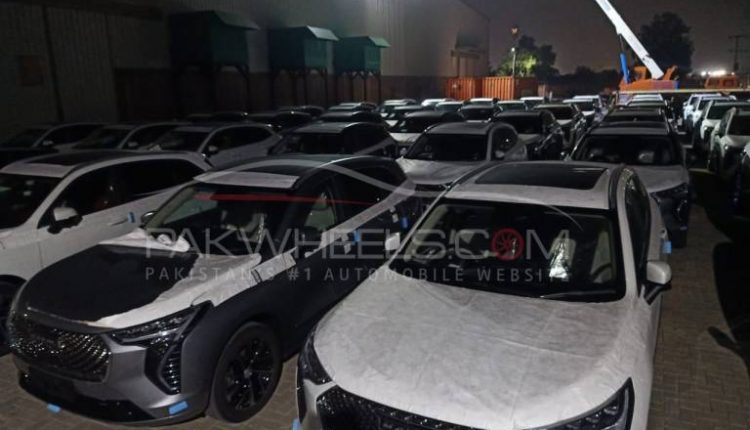 Haval Jolion CBU Units Arrived, H6 To Reach Soon!
Around 100 CBU units of Haval Jolion have arrived in Pakistan. According to pictures, the vehicles are apparently parked at the warehouse of Sazgaar Engineering. According to an official of the company, the units of H6 will arrive by the end of this month. "We will import 750 units of both SUVs and will start delivering to the customers who have booked these cars," the official said.
He further added that Sazgaar will import 500 units of Jolion and 250 units of H6.

Price Increase Issue
Yesterday, the company increased the price of Haval Jolion by Rs295,000, taking its price to Rs6,020,000. Talking about the issue, the Sazgaar Engineering official told us that they had to increase the price due to the ever-increasing dollar rate. "We booked these CBU units when one dollar rate was Rs153 and got them cleared when the rate reached Rs167," he explained, adding that if the dollar rate comes down by the next batch, we will reduce the car price.
About Haval
Haval is a sub-brand of China's Great Wall Motors (GWM). A few months ago, the car manufacturer entered the Pakistani market in partnership with Pakistan's Sagar Engineering Works Limited (SEWL). Under the partnership agreement, SEWL holds the right to manufacture, market, and sell Haval products in the local market.
SEWL has introduced two Haval SUVs, Haval Jolion and Haval H6, in a soft launch. Both SUVs are beyond the expectations of Pakistani buyers. The company only sells imported CBU units and tries its best to dodge the bullets of supply issues and late deliveries. We hope that it all works out for Haval Pakistan.
So, it is a great news for the people who have booked Haval Jolion and H6. Hopefully, Sazgaar will deliver the vehicles on time as it will help them establish a strong space in the local car market.