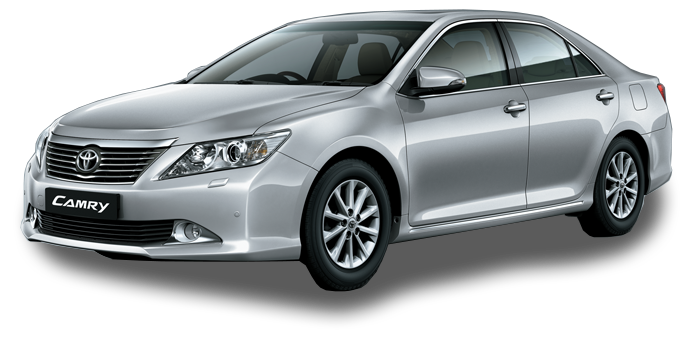 Here is All You Need to Know About Toyota Camry
Today PakWheels is doing owner review of Toyota Camry 2008 model. This was the second generation of this vehicle in the country. Before this model, the 2004-05 zero-meter Camry was available at Toyota dealers. This imported car was launched at the end of 2007 at a cost of Rs2.7million. This is a 2400cc car with front-wheel drive. The owner of this car bought it in 2010 in a brand new condition and has driven it 1,66,000 kilometers till now.   
Fuel Average: 
According to the owner intra-city average of this car is 5-6 kilometers without AC, while its long route mileage average is 8-10 kilometers without AC and 8 kilometers with AC. Meanwhile, the owner said that it depends on pedal pressure and style of driving.
Meanwhile, some of our users said intra-city average of their Camry is around 8-9 kilometers, while its highway mileage is from 12-15kilometers per liter.
Comfort, Safety and Handling: 
The comfort, safety and handling of this vehicle are excellent. The car has very expansive leg space, with comfortable electric power front seats. This model has six airbags, making it very safe for you and your family. The car also has an option of sunroof in it, making it a luxury car with a rather low price range.
Moreover, the AC performance of this vehicle is excellent. Both front seats can adjust AC temperature as per their wish, while it also has a vent for backseats.
The car has cruise control in it, along with other controls on its steering. The meter has an onboard computer, which shows information about average and trip. Like its counterparts such as Mercedes and BMW, Camry has all facilities of its time.
Performance: 
Talking about the engine power of this car, the owner said its performance and pick is excellent, making it a very good choice for both intra-city and highway travel.
Road Clearance: 
The owner told PakWheels that the underbody of this car used to hit at some speed breakers, but he resolved the issue by placing some spacers at the rear of the vehicle. This approach has fixed the issue of hitting with speed breakers and potholes on Pakistani roads.
Price: 
At the time of its release, Honda Accord was also launched in the market. Although it had more sales as compared to Accord, but it could not capture the market, as expected. But this vehicle still has an excellent value-to-money significance. Talking about its current price, the owner told us that 2007-2010 models cost from Rs2-2.5million, according to exterior and engine condition.
The owner believes that no car gives such luxury in this price range. He told us that if he sells this car, he cannot get this many facilities in another vehicle in Rs2.2-2.3million range.
Availability of Parts: 
The used and new body parts of this car are readily available in Pakistan. However, the new parts are rather expensive as compared to old ones. The owner told us that some of its engine parts are not easily available in Pakistan, but you can import them from Dubai. In contrast, the used engine parts are easily available in Lahore, Karachi, and other big auto markets.
Furthermore, like other old cars, its parts get costly with time because of short supply, which leads to expensive parts.
Shortcomings/Negative Aspects: 
One of the shortcomings in the car is the old Audio Player, which has become almost obsolete in today's market, so you have to install a new android music player. The known fault of this car is deterioration of the dashboard. The owner told us that after 6-7 years, the dashboard starts to wear and tear, mainly due to sunlight. Mark X and Prado 2003-04 model had the same issues.
Another negative aspect of this car is that its bonnet shocks wear-off rather quickly. The owner said he had changed the shocks twice.  
Positives:
The owner told PakWheels that this car's biggest positive is meager cost of its maintenance. He said that in the last ten years, there was no considerable maintenance expense of this car. It just needs regular Mobil oil and filter change, like the rest of the vehicles. The owner said that this is the main reason he has not sold this car.
Exterior: 
The exterior of this car has never been its selling point because it has more of a mature look and not much of a boyish one. This may be one of the reasons it did not get famous in young generation. The owner said people used to ask him whether this is corolla in a bigger size. Furthermore, United Arab Emirates (UAE) used Camry as a Taxi because of which this could not become a status symbol in Pakistan.
Luggage Capacity: 
Being a family car, Camry has an excellent luggage capacity in its trunk. The owner told us he travels on a long route regularly, and two big suitcases can be adjusted easily in its boot.
Token: 
According to the owner, he used to give Rs42,000 in token around 5-6 years ago. Currently, its tokens cost him Rs20-to-22,000 because it is now over ten years old.
Final Verdict: 
Camry 2008 is undoubtedly a family car with great comfort and safety features. You can take it on long routes with your family. Furthermore, the car is very spacious, making it very comfortable to sit with perfect trunk space. The used body and engine parts of this vehicle are also readily available, but some new parts are expensive or not easily accessible. The car has low maintenance charges, which is maybe its best feature. Furthermore, you cannot find Camry's facilities in other luxury cars in this price range. In short, if you want a safe, comfortable vehicle for your family, Camry is among the best choices for you.  
Watch Review Video Here:

You can also buy used Camry cars from PakWheels.com. Before purchasing any used car, do contact PakWheels maintenance service.
Recommend For You: Owner's Review Of Toyota Premio 2007