There are two types of traffic licenses in Karachi — one a valid driving license, with a photo of a license holder, issued by an authorized Pakistani governmental department…OR the one with a photo of Founder of Pakistan – a banknote of 50 or 100 rupee, to be exact. To be fair this, kind of, applies to other cities as well, and not just Karachi.
The process of acquiring a driving license is indeed hectic, but it is not an excuse to not get one. As a dignified and responsible citizen, one should try to get a valid driving license no matter how frantic and frustrating the process is. Do keep in mind, a valid license is going to help you in case of some unfortunate vehicle related accident, from legal point of view as well. Also you won't be harassed by Traffic Police if you possess a valid license.
RELATED: 90pc Of Drivers In Karachi Don't Have A Valid Driving License
There are three types of driving licenses usually. But depending on motor vehicle you have (Motorcycle/Car/Rickshaw/Heavy and Light Commercial Vehicles), you might need some specific license as well. You can't operate a heavy lorry on your car driving license.
Learner Driving License
Even if you are an expert driver and drive a supercar or you have experience of driving cars in different countries, you need to get a learning license first, without exception.
This license is issued to everyone against simple registration process and fee.
Validity: One year
Requirement: CNIC Copy, Four passport sized photos
Fees for Motorcycle: Rs 50
Fees for Car: 100
Fees for Car/ Motorcycle (combined): 150
Renewal charges are Rs 100 for every category
Permanent Driving License
You are eligible for a permanent driving license after you have had your learner's license for 42 days. But obtaining permanent license is no piece of cake.
Knowledge and Driver Fitness Tests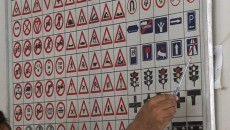 There will be a written test and a practical driving test that will lead you to a permanent driving license in Karachi. Besides, there will be a fitness test of your eye sight including color blindness and major disability, if any.
Validity: 3-5 years
Requirement: CNIC Copy, Four passport sized photos
Fee for Motorcycle: Rs. 510 for 3 years, Rs. 660 for 5 years
Fee for Car: Rs. 960 for 3 years, Rs.1260 for 5 years
Fee for Car/Motorcycle (combined): 150
Once you get the license, you need to pay extra fee for renewal after 3 or 5 years.
Note: The form could be obtained for Rs. 20. The facility of photo is available but charged at Rs. 100 for four copies at selected centers of Traffic Police Department.
Also Check Out: Cars for Sale in Karachi
You can also download application forms from here, free-of-cost in MS Word and PDF formats. You don't need to pay Rs 100 for new photographs if you already have four of them.
For Permanent Driving License, you should buy a Highway and Motor Code with Traffic Signs book for written test preparation that could be purchased from Post Office situated nearby the designated license centers or download books here in English and Urdu.
International Driving Permit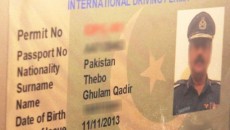 If you are planning to go on a relatively long holiday abroad, or for studies and want to buy your own vehicle, it is better to obtain an international driving license from here. It will give you legal cover until you apply for a driving license there.
Requirements: CNIC Photocopy, Visa Photocopy
Photocopy of local driving license.
Medical Certificate
The applicant should appear before the license authority Karachi in Pakistan
Fees: Varies
Locations of Driving License Center
Majority of public in Karachi knows only two license centers but there are now four stations from where you can get a license. They are:
Timing
Monday to Saturday: 9:00 am to 4:00 pm
Friday: 9:00 am to 12:30 pm
Lunch Break: 1:00 pm to 1:30 pm
The process of getting driving license may include external factors such as bribe and recommendations of influential persons. But that is on you how you want to go through it.
Disclaimer: The post provides you basic and updated information for obtaining driving license. PakWheels takes no responsibility of any change in fee or procedure by Traffic Police Department.