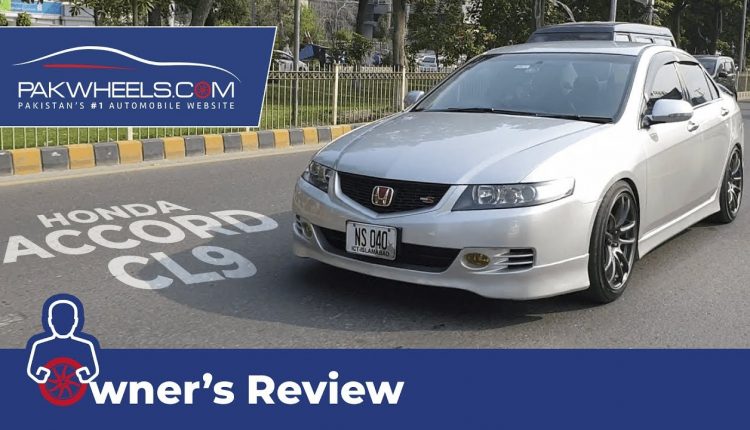 Honda Accord CL9 2006-An Owner's Review
We are here with another owner's review, and today we are reviewing the Honda Accord CL9, 2009 model. The company launched Accord in 2003 till 2009, with variants CL7, CL8, CL9. In Pakistan, the first Accord model came from Thailand in 2005-06, while this model came later in the country.
During 2005-06, the Honda Accord was very famous in Pakistan with price between Rs3-4million. Today, this car is available at a very reasonable price in the country. So, without any further delay, let's start the review of the vehicle.
Price and Purchase Decision: 
The owner told us that he bought this car in 2018, at the price of Rs1.5million. "The price range of this car is between Rs1million to Rs1.8million,depending on the condition" he said. Sharing his purchase decision, the owner said that he wanted to buy an imported car. "I drove a locally made car before this car, and I didn't enjoy it; hence, I wanted to buy an imported car," the owner stated.

Key Features: 
The car comes with half leather, half fabric electric seats, genuine seats, cruise control and heated side-view mirrors. Furthermore, it has a beautiful sporty outlook, while its drive is matchless in this price range, the owner said.
He also praised the suspension and soundproofing of the car.

Engine of Honda Accord CL9: 
The car has a 2400cc engine, mated with Tiptronic transmission. "This is only Honda Accord, which comes with this transmission," he said. The car produces 190hp and 220NM torque on 4500RPM.

Safety in

Honda Accord CL9: 
The car has 4 airbags, and ABS, making it a very safe vehicle.  
Parts Price and Availability: 
According to the owner, its parts are available in the market. "There are several vendors who have both body and engine parts of this car, while dealership will also import parts on-demand," he told us.
Additionally, this car's junkyard support is excellent. "The price of its parts are also quite reasonable," he added.
Fuel Average of

Honda Accord CL9: 
As per owner, its intracity fuel average is around 8-9 kilometers/liter, while on a long route it gives the average of 15-16 kilometers/liter.
Known Fault: 
The owner told us that the factory fault in this car is that it breaks its mounts rather quickly. "This issue is specifically in automatic cars, while manual ones never face this problem," he added.
AC Performance: 
The car has dual-zone climate control AC, and the owner is completely satisfied with its performance.
Ground Clearance of

Honda Accord CL9: 
As per the owner, its ground clearance is very practical for the local roads, and you can travel anywhere on this car very conveniently.
Drive Performance: 
The owner believes that this model is a cruising car, not a performance car. "It has quite heavy body weight; hence, it is for a smooth drive," he said.
Leg Space in

Honda Accord CL9: 
The car has ample leg space on front seats, while decent space on rear seats.

Resale of Honda Accord CL9: 
According to the owner, this car has a quite decent resale value, especially in this price segment, while keeping its features in mind.
Watch Video: