Honda HRV uses Honda's Global Compact Platform of Honda Fit and is smaller than Honda's other two crossovers i.e. CR-V and Pilot. HR-V was re-introduced to the world in late 2014 and was launched in Pakistan this year following the success of imported Honda Vezel Hybrid. However, it has since struggled to create inroads to our market mainly due to its high price tag of PKR 3.6million. In addition to this a lack of hybrid drivetrain further reduced buyer interest since Vezel's success was mainly due to its hybrid offering which gave it decent fuel efficiency.
On the other hand, Honda BRV, which is based on Honda's smallest platform also used by Honda Brio, Amaze and Mobilio, was unveiled as a concept back in 2015 followed by its launch in India, Indonesia, and Thailand this year. BR-V joins Honda HR-V and Honda Honda CRV in Honda's SUV line-up as an entry-level SUV. In India, Honda BR-V's price starts at a modest INR 875,000 (PKR 1,369,000) and goes all the way up to still affordable INR 1,199,000 (PKR 1,875,000) with all options on.
Also Read: Honda Atlas Should Target Small Car Segment With Honda Brio In Pakistan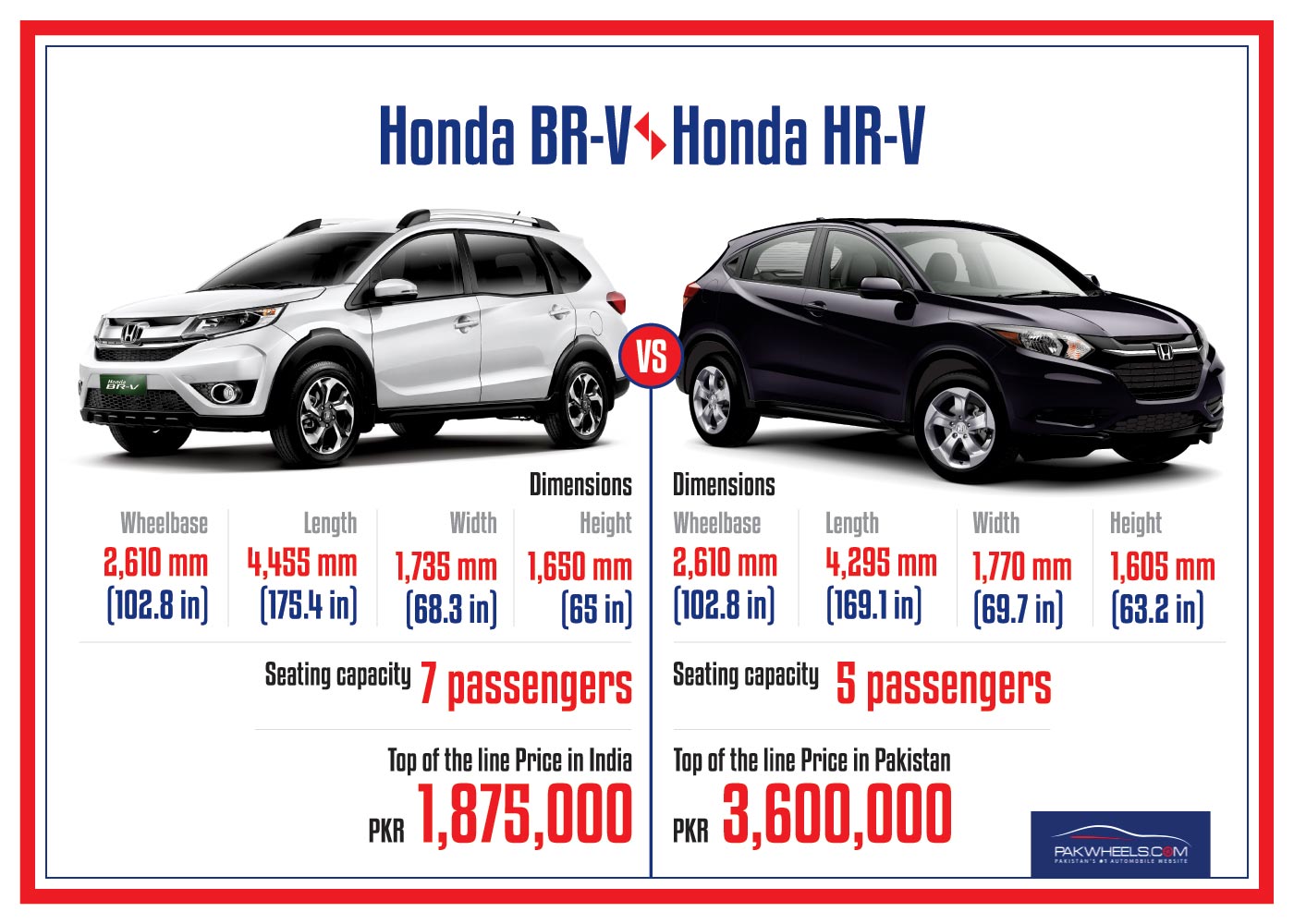 As far as engine specifications are concerned, Honda BR-V does not offer hybrid powertrain like Honda Vezel in spite of that Honda claims that it can do 16km/l which slides in between the fuel consumption of Honda Vezel, 17km/l and Honda HR-V, 15km/l. Like HR-V it comes with a 1.5liter four-cylinder engine which produces 119bhp and is mated to either a 6-speed manual or CV-T transmission.
Furthermore, other than its affordable pricing, another department where BR-V outshines HR-V is its ability to have third-row seating which allows it to seat seven passengers. In addition to this, in terms of dimensions, Honda BR-V surpasses its bigger brother on all corners except for width. The longer wheelbase gives it a larger cabin space than HR-V while a better ground clearance allows for a much more robust off-road experience.
Also Read: New Honda City Would Have Been A Better Option Instead Of Honda HR-V In Pakistan
To sum things up, Honda BR-V's decent specifications, seven seater capability and above all affordable pricing would have made it a much better option for Pakistani market as compared to Honda HR-V.