Remember that when the 9th generation Honda Civic came out, Honda reduced the prices of 8th generation Civic to clear its inventory. Now, if you buy a Honda Car before June 30th, you can get a chance to be Honda's guest for a day which will get you the following:
• Stay in a 5-Star Hotel
• Tour of Honda's factory in Lahore
• Test drives
• Interaction with Honda's top management
The promotion has been running since 1st April however, it needs to be noted that the promotion is a little ambiguous on Honda's official website since it fails to mention this promotion is a lucky draw and can be easily confused as being complimentary. No winners have been announced as of yet.
Also Read: Spy Shots – New 2016 Honda Civic Spotted While Testing In Lahore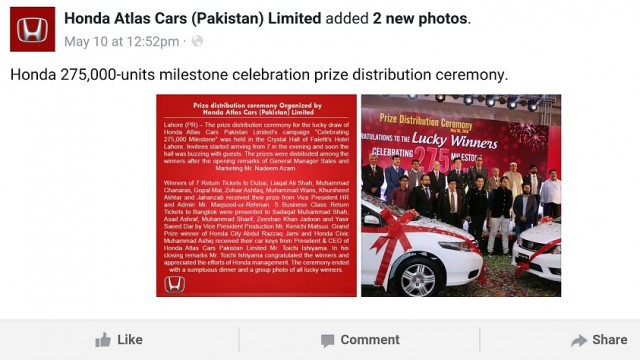 This promotion has been running alongside Honda's 275,000 units milestone lucky draw. We think that Honda Atlas wants to sell out their stock of 9th Generation Civic towards seamless transition to the 10th generation Civic and this promotion is an attempt to clear out the 9th gen's invesntory. In addition to this, yesterday, we released exclusive photos and video of 10th Generation Honda Civic being tested in Lahore, which is a clear indication of the impending launch.