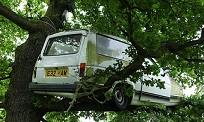 How did this car end up on a tree?
Do you have any guesses? Because the people of Preston Bagot, Warwickshire, England have no idea when just another sunny morning, as they were walking past the Stratford-Upon-Avon Canal, they had a rather unusual sight. A Reliant Robin was stuck up in the tree like a bird's nest.
For a moment, people thought it was another work of modern art (which goes on to show how people conceive modern art) but it wasn't. Gregan Thompson, 54, had removed the Reliant Robin's engine and swapped it in a classic car he races and after removing the engine from the Reliant, he wasn't quite sure what to with Reliant Robin's body, so he took the car to the Oak Tree which is on his piece of land,and put it up on the tree with the help of his friends who initially thought he was mad.
In the beginning, the guys tried to put it up on the tree with the help of lawn mower and the rest of them pulling it but that didn't worked so they borught out the Vauxhall Vectra and a hour and a half later, it was at it's final resting place…or nest.
People were really wondering whether its modern art or sending some sort of message but it isn't as the idea just clicked instantly as Gregan was wandering what to do with the car and was not really interested in the idea of surrendering it to rust and we wholly support this piece of modern art.