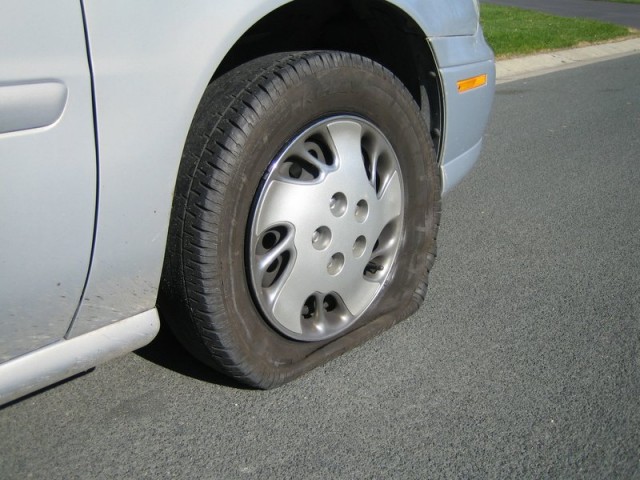 Here's How to Change a Flat Tire
Many people have drivers at their homes but sooner or later you will come across a situation where you have to replace a flat tire. We usually have many roadside tire services that can come and fix your flat tire, but it is always good to know how it's done. I am sure many of the readers might know how to change a flat tire, but there are many others who do not know and are too afraid to ask, so this small guide is dedicated to those people:
Find a safe flat spot: A flat spot is needed as when the car is lifted on the jack, the pivot point changes and the car might move. So it is better to find a flat spot and then list the car on the jack.
Turn on hazard lights: It is highly important to take safety measures and switch on hazard lights before someone bangs into your car while you're busy changing the tire.
Loosen the nuts: Before lifting the car on the jack, you need to loosen the wheel nuts. You might need to remove the wheel cover if installed, before loosening the nuts. Make sure you just loosen them and not take them off completely. Always loosen the nuts before lifting the car on jack as the pressure might make the vehicle fall off from the jack hurting the suspension. Do not go in rounds. Always loosen them in the opposite direction. Like if you are loosening the nut number 1 then after that loosen the nut number 3.
Use the jack to lift the vehicle off the ground: The jack is to be placed at a proper solid metal place. Different cars have different places to put jacks and they're easy to find. Lift the car so as the tire is about 6-7 inches off the ground.
Remove the nuts: Remove the nuts you already loosened and pull out the tire.
Place the spare tire on the car: Keep in line the holes in the spare tire and the nut posts, you need to match each of them and push the spare towards it. Once the tire is stable just put on the nuts and tighten them slightly.
Lower back your car: Use the jack to lower down your car.
Tighten the nuts: All the nuts should be firmly be tightened now. Use the same technique and tighten them in 1,3,2,4 sequence.
Put your flat tire in the trunk: You're ready to go.
So now you know how to change a flat tire, you can now take out your car and go for a drive.