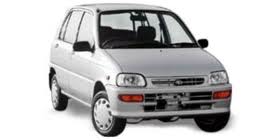 Indus Motors finally shuts down Cuore's production
We first reported that Indus Motors is going to stop producing the only small car it assembles, Daihatsu Cuore. However, we also said that it is planning to introduce another small car which we have no no clue about while the later is still in thin air but the Coure is now officially shut down after serving 11 years in Pakistan.
"We have shut down Daihatsu Cuore's assembly plant," said IMC CEO Parvez Ghias, on the sidelines of a research launched at NED University on Monday. "Coure had lived its life. The product life cycle had come to an end."
Around 75,000 Cuores have been sold in Pakistan which is the only Daihatsu offering assembled locally apart from the Terios Kid which is currently being imported from Japan.
Even though Cuore has continued in other parts of the world, but according to Indus Motor's CEO, Parvez Ghias, that model was deemed financially not suitable to be introduced in Pakistan.
Since Cuore has been Indus Motors best selling vehicle after the Corolla, it is safe to assume that Indus Motor is working on another small car to be introduced in Pakistan as the sales and market is there for Indus to tap.