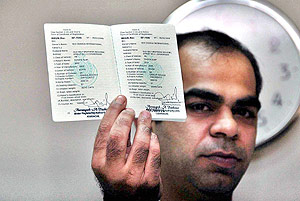 We have recently seen a lot of services being computerized by the government in an attempt to make the system more efficient, along with helping out in controlling the prevailing security issues faced by the state by making the required information available as and when required.
The excise and taxation departments of all the provinces have been trying to provide ways for verifying the vehicles being purchased by public and we attempted to cover all the available processes and the issues that remain in a previous post.
One latest development, which is expected now in the federal capital, is the introduction of multi-security chip-based vehicle registration system as the Capital Administration and the National Database and Registration Authority (NADRA) will be signing a Memorandum of Understanding (MoU) this week for the project.
The expected benefits of the initiative are summarized as under:
The credit-card size registration cards will replace the vehicle registration books, they would contain the data about the vehicle and its owner and would be more secure than the paper copies in use currently
The new cards would be more secure and would solve the prevalent issue of fake registration books as it was very easy in case of paper copies
Only one card would be issued against one car, in case a duplicate is required, the previous card would be blocked rendering it useless
Registration process would become swift and foolproof; particulars of the owners would be verified from NADRA database before registering the car and this would not require any delays due to the online system
The possibility of linking it with FBR can also be considered making the new scheme of different rate for tax filers and non-filers much easier
The verification process of cars would also be authentic and the latest data would be made available at capital administration's website, the current records as per the websites of most excise departments are really old and pretty much useless
The accurate and verified data of vehicle owners would be available to security agencies promptly which would be a major benefit of this project
Unnecessary delays in the registration process and the involvement of agents for usual tasks would be curbed by making it simple and time-based.
We honestly wish the authorities major success in this endeavor as the current process is a pain not only for the excise department, but also the common public.