A week ago, we wrote an article about Park Secure, a new project launched by ITP. In recent years ITP has shown tremendous improvement and is gearing up to reshape their department to come at par with international traffic police departments. They have launched another project, E-ticketing system to provide ease to the public.
Read Also: Park Secure – ITP's solution to car parking problems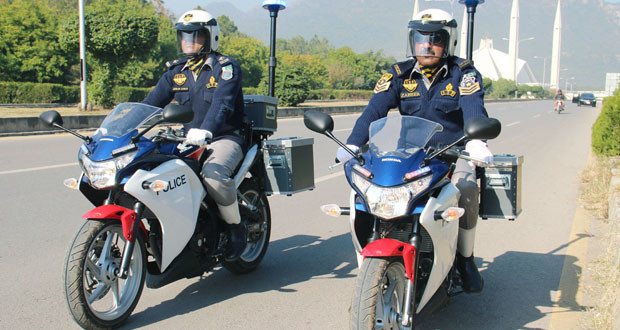 So, what is E-ticketing? E-ticketing is basically a digital way of paying challan/fine. It is an advanced method of collecting fines, which provides ease to the violators and removes paper-based fine slips. Violators can pay fines in just around 30 seconds and do not have to go through the trouble of submitting documents to traffic police and collecting them after the fine has been paid, neither do they have to bear the hassle of waiting in long queues at the bank to pay their fines. It's a real improvement on the part of ITP.
Islamabad Traffic Police (ITP) has collaborated with National Bank of Pakistan and a local bank to introduce the E-ticketing system here in Islamabad and here is how the system works:
The traffic warden can now issue the challan/fine through a mobile app. The violator will receive an SMS with a digital receipt of the fine including all details. Now, the violator can pay the fine online on the spot. After the traffic warden receives confirmation that the fine has been duly paid, he will release the documents on the spot.
This is a huge step of development from Islamabad Traffic Police, and we hope ITP will continue in raising their standard and be able to compete against international traffic police departments which we so much praise on their high standards.
Currently, the system is in the trial stage, and 70 trained personnel have been deployed for the implementation and smooth operation of the system. The system has been launched at the following 8 locations:
Zero Point
Secretariat Chowk
F-8 Exchange Chowk
Radio Pakistan Chowk
Melody Chowk
Faisal Chowk
Aabpara Chowk
Dhokri Chowk
Share your thoughts about this initiative in the comment section below.