JS Bank Limited, one of the leading banks in Pakistan, has joined hands with Honda Atlas Cars Pakistan Ltd. to offer exclusive financing solutions and value-added services to their customers.
As part of the strategic alliance between JS Bank and Honda Atlas Cars Pakistan Limited, customers can avail fast track vehicle delivery along with priority processing at JS Bank through Honda Atlas Authorized Dealerships.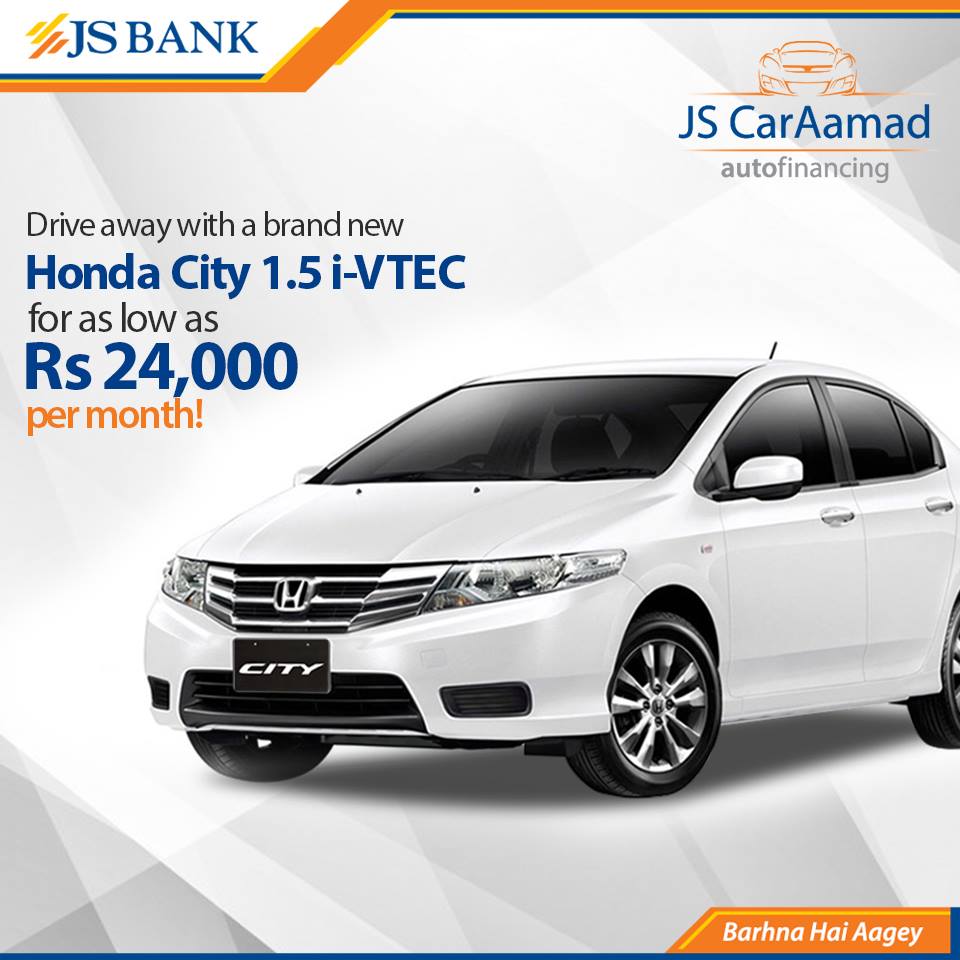 Speaking at the occasion Amna Tahir, National Manager Corporate – Honda Atlas Car Pakistan Limited, said "This initiative has created an ideal scenario for both JS Bank and Honda Atlas Cars (Pakistan) Limited. With this alliance, we aim to strengthen our customer relations by providing best Honda vehicles at best possible financial package offered by JS Bank Auto Finance".
Commenting on the partnership, Imtiaz Bukhari, Business Head Central, JS Bank stated, "At JS Bank, we provide customers with high-value products and services which result in the convenience and benefits for the end user. This alliance with Honda Atlas enables us to ensure that our clients can purchase their vehicles in the most efficient and smooth manner possible."
HACPL believes that this alliance will play an essential role in cultivating a strong mutually beneficial business relationship for both JS Bank and HACPL.
About JS Bank:
JS Bank is one of the fastest growing banks in Pakistan, with 323 branches in 161 cities. The Bank also has an international presence and is a leading player in the digital banking space. JS Bank has received the prestigious award for Best Environmental and Social Governance Bank at the Pakistan Banking Awards 2017. The Bank is part of JS Group, one of Pakistan's most diversified and progressive financial services group. For more information, please visit http://www.jsbl.com.
About Honda Atlas Car Pakistan Limited:
Honda Atlas Cars Pakistan Limited is a joint venture between Honda Motor Company Limited Japan, and the Atlas Group of Companies, Pakistan. The company was incorporated on November 04, 1992 and joint venture agreement was signed on August 05, 1993. On July 14, 1994, car bookings started at six dealerships in Karachi, Lahore, and Islamabad. Since then the Dealerships network has expanded, and now the company has Twenty Five 3S (Sales, Service and Spare Parts), Sixteen 2S (Service and Spare Parts) and Six 1S (Spare Parts) authorized dealerships network in all major cities of Pakistan. 
Honda always strives to give outstanding service to their valued customers. In addition to providing regular service to customers, the company also regularly conducts Service Campaigns, to facilitate customer's need for service. This has given our customers absolute confidence in our cars, clearly evident from the ever-increasing sale volumes. 
It is the constant endeavour of Honda Atlas Cars (Pakistan) Limited to achieve No .1 Customer satisfaction.