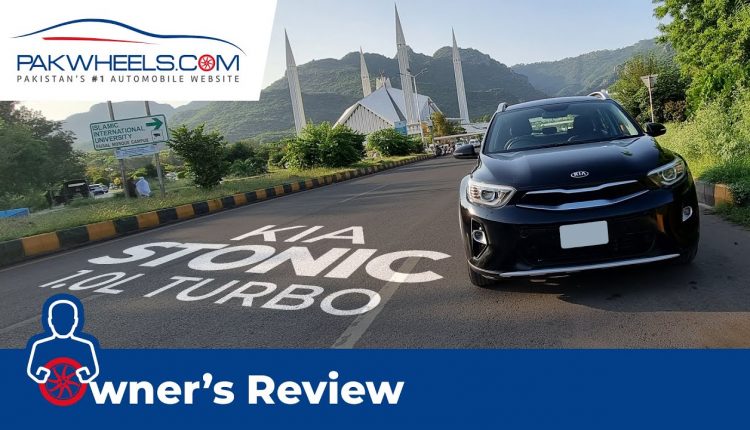 "KIA Stonic is The Most Anticipated Crossover," Owner's Review
If we say KIA Stonic is one of the most anticipated crossover SUVs in Pakistan right now, it would not be wrong. So, keeping that in mind, we found a KIA Stonic, an imported one, and here is its owner's review. The owner imported this vehicle from the UK in March this year, and it is a 2019 model.
Engine: 
This specific Stonic has a 1000cc Turbocharged engine with 120hp and Manual Transmission. In comparison, Pakistan is likely to get a 1400cc engine with 100hp and Automatic Transmission.
Price
The owner bought this car in England in December 2020 at the cost of 10,000 Pounds. After importing it and paying the duties and taxes, it costs him around Rs38-lacs in Pakistan. "I had to pay a fine and extra charges at Karachi port," the owner told us.
Interior of KIA Stonic
The car has a stock Infotainment System with Android Auto, Apple CarPlay and Bluetooth etc. "The connectivity of its Bluetooth is excellent," the owner stated. Furthermore, the car has Cruise Control.
Seating Space 
The most discussed point of this car is its seating space due to its frame, as it is relatively smaller than a conventional crossover SUV. However, the car has ample space in both front and back seats. "Five people can travel easily in this car, even on the long route," the owner told us.
Exterior of KIA Stonic
This specific vehicle comes with 17-inch Alloy Wheels and LED headlights. The Reverse Camera is optional, while it has Rear Parking Sensors.
AC Performance
The owner is completely satisfied with the AC performance, although it is UK Import. "I have driven it in Pakistan in June-July, but it has never caused any issue," the owner said.
Why Should One Buy KIA Stonic? 
As per the owner, the plus points of this car are its size as it is easy to maneuver in rush areas, then it has a very good fuel average with 19km/litre within city, and it has excellent ground clearance as it is a crossover SUV.
Registration 
The owner paid Rs42,500 for Lifetime Token and Registration as it is a 1000cc car. However, locally assembled Stonic will have a 1400cc engine; hence, its registration and token tax will be a bit higher.
Watch Video