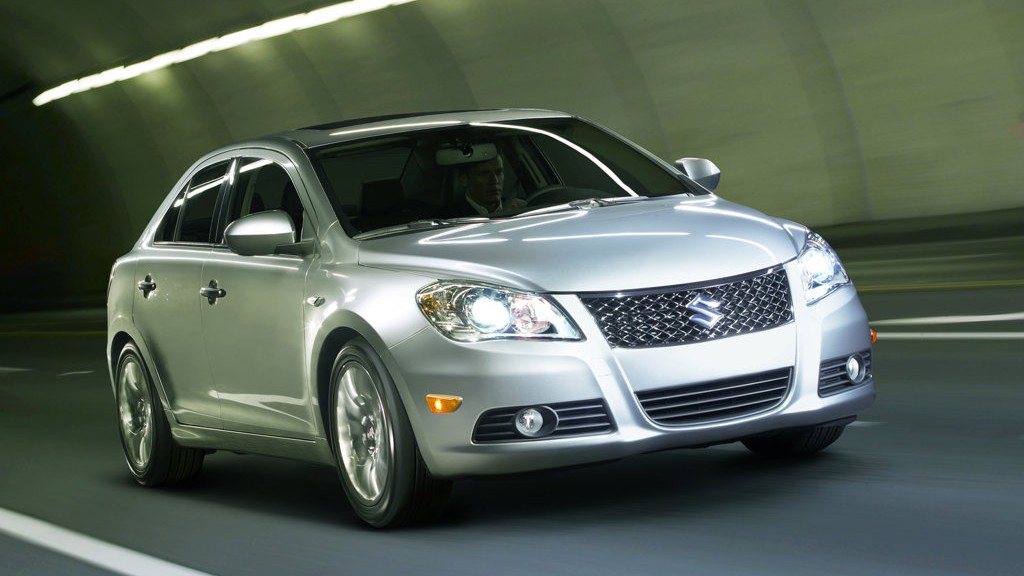 Killing Two Birds With One Stone – Will It Be Possible For Pak Suzuki?
Suzuki's move to luxury category through introduction of Kizashi is bold and worthy of appreciation for the efforts and thought put in to materialize it. However, with respect to its launch in Pakistan, views/reservations expressed by stakeholders working in different capacities and based on their hands on experience with both the company as well as the local dynamics of the market must be addressed to ensure the move gets documented as a success story.
As the saying goes, credit should be given where credit's due. It is a good step indeed by Suzuki and rather a logical one. Running two business models simultaneously comes naturally as the next stepping stone to companies that have earned irrefutable success with one model. Strengthening/sustaining a competitive advantage, foraying into new markets, developing new revenue streams, risk mitigation or attempting to make more optimal use of its capital base are the mostly likely drivers for a company to run more than one business model in parallel.
Yet, ironically, this also happens to be the leading cause of "strategic failure". Suzuki's attempt at catering to two customer segments at far end of the spectrum with current marketing plan may end up as another similar case study if some tough but pertinent questions aren't put forth.
Suzuki has been ruling the small car market for decades and there is no denying that. It has established itself as a brand that signifies economy, hassle free maintenance due to simple technology and easy availability of parts. This is the forte of Suzuki globally and likewise reflected in Pakistan too. It helped Suzuki reap benefits through volume rather than value. Popularity and an overwhelming response by bottom of the pyramid customers resulted in economies of scale, greater visibility, and comparatively lesser ad spend with faster brand recognition. Companies, from industries even other than automobile industry, are now trying to penetrate and secure participation in this customer segment but having a hard time. FMCGs, in particular, are struggling the most with this phenomenon and have gone to the extent of explicitly putting it as their top strategic objective.
However, the plan of moving into the luxury brand somehow appeared tinted and definitely heavily influenced by Suzuki's earlier model probably due to its humongous success as already mentioned. It must be appraised that the two customer segments lie at the far ends and have very little, if anything common at all. Top of the pyramid customers value features and fancy add-ons but they also look beyond that. Snobbishness, elegance and class are equally essential and what completes the package. It is the mutual presence of all of these factors that attributes premium feel to a product and justifies the multiple before the price of a product with same utility in the economical category.
It is appreciable that Kizashi features DOHC engine, CVT Transmission, SRS, ESP, Push Start button and a cool number of other fancy tools that are being offered in the same category. However, the 'S' on the front logo signifies the opposite and fails to do even half the justice to what lies under the hood. Aesthetics and aerodynamic curves accessorized with the Suzuki logo, put to words and interpreted grammatically, is a perfect example of an oxymoron. Further deterring is the selling proposition of low maintenance costs which is unarguably the least of the concern of a customer willing to spare five million rupees upfront. Rather than boasting on the low maintenance cost Suzuki should focus on addressing client's reservation about availability of spares as they are paying a premium amount for a model for which production has ceased even before it was launched in Pakistan.
And as if the above weren't enough, the price point further implied that Kizashi may be on good trajectory but yet to earn its right to stand in line with off springs of Mercedes and Audi. Being priced between the high end locally assembled models of Toyota and Honda (priced between 2-3 million) and renowned imported luxury cars starting from 6.5 million onwards leave it just a step short of the category it wishes to relate itself to.
While the choice of name "Kizashi" was a nice thoroughly thought out effort by Suzuki as it hints at its Japanese origin synonymous with quality and state-of-the-art, the back end support of a brand associated with economy and popular among middle class marred it.
Considering the objective behind launch of Kizashi is change of brand image, as was mentioned by Pak Suzuki representative, it would be a steep uphill drive if the launch is not isolated properly from the orthodox beliefs preached void decades of marketing by Suzuki. Campaigns should be devised to capitalize on the new product's state-of-the-art technology, aesthetics and the thought process behind it more and lesser on the umbrella company behind it to arrest the prior associations from diluting the image that can only be idolized by the target audience on a clean canvas.
In a nutshell there are lots of ifs and buts if Suzuki opts to venture in premium segment by capitalizing its recognition earned in the economical segment. Until and unless something like a Great Wall of China is built between the two segments, it runs the risk of a product failure that may forcibly restrict it to its forte only. As much as we would want, Suzuki's attempt at killing two birds with one stone may have to be deferred for another day!