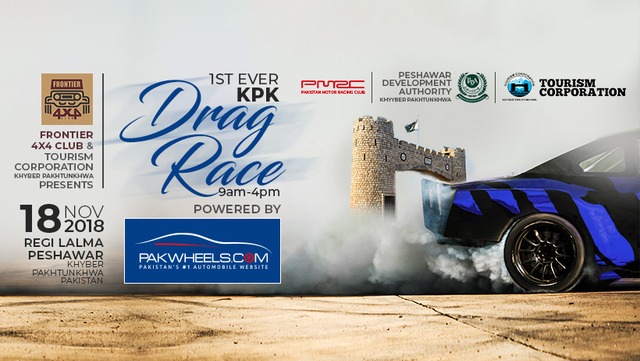 KPK to host first Drag Race in region
In collaboration with Tourism Corporation Khyber Pakhtunkhwa, Frontier 4×4 club organizes the first Drag Race in the region on Sunday, 18th November 2018.  It is a one-day event that will take place at Regi Lalma Peshawar, KPK, from 9 AM to 4 PM.
Powered by PakWheels.com, this is the 1st ever Drag Race event to take place in KPK to provide a competitive platform to the rally drivers and revive the motorsport spirit in the region. There will be eight categories in total, which are as follow:
Drag Race Categories-
Category A: AWD Unlimited
Category B: RWD Unlimited
CateC:y C : 2WD Turbo Max 4 Cylinder
Category D: AWD Turbo – Stock Turbo- 4 Cylinder
Category E: 1601cc Uptill Maximum 6 cylinders-Naturally Aspirated
Category F: 0 to 1600cc – Naturally Aspirated
Category G: 4WD SUV's/ Trucks
Category H: Female (Any Vehicle)
The Registration Fee is Rs. 5000 per vehicle, and following is the link to get yourself registered in the Drag Race event – http://ow.ly/9efZ30myraa
For the latest events and races, stay tuned to PakWheels.com.