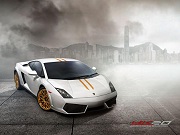 Lamborghini Gallardo LP550-2 Hong Kong 20th Anniversary Edition Revealed
It is not unusual that exotic car manufacturers introduce a special edition model for a country. Ferrari recently introduced a special edition for China, which didn't quite go well for its PR department. Now though, Lamborghini has launched a special edition Gallardo for Hong Kong.
Lamborghini is celebrating its 20th anniversary in Hon Kong and Kingsway Cars needed a special edition Gallardo LP550-2 model to make sure the celebration went well.
Kingsway Cars than teamed up with Lamborghini and produced the Gallardo LP550-2 Hong Kong 20th Anniversary Edition, or HK20 for short. Which will be limited to just eight units showing how Lamborghini wants to keep everything exclusive.
It is specially commissioned by the official Lamborghini dealership in Hong Kong. Performance of the 5.2-liter V10 with 550-hp remains untouched, as all the modifications made were purely aesthetic, inside and out.
Finished in Bianco Monocerus, the exterior of the HK20 Gallardo is highlighted with matte gold stripes down the center of the exotic while special HK20 logos adorn the front spoilers and rear bumper. Contrasting the exterior are matte black rear spoilers and side skirts, while the mirrors are subtly different in a matte white finish. Rounding off the exterior changes is a set of matte gold Cordelia wheels.
Climbing into the cockpit, the predominantly black interior has been accented with Q-citura stitching on black Alcantara while the paddle shifters are now red. In the center, the gear selector has been topped off in a matte black finish with special HK20 logos, which are also seen on the headrests and seats.
At a price of around $475,000 (HK $3,680,000), we expect it to sell out quickly.