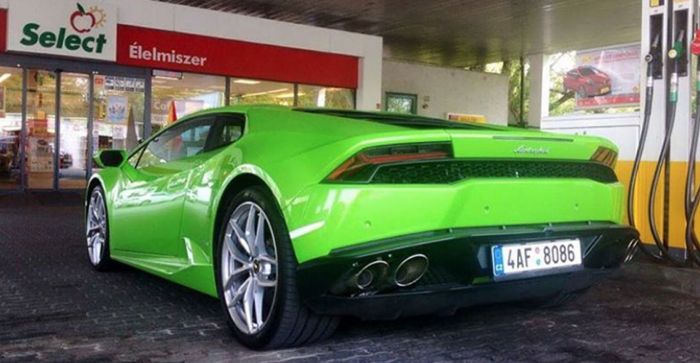 Lamborghini Huracan Crash at 200 MPH Caught on Camera
Internet media is full with videos for these high end cars drag racing on the track and on the public roads, which is illegal though. Then we see these exotic cars being crashed. We don't often see these crashes on camera, only after crash photos. Few months ago, we reported about a reckless Audi R8 crash on camera and a Lamborghini Aventador crash in London.
These super cars automatically increase the adrenaline as soon as you sit in the driving seat.  This is one of the reasons why most of these super cars are seen being reckless and rash on the roads. Huracan is the next big thing from Lamborghini after the best selling Gallardo. It is believed that Huracan is already a best seller and most wanted sports car within one year of its release. The car has a 600+ horsepower V10 engine and can hit 100 kph in 3 seconds on the clock. Unfortunately someone has crashed it that too at speeds exceeding 300 kph. All this being recorded by a passenger via his cell phone sitting in the car.
According to the news, the super car was somewhere on Hungarian highway. The car was almost at 330 kph mark when the car met some broken road  section or a bump. This resulted in the driver losing control of the car. This could also be due to abrupt maneuver which driver might have done at the last moment to avoid the car from the damaged patch of the road.
There is no doubt high speed is a major factor in losing control of the car  The Huracan then crashes into the road barrier on the left side and later hit the right side road barrier, breaking it apart and landing into the ditch.
Fortunately and due to sheer good luck, there were no fatalities. The driver survived with minor injuries and actually himself took out the female passenger out of wreck before the car went on fire. The passenger has serious injuries but she survived as well.  Unlike Aventador, Huracan doesn't have carbon fiber monocoque chassis. Instead, it uses a 'hybrid chassis', an integrated space-frame structure of carbon and aluminum.  The technologically advanced feature does not mean that one can drive it at any speed and survive all crashes. Even manufacturers never give this guarantee. One should be a responsible driver.
The accident happened last year in September but police released the video today aiming to convey a serious message to speeding driver what such action can result into. The 36-year-old driver faces reckless driving and endangerment charges. I think the message is very loud and clear for all the drivers "STOP SPEEDING BEFORE IT STOPS YOU"
Here's the photos and video of the Lamborghini Huracan crash