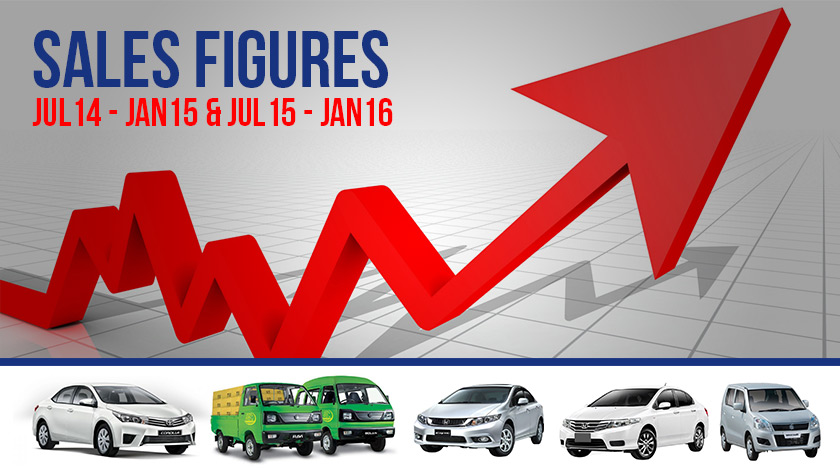 Locally Assembled Car Sales Up By More Than 40pc – Toyota Corolla Takes The Lead
Sales of new cars in Pakistan is continuously on the rise. More than 1 lac cars have been sold in the first seven months of the current fiscal years (2015-16) compared to the 74,487 cars sold in the past seven months of the previous fiscal year (2014-15). Stats provided by the Pakistan Auto Manufacturers' Association show that the start of the year has been quite encouraging. And compared to the last year with the rate of 44.85% increase, 1,07,907 cars have been sold by now.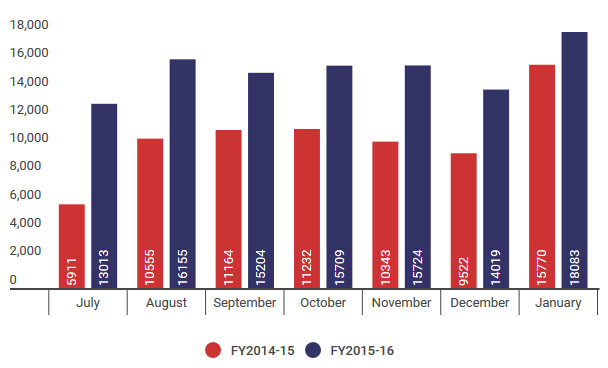 In the seven months, the 1300cc and above cars have seen the most sales than any other segment. In the 7-months of previous fiscal year, 40,388 units were sold. Whereas this year the number went all the way up to 49168 units. Last year 26,593 units of Toyota Corolla were sold whereas this year number has jumped to 33,225 units. Suzuki Swift, Honda Civic and Honda City have also seen some improvement. Previously Suzuki Swift sold 1,974 units whereas the company sold 2,318 units this year. Sales of Honda cars jumped from 11,799 to 13,625 units.
Also Read: Honda City And Suzuki Swift Will Be Driven As Taxis By Al-Bayrak In Lahore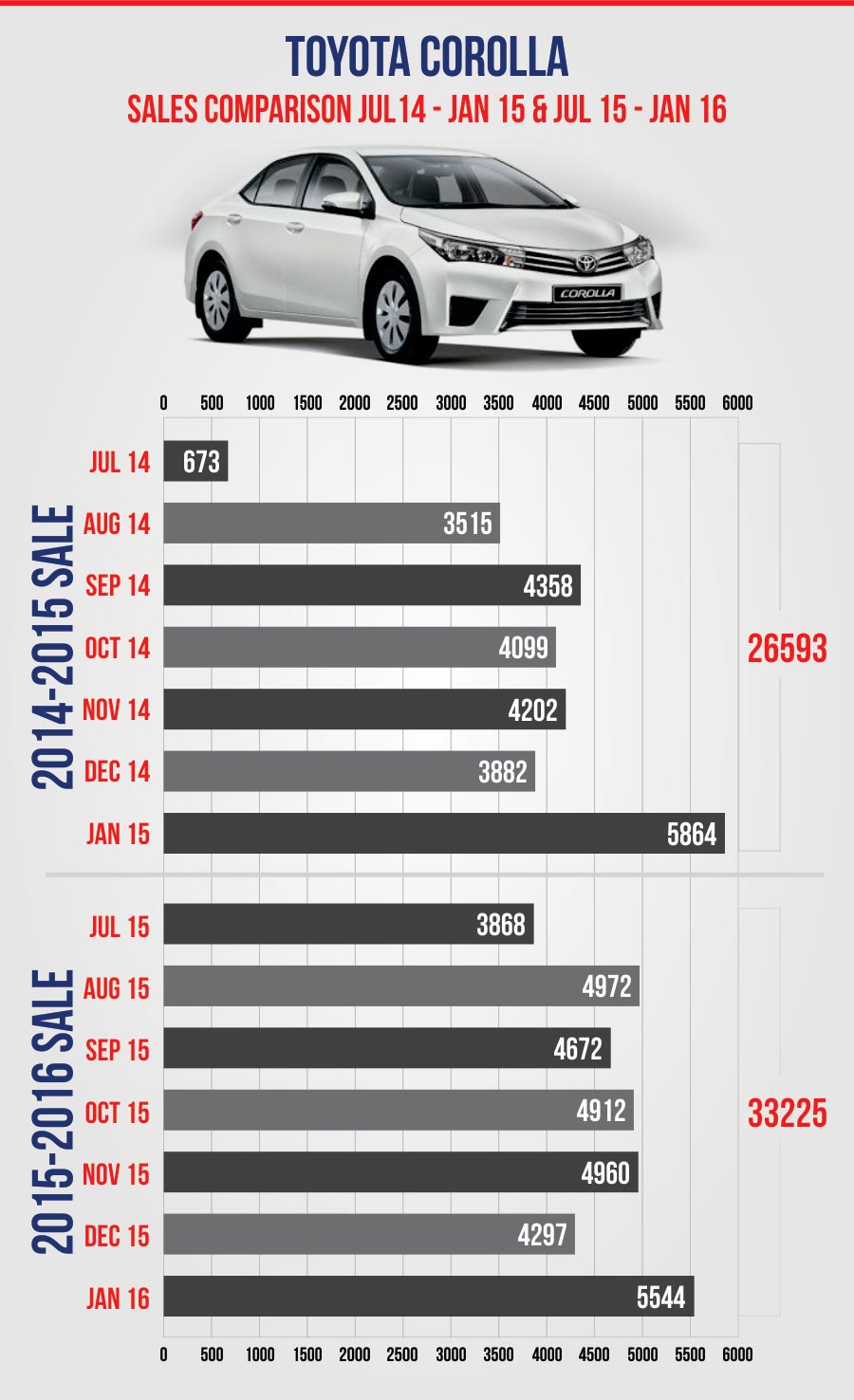 In 1000cc category, 9,973 cars were sold in first 7-months of the previous fiscal year whereas 14,145 cars were sold in first 7-months of this year. Suzuki Cultus took the lead with 8976 cars whereas Suzuki Wagon R was at second place with 5,165 units sold. Last year, the number of both cars were 7,747 and 2,180 units respectively.
In 800cc category, Suzuki Mehran and Suzuki Bolan sold 22,292 and 22,302 units whereas the automaker sold 16,164 and 7,972 units last year respectively.
If you look at only the stats from the month of January 2016, Toyota Corolla took the top spot with 5,544 sold units. After that Honda Civic and City sold 3015 unit. In third place, Pak Suzuki sold 344 units of Swift hatchback. According to numbers by PAMA, in December 2015, 14,0019 cars were sold whereas 18083 units were sold in January 2015. That is an increase of 22.5pc. In January 2015, 15,770 cars were sold. And month to month, that is an increase of 12.8pc.
Check Out: Honda City New Model In Pakistan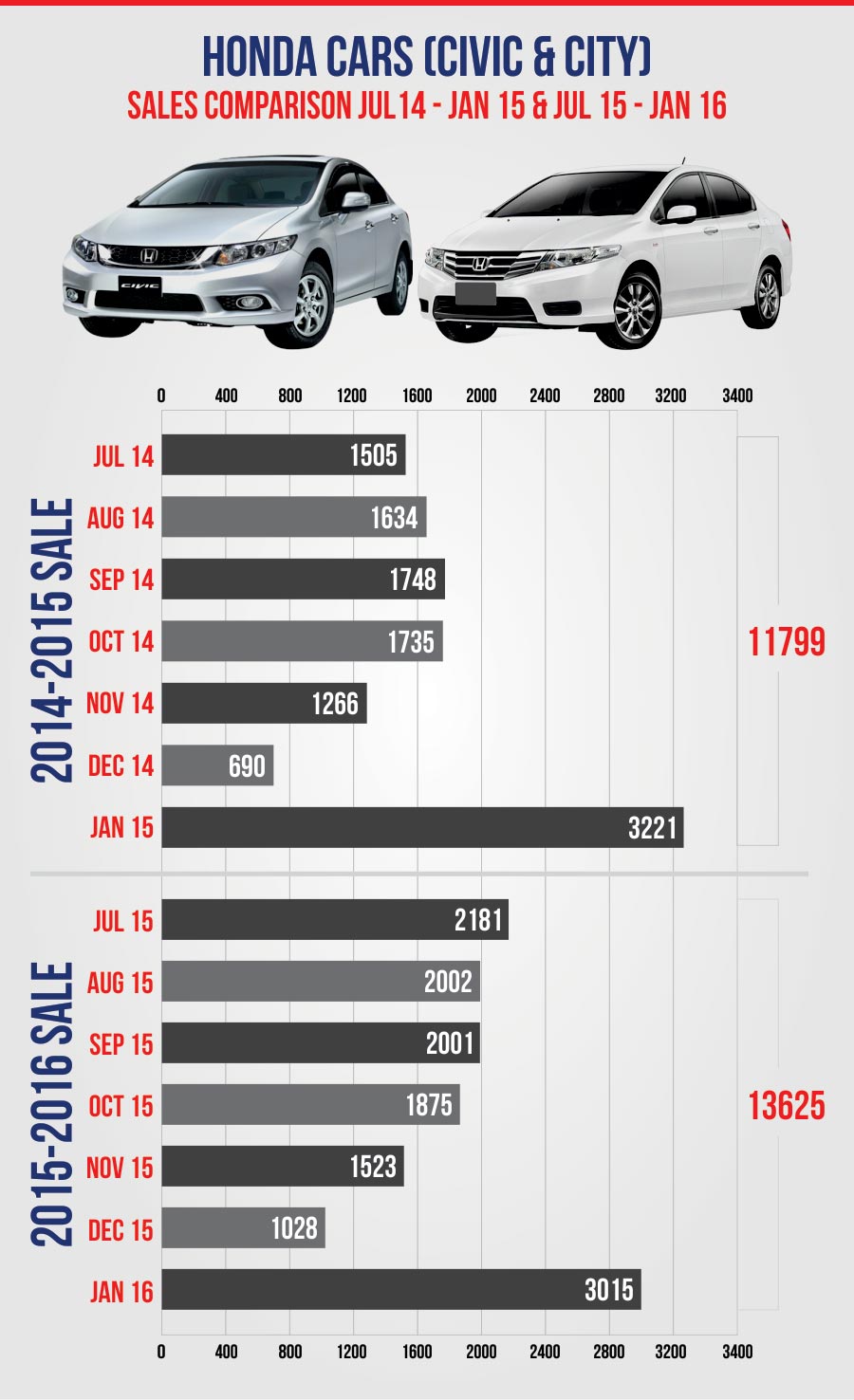 Mohammad Tahir Saeed, an official at the Top Line Security, while commenting on the current situation of automobile sector said that the increase in Suzuki cars sale is due to the Punjab Taxi scheme, and overall improvement in the market is due to better security conditions of the country. He also remarked that the car sales increase will be around 15% in the coming few months. This percentage is far less than what it has been recently. He contributed the decline to the end of Punjab Taxi scheme. The new Honda Civic 2016 will be launched in the coming few months most probably, and that has also stopped current buyers from investing in the current 9th generation Civic. Toyota Corolla will still have a waiting time of 2 to 4 months.
Recommended Reading: Imports Of Used Cars Are Up By 30% Putting Question Mark On Potential Investments
Cars imported from Japan has also seen some sharp rise lately. In the year 2015, the total number of imported cars was 34,765. Among those, 25,000 were small cars, 4,038 cars were SUVs and 2,456 cars were pick up or vans. Around 5000 hybrid cars were imported to Pakistan. It's a fact that importing vehicles in bulk are detrimental to our local auto industry and Pakistan's economy on the whole. It is the time the Government of Pakistan finalizes the auto policy as soon as possible and provide a clear vision to the existing automobile makers and the potential investors.