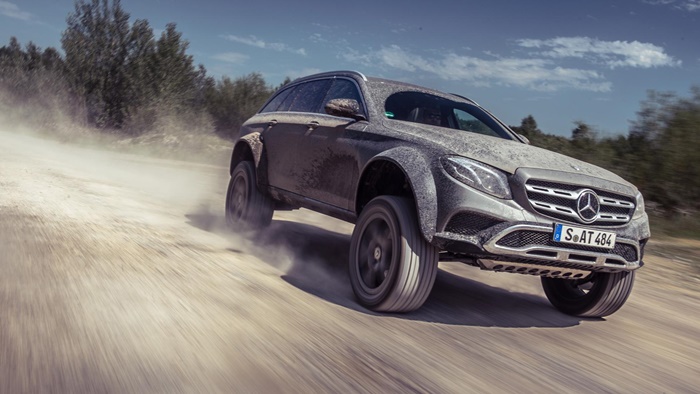 What makes Mercedes E-Class 4×4 Squared So Cool?
There are only a few number of manufacturers who decide to go against the norms and present the world with something extraordinary. And within those few manufacturers there comes Mercedes Benz which just lets loose its designers and engineers. Every once in a while Mercedes comes with a beast of a vehicle which wakes the inner eight years old of every car enthusiast.
After the success of Mercedes G Wagon 6X6 and G Wagon 4×4 Squared, their latest experiment is an E Class Estate on steroids. Named as Mercedes E Class 4×4 Squared. While it might look like just an E Class state on bigger wheels and jacked up the suspension, Mercedes actually made a number of adjustments to make it a better off-road vehicle than most SUVs on the planet.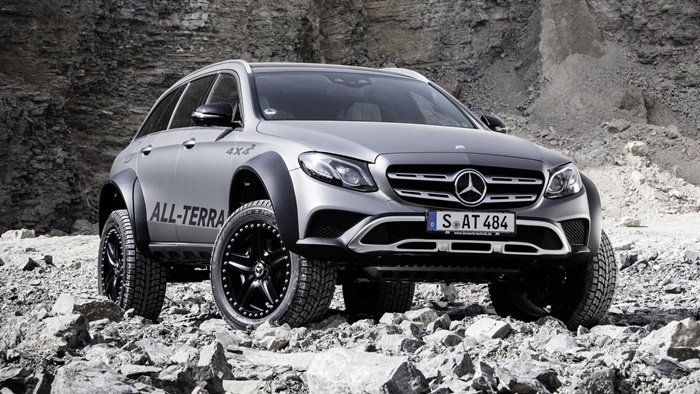 The vehicle's suspension was redesigned to take a set of portals. Now this upgrade is not only a serious one but an expensive one too, but hey E Class isn't a cheap car anyways. Now what this portal axle does is that it suspends a "gearset" inside a hub that attaches to the wheel. This way the wheel centers don't need to be in line with the diff. So it's not like a regular vehicle in which increasing the height only raises the body of the vehicle. In order to adjust the new portal Mercedes engineers made some mods including sorting out new mounting points and subframe for the multi-link suspension along with tweaking the rear axle carrier. With the portal axle, this E-Class has a ground clearance of 420mm which is just crazy. What that means is that it has a higher attack angle making it easier to climb on and off a terrain.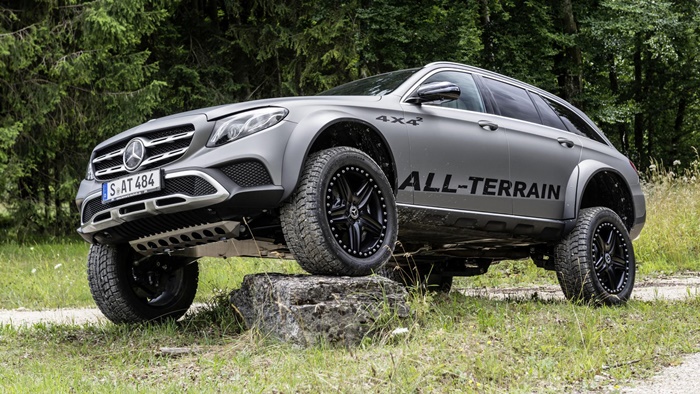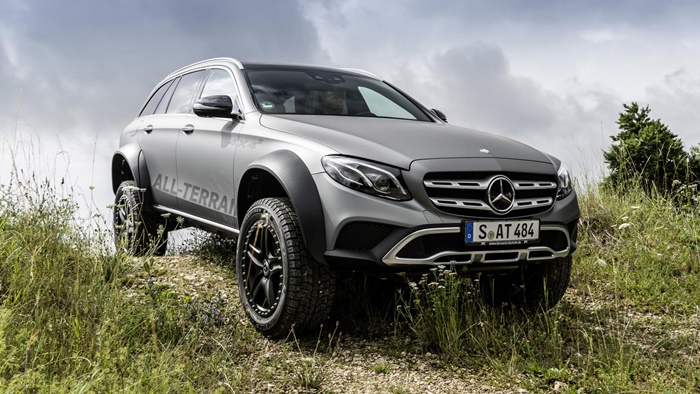 In order to accommodate the bigger and wider wheels the company also had to add wider tracks covered by 3D-printed arches. This made the car a whole 200mm wider the regular E-Class. Now combine all this with the excellent air-suspension of this car, and you pretty much have an apocalypse survival vehicle which can run over literally anything. This mad design and off-road capabilities surely make this vehicle a desirable addition to the garage of those who can afford one. Let's see whether Mercedes decides to put this car into production or not. Technical specification includes a 3.0L V6 capable of 330HP and a 9-speed gearbox. While all the luxury features have also be carried over too from the regular E-Class. It can do 0-100kph in just 7 sec while reaching a max speed of 175km/h which is a result of the added weight and bigger, heavier wheels.
Do you like the E-Class 4×4 Squared? Share your view on this beast in the comment section below.
Image Credits: TG