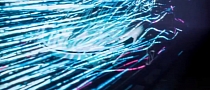 McLaren teases us with this video of its next hypercar
Since the day McLaren F1 had arrived in the world, it wrote to its name various world records, awards and recognitions that no other car has yet been able to achieve. And also, people kept on wondering and hoping for the successor car to the F1 and McLaren has now announced that it is coming to the 2012 Paris Auto Show but before that, McLaren has released this futuristic video, literally outlining the P12 as it is being called.
There are scarce details available on this hyper car but it will have a lot of horsepower, by a lot we mean more then 900 HP, and KERS. Although the concept which will come to Paris will be powered by a tuned version of the 3.8-liter twin-turbo V8 currently used in the MP4-12C.
Basing on the lines and shape formed in the video, Jalopnik reader and friend, DasWauto was able to use the lines to form this sketch which basically draws the whole car, so our wait is already over I think.