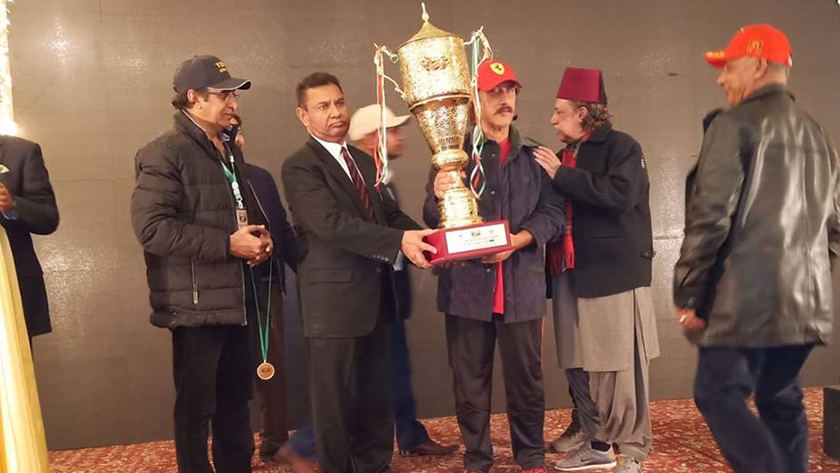 Mir Nadir Magsi has, once again, won the 14th Cholistan Desert Rally 2019 in Prepared Category A, by completing the track in 04:30:35. In Prepared Category B, Owais Khakwani won by completing the track in 04:54:22. For Prepared C, Syed Zaheer Hussain won the round in 05:16:37, and Zafar Baloch by completing the track in  05:31:01 stood first in Prepared Category D.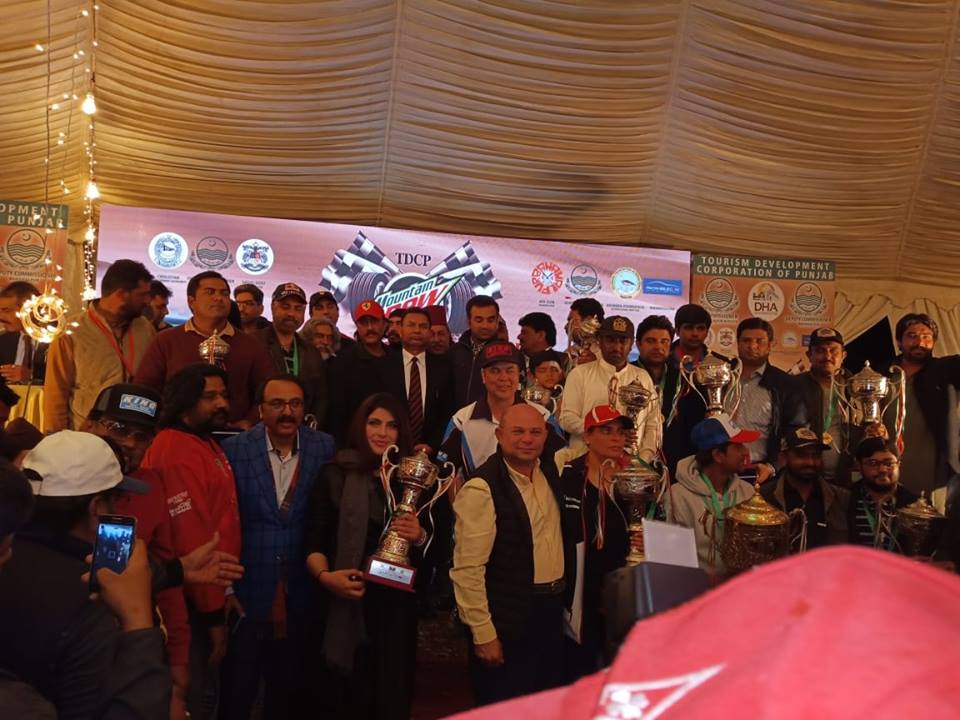 Here is the complete list of winners in the Prepared Category: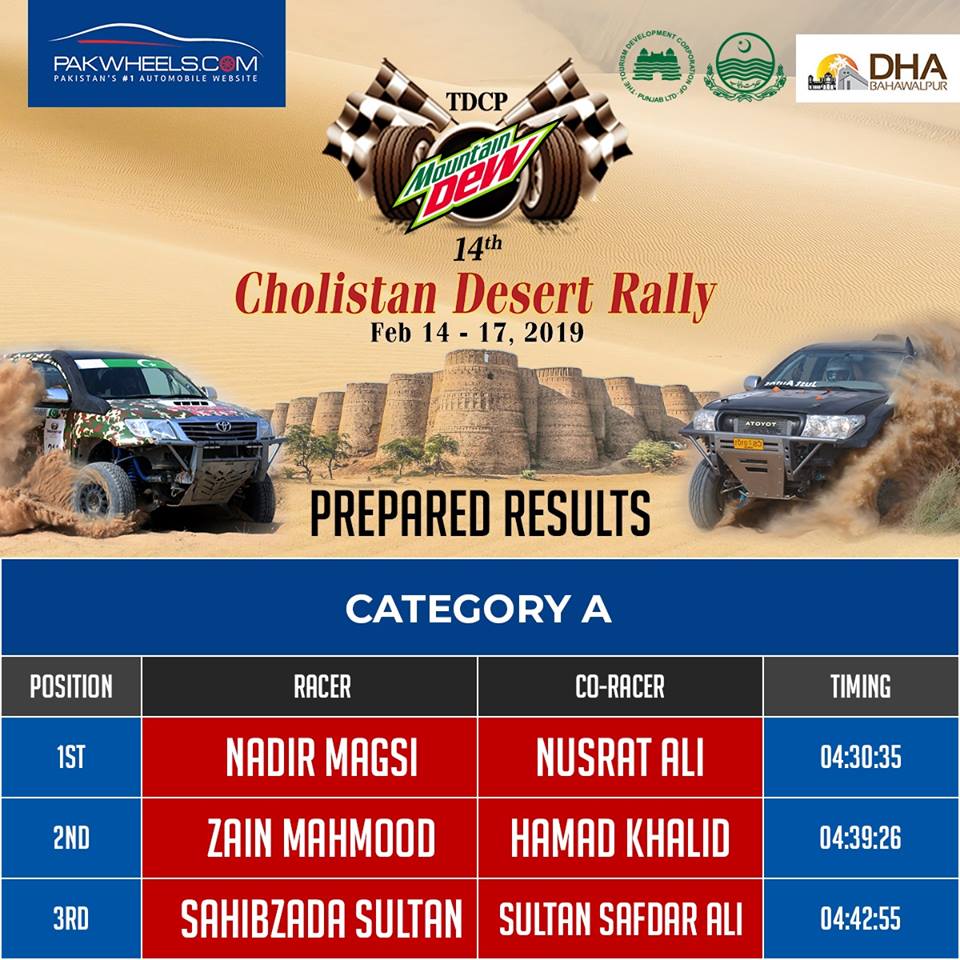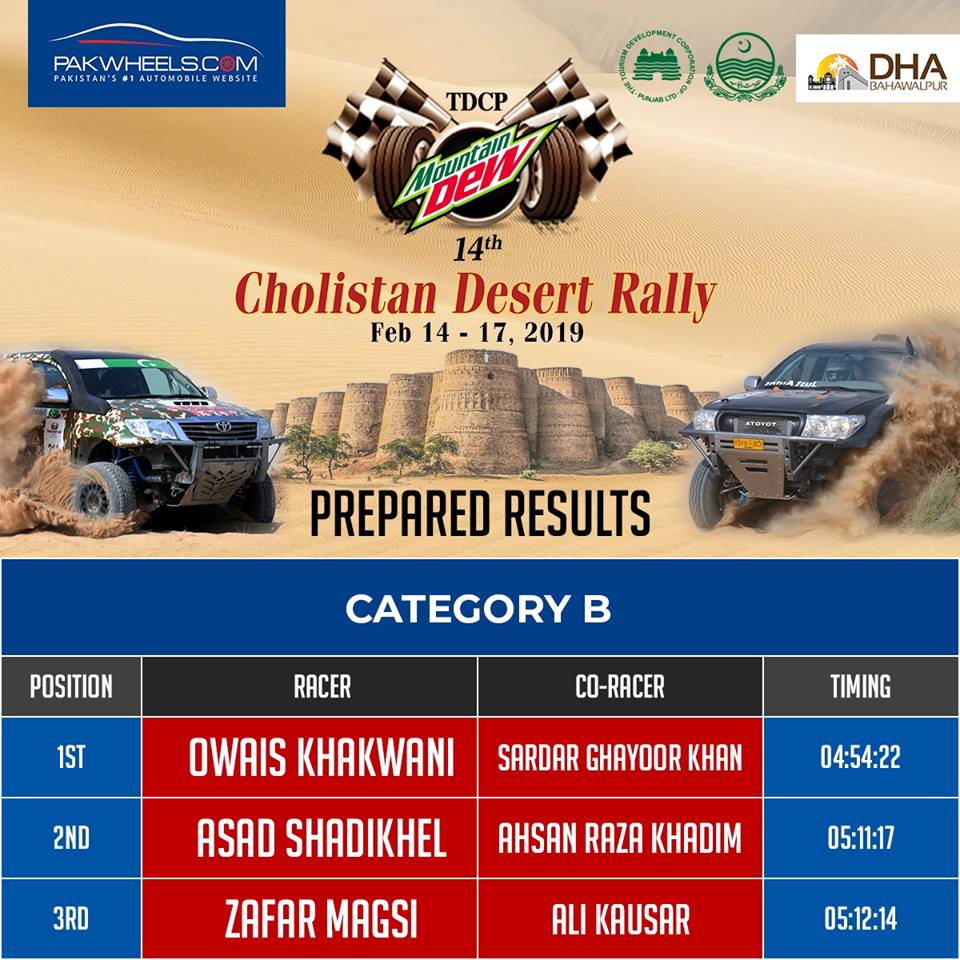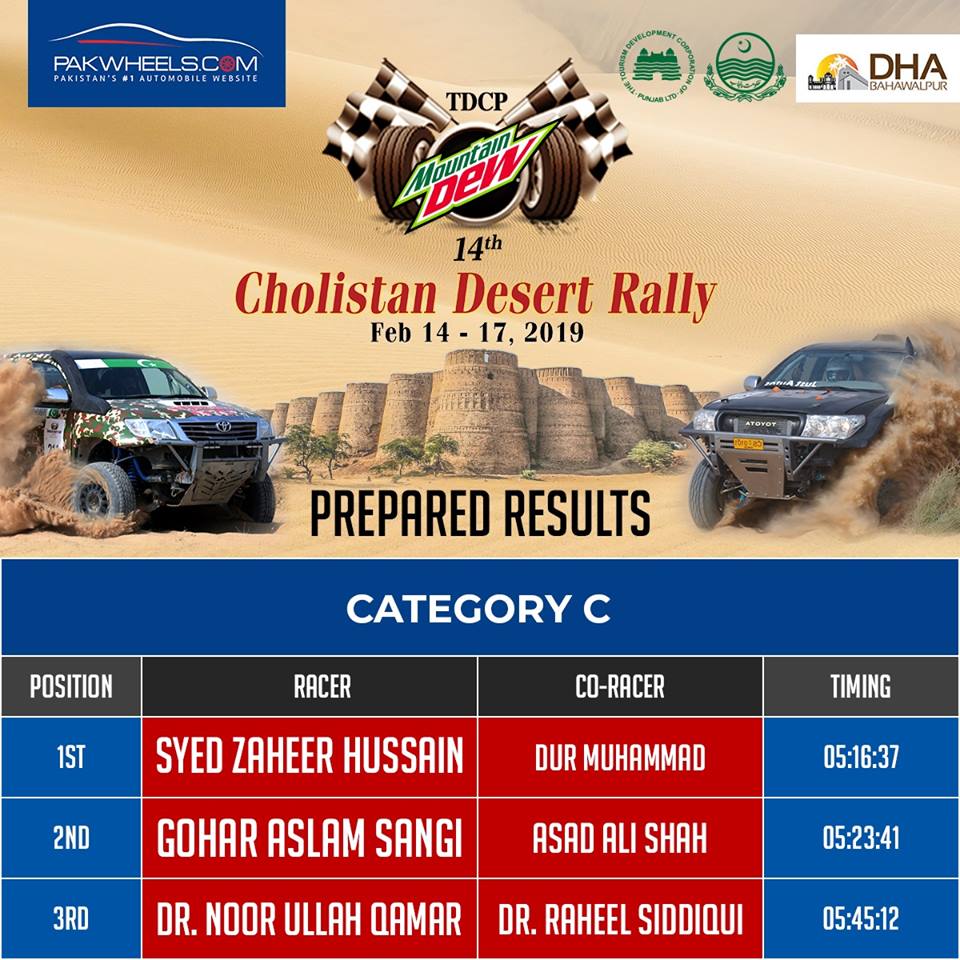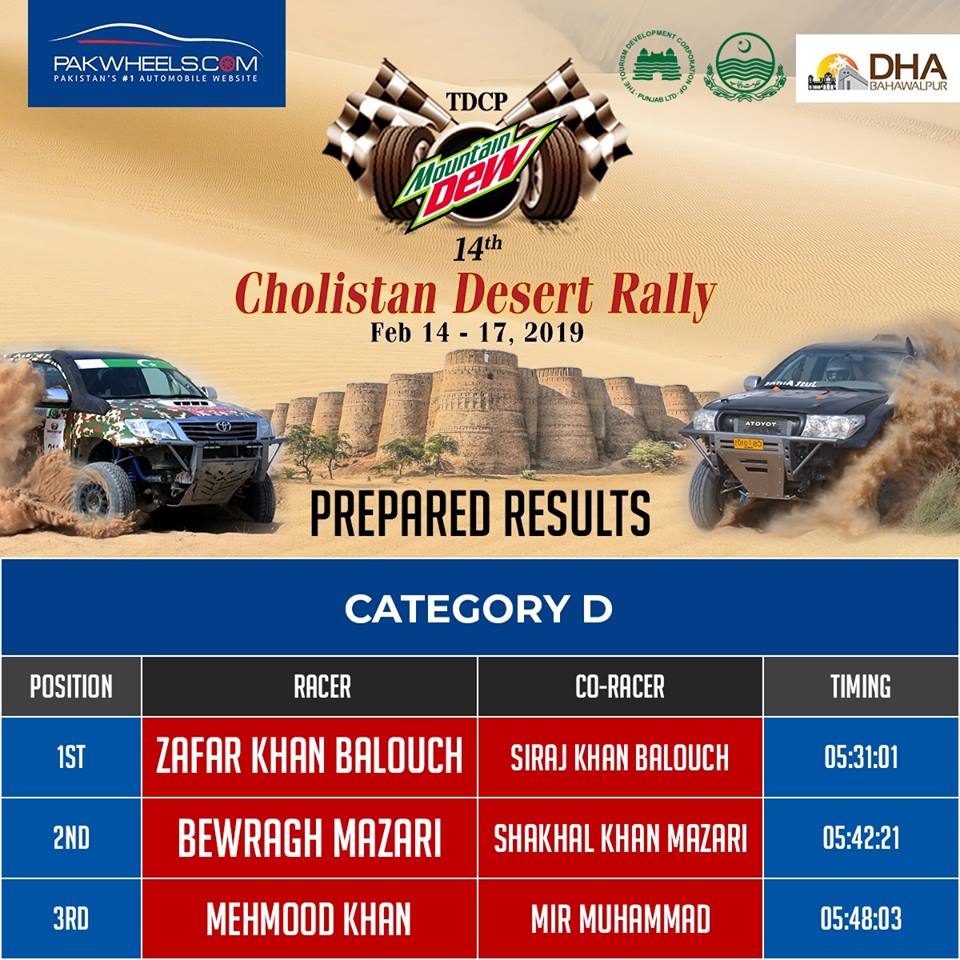 In the Stock category A, Mansoor Halim topped the chart and won the race by completing the track in just 02:44:29, whereas in Stock Category B, C and D, Sahibzada Bahadur, Syed Mobeen Ahmed and Umer Kanju topped the group by completing their respective tracks in 02:51:39, 03:04:09 and 03:20:o2. On the other hand, in women stock category, Tushna Patel won the race by completing the track in 01:41:27.
German ambassador to Pakistan, Hon. Martin Kobler along with Raja Yassir, Minister for Higher Education and Tourism, Government of Punjab, inaugurated the finale.
See the results: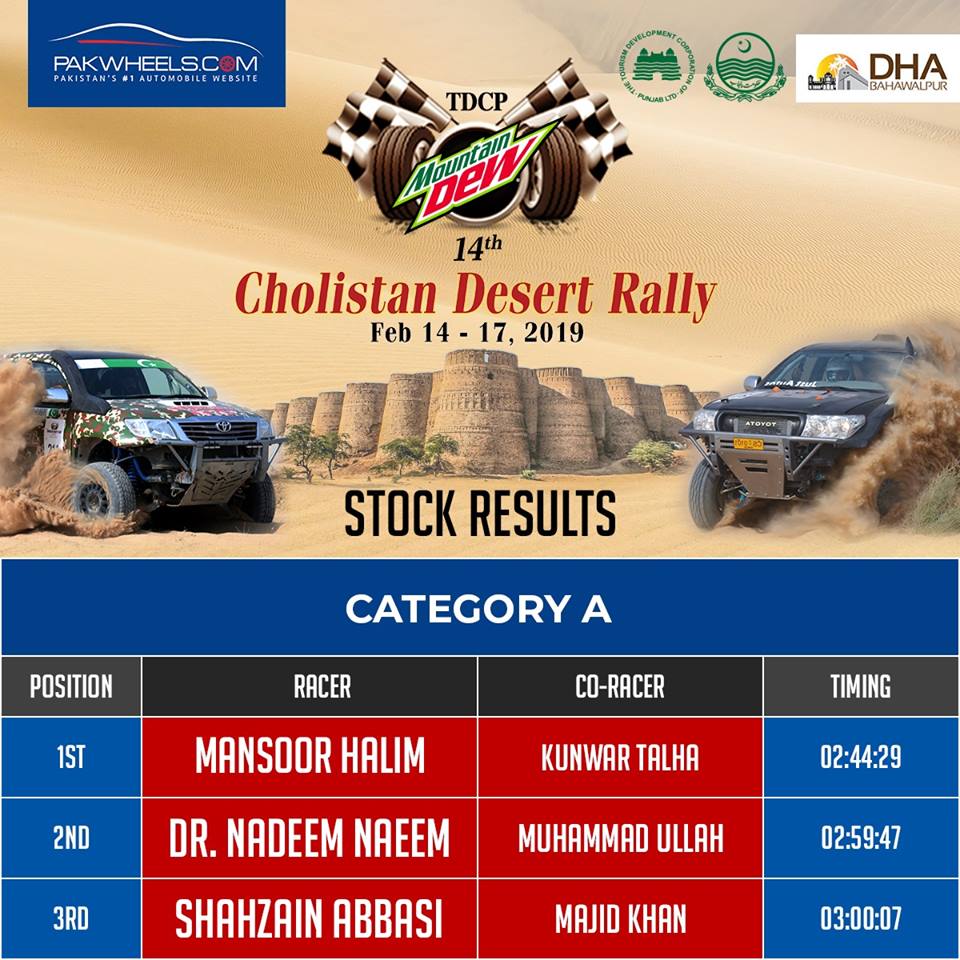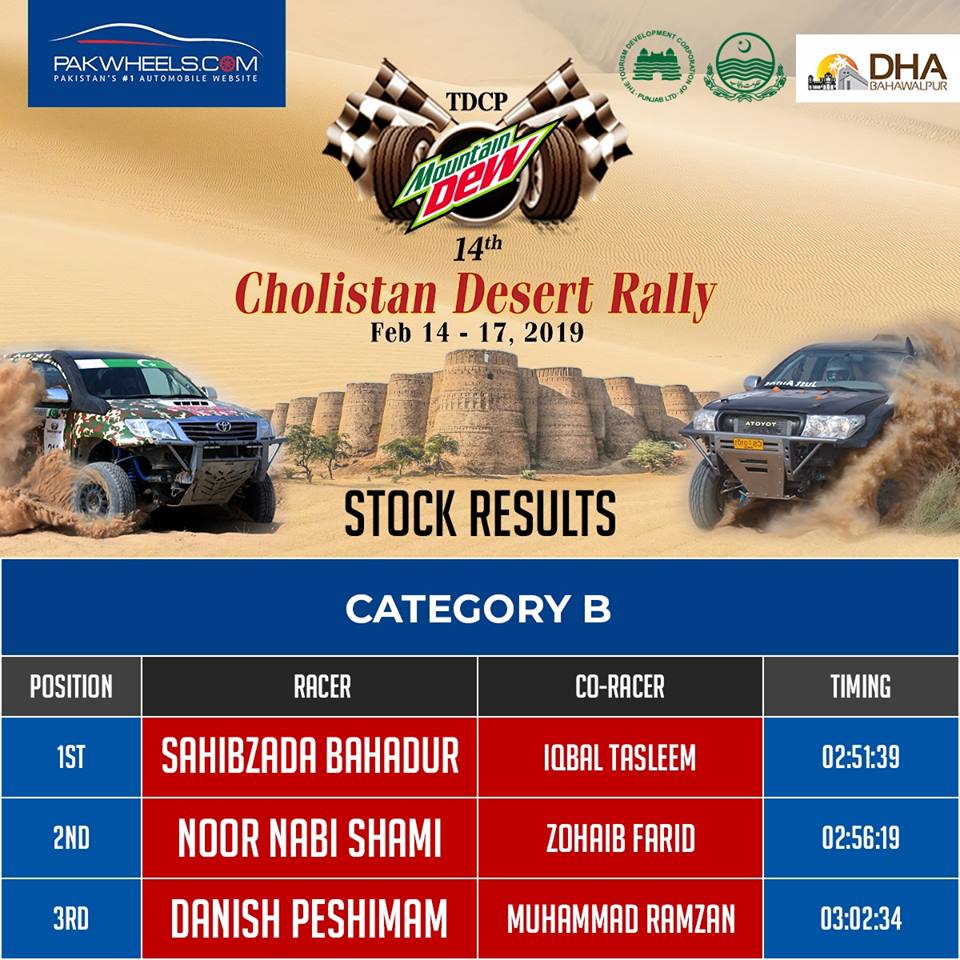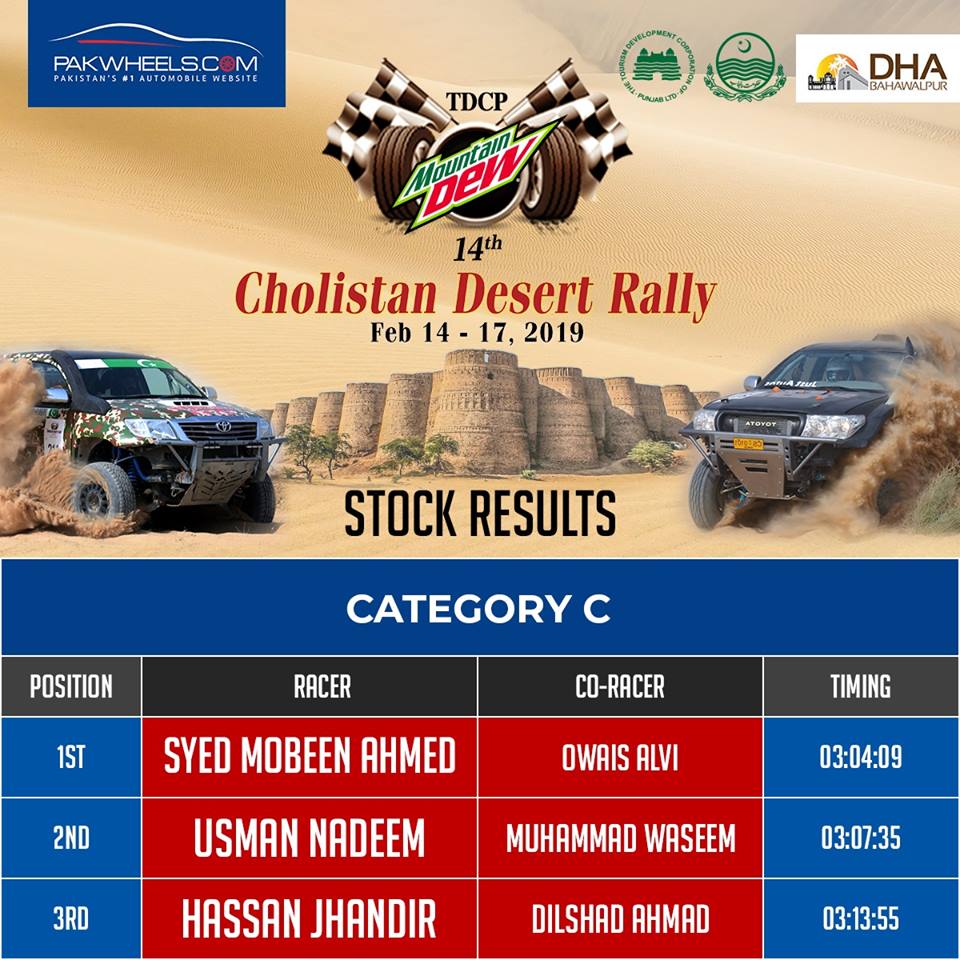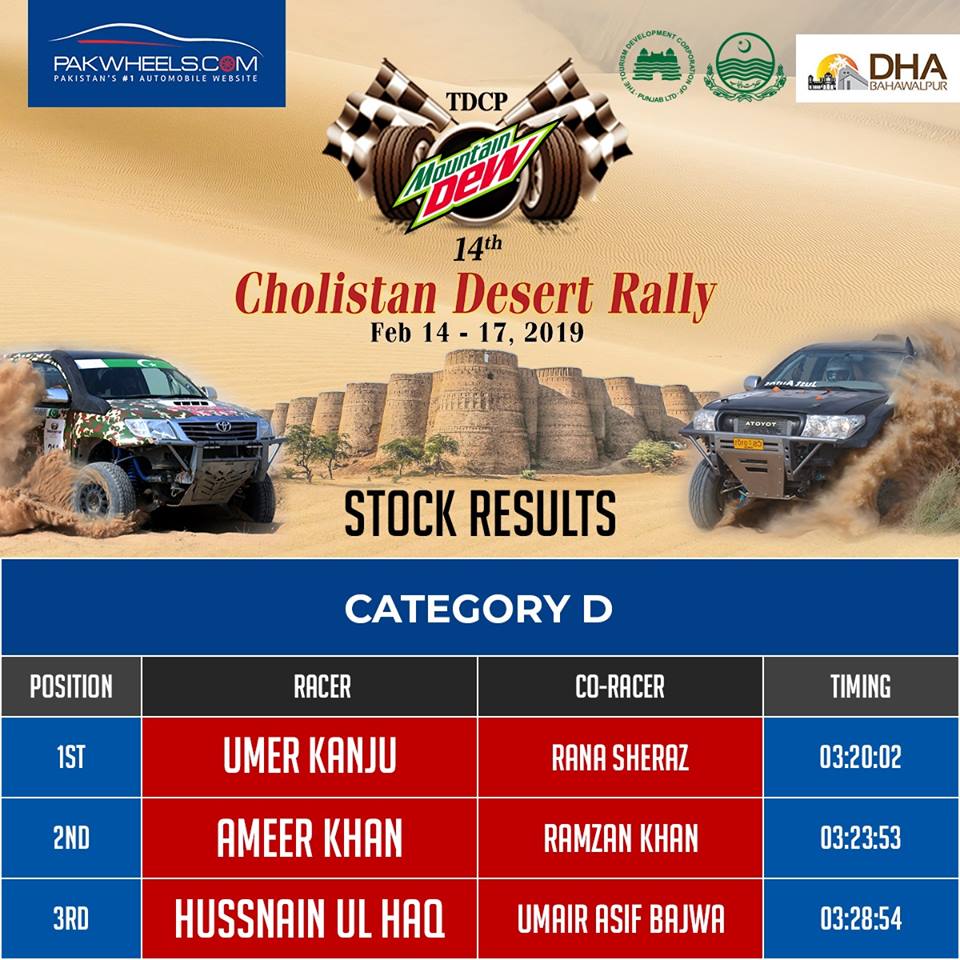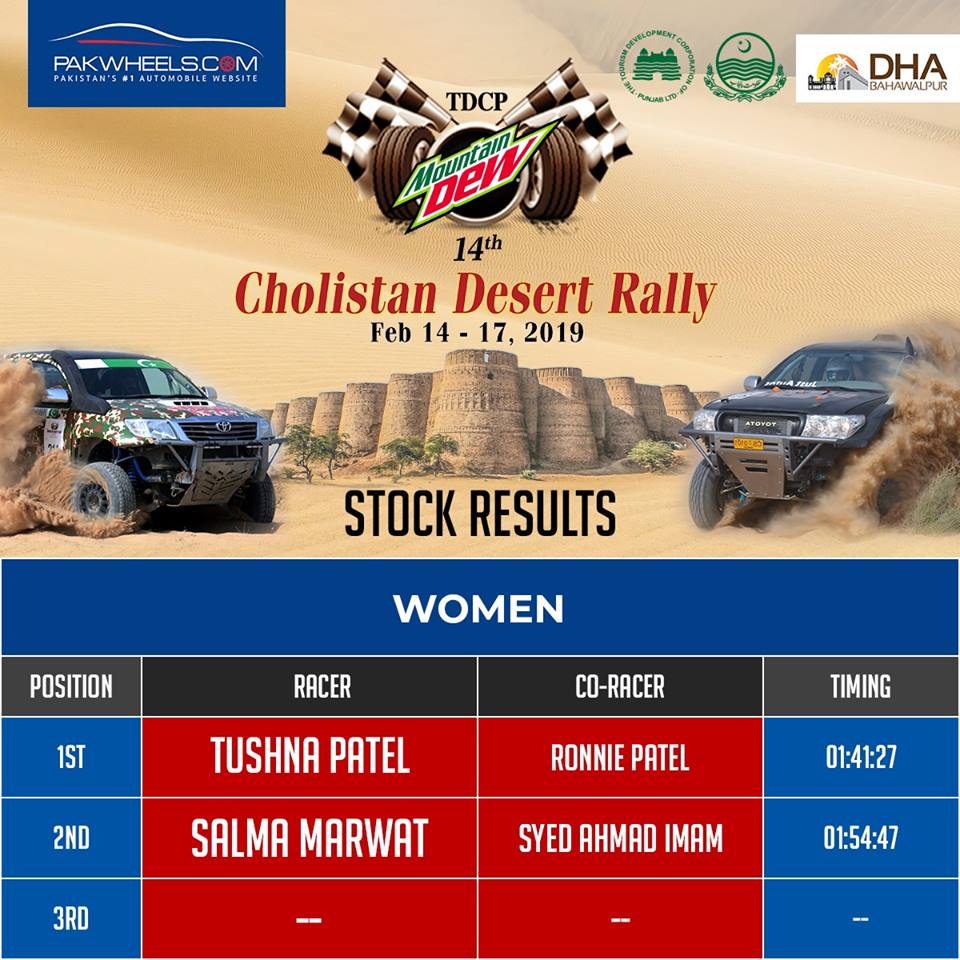 *These results have been taken from RASE website.
In collaboration with Mountain Dew, Tourism Development Corporation of Punjab (TDCP) organised an adrenaline-pumping 14th Cholistan rally 2019 from 14th Feb to 17th Feb 2019. It is Pakistan's biggest jeep rally which attracts thousands of visitors including families from all over the country.
This rally covered three districts of Punjab, including Rahim Yar Khan, Bahawalnagar, and Bahawalpur. What makes this rally significant is that veteran racers participate in it. Over 100 jeeps, including jeeps of race veterans Mir Nadir Ali Khan Magsi and Sahibzada Sultan Muhammad Ali and others, participated in the rally. This rally's 1st round lasted for 220 km, while its 2nd round was of 245 km.
While speaking with PakWheels.com, Fayyaz Ahmad, Manager Events of TDCP particularly highlighted the fact that in addition to being a jeep rally, this is a premier event for south Punjab's indigenous culture promotion. He particularly mentioned that Nachi goat, which is only found in the Cholistan, is a must-see.
Events like these project a positive and softer image of Pakistan abroad and bring to light the true beauty of south Punjab's landscape to Pakistanis. While promoting tourism, these events also enhance the livelihood of the locals. Cholistan Jeep Rally started back in 2005 and has since grown in leaps and bounds. The 14th Cholistan Jeep Rally was unlike any other event of its type as prize money worth Rs.5 million was distributed among the winners. In addition, attendees were entertained with fireworks.
Stay tuned to PakWheels.com for exclusive pictures of the event.