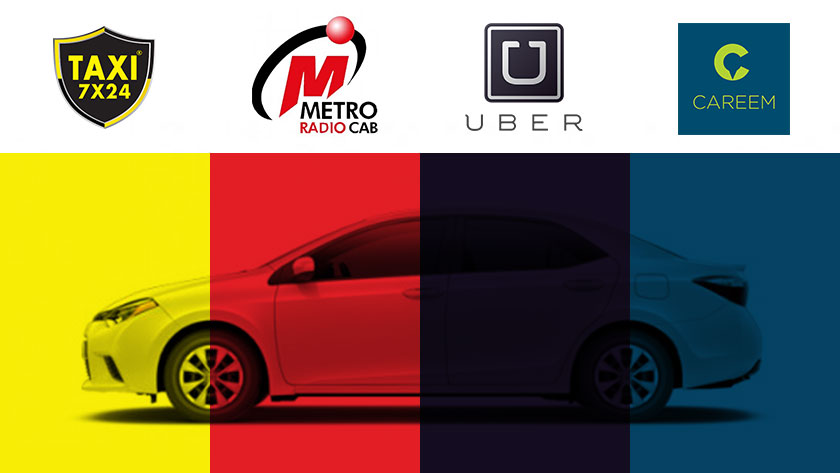 New Mobile Based Taxi Services In Pakistan: I Took Their Apps For A Test Drive!
Since last year, we have been introduced to a couple of new local and international taxi services. With Uber and A-Taxi both enjoying a successful launch in Lahore, taxi culture finally looks certain for us. So how do these services stack up against each other? In this article I will compare the four largest and most successful cab services available as of now i.e. Uber, Careem, A-Taxi and Metro Cab.
Metro Cab and A-Taxi follow a much conventional business model since they own their cars and have full-time employees driving their cabs. In addition to this, their cars are painted with the company's logo, they are branded cars. While on the other hand Uber and Careem follow a newer business model, anyone with an eligible car and driving license can apply for a test to become a partner driver, meaning, they have a much larger fleet and their cars are not painted in fluorescent paint like the conventional cabs.
So, First Up: 'Which of them has the most cities covered?'
Metro Cab is present in four cities of Pakistan: Karachi, Lahore, Islamabad and Multan, making it the most widely available taxi service in Pakistan. It is followed by Careem which launched in 2015 and has quickly managed to offer rides in Karachi, Lahore and Islamabad. The two new entrants Uber and A-Taxi currently offer rides only in Lahore.
Winner: Metro Cab
'Which one of them has the best app?'
All four taxi companies offer smartphone apps to make calling a cab easier however, not all of them work as advertised. I tested all the apps on my android smartphone and I will outline their pros and cons individually below.
First up: Careem
As soon as I launched the Careem app for the first time, I was asked to register. Signing up for Careem is pretty straight forward; all it asked me to fill in was my name, phone number, and email. The one-time password (OTP) was sent to my number in a matter of seconds. Careem's app interface is top notch, and it had the most features than any of the other three apps. Careem app allowed me to either ride now or to schedule my ride for a later date or time, and it was as snappy as Uber's app to lock my pick-up/drop-off locations. It instantly gave me fare estimates for both economy (hatchback) and business (sedan) classes. Guide the captain feature is something Uber still has to offer, it allows you to guide the chauffeur to your destination instead of predefining a drop-off location on the map, which can be extremely useful if your destination doesn't show on the map. In addition to this, Careem app clearly showed how fare is calculated, and you can easily add your credit card to your account for a wallet-less ride. In a nutshell, Careem app turned out to be the best amongst the competition.
Recommended Reading: A Tribute To A Single Mother – Pakistan's First Female Cab Driver, Zahida Kazmi
Next up: A Taxi
The inconveniences with A-Taxi's app began even before I installed the app. For some weird reason, A-Taxi's app is not called A-Taxi instead it's named 'Taxi 7X24'. Which made searching for it impossible for me on the app stores. Once installed, it first asked me to register for an account. The account registration was simple in itself, but after I had filled in the registration form, it required me to enter a one-time password (OTP), which the app said would be sent as an SMS. It wasn't something new for me since all the other apps I tested also asked me to enter the OTP which I usually receive in under 1-minute. However, A-Taxi app took an hour to send that OTP to me after which I was ready to go. A-Taxi's app interface is a mixed affair, at first sight, it looks much better than the Metro Cab app since its interface is well aligned, however, searching for a location made the app sluggish. There is an option of fare calculator which showed me multiple routes but failed to give me a fare estimate which was again weird. So if you want to call an A-Taxi, my suggestion would be to call them on their UAN: 042 111-961-961 instead of downloading and fiddling with their weird app because it will get you nowhere.
Next: Uber
As you launch the Uber app for the first time you are greeted with a splash screen asking you to register. The registration process seems pretty straight forward on the first look since it only requires you to enter your name, email, mobile number and password, which by the way you can skip if you choose to register using your Google+ or Facebook account. However, on the second step of registration, Uber asks you to key in your credit card number to move forward, this step can be tricky for people who either don't have a credit card or don't want to share their credit card information. As soon as you have keyed in your credit card information, you are ready to go. Uber app was the snappiest of all the four apps that I tested, it is the simplest to use and was fastest to lock in my pickup/drop-off location and to give me a fare estimate.
Also Read: Recalling The Cars Of 1993 Yellow Cabs Scheme In Pakistan – How Many Do You Remember?
Finally: Metro Cab
Metro Cab, which is by far the oldest and most widely covered Taxi service of our comparison, surprisingly has the worst app. It's the only app out of the four which does not ask for registration when you launch the app for the first time. Instead, it prompts you to register when you confirm the request. Searching for a location takes ages to process and once processing is done it mostly failed to lock onto my location, which forced me to locate the metro cab pin manually. The interface of the app is highly fragmented, and it was the only app which crashed during my testing, there is no tab which shows the fare and the app don't ask you to select a drop-off location; hence there is also no option for you to get a fare estimate. So, like with the A-Taxi's app, I would suggest you call their UAN: 111-222-787 instead of wasting your time with the app.
Winner: Careem
'Which one has the quickest response time?'
Response time is extremely important for a taxi service since no one likes to wait for the cab to arrive. So for a fair comparison, I locked the same location (Expo Centre Lahore) on both Uber and Careem app for a response time estimate, both apps gave me an estimated response time of under 5 minutes. To get an estimated response time of both A-Taxi and Metro Cab, I ringed their helplines since their apps are good for almost nothing. The representative at A-Taxi told me that I would need to wait for at least 10 minutes for my cab to arrive which is more than twice of what Uber and Careem showed me. A-Taxi's response time didn't feel at all high when I called Metro Cab who told me to wait for 25 minutes for my taxi to arrive at my location. The extremely quick response time of Uber and Careem illustrates the major advantage of using a much open business model which I discussed earlier.
Winner: Uber and Careem
Finally, the most important of all: 'Which one is the cheapest?'
To attain a fair estimate of the total costs, I will keep my pick-up (Expo Centre Lahore) and drop-off (Allama Iqbal International Airport) locations constant. As per Google Maps the distance between the two locations is 25km and by keeping in view the traffic conditions it would take around 52minutes.
The tariffs of the 4 cab companies and their respective fare estimates are as follows:
First 15 km: PKR 750
After 15 km: PKR 30/km
Fare estimate for our journey: 750+(30*10) = PKR 1050
A-Taxi (Honda City and Suzuki Swift):
First 3 km: PKR 120
After 3 km: PKR 35/km
Fare estimate for our journey: 120+(35*22) = PKR 890
Careem (Economy i.e. Toyota Vitz and Suzuki Swift etc.):
Start rate: PKR 100
Minimum fare: 200 (Ride now) 350 (Later)
Per km: PKR 18
Fare estimate for our journey: 100+(18*25) = PKR 550
Careem (Business i.e., Honda Civic, Honda City and Toyota Corolla etc.):
Start rate: PKR 150
Minimum Fare: 250 (Ride Now) 500 (Later)
Per km: PKR 25
Fare estimate for our journey: 150+(25*25) = PKR 775
Uber (Honda City, Honda Civic, Toyota Corolla, Suzuki Swift and Toyota Vitz etc.):
Base rate: PKR 100
Per km: PKR 13.67
Per minute: PKR 3.7
Fare estimate for our journey: 100+(13.67*25) + (3.7*52) = PKR 634
In terms of fare estimates Uber and Careem are again clear winners. So its safe to say that if you are in Lahore with a credit card and you need a cab your best option is Uber as it is the cheapest, has an easy to use app, has a quick response time plus you have a chance of getting a sedan in the fare of Careem's hatchback (which also currently sends Business sedans such as Corolla since economy fleet doesn't have many small cars as of yet). However if you do not have a credit card you can simply hail a Careem and be on your way. Moreover, if you are either in Islamabad or Karachi, your best option is Careem and if you are stuck in Multan you would need to resort to a Metro Cab.
 All Cab Services Rates Comparison: