Now You Can Apply for License or Pay Challan Online with these Apps
Punjab Information Technology Board (PITB) is striving to make the lives of the citizens easier by launching online services in the pandemic situation. Chief Minister Usman Buzdar inaugurated an online driving license schedule system and online challan payment system. Annually, these systems have the capacity to facilitate a total of 3.5 million citizens of Lahore. By the next month, these systems will be in nine divisions across Punjab. Eventually, these systems will be in 36 districts as well, and, in total, around 14 million citizens of Punjab will be facilitated. These online systems have been launched under the motto of stay home stay safe.
Online Payment of Traffic Challan
Under the new system, citizens who will be issued a traffic challan will be able to pay that challan through four different modes of payment. These include mobile banking, web banking, ATMs and over the counter (OTC) of any bank branch. This flexibility is provided in the Covid-19 pandemic situation where people are encouraged to practice social distancing. Still, the traffic wardens will issue you a challan for traffic-rules violations and will confiscate your documents.  You can use the 18-digit PSID to deposit the fine using the above-mentioned payment methods. This City Traffic Police Lahore and PITB worked together to digitize the system of Traffic Challan.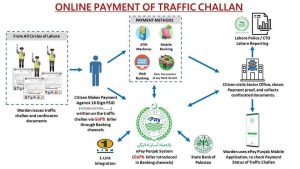 After showing the proof of payment, you can get your confiscated documents back from the sector office. Wardens will use the ePay Punjab's mobile application to check the status of the challan. All of the systems are connected to the ePay Punjab's system which is in turn connected to the 1-Link integration and the State Bank of Pakistan. There are many benefits related to this online system. These include ease of challan payment, ease of retrieval of confiscated documents, integration with courts, controls, and checks under a centralized system, transparent and secure payment and data collection analysis.
License Application Process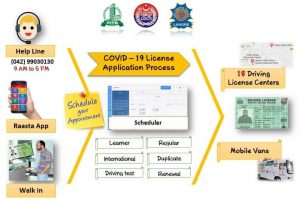 Under the new system to apply for a license, you can book an appointment in three ways: calling the helpline from 9 am to 5 pm, use the Raasta App, or just walk in the license office. While scheduling an appointment mention what type of license you are booking an appointment for. These include learner, regular, international, duplicate, or renewal. After this, you can go to a driving license center or a mobile van issuing licenses. You can also book your excise appointment using the Excise Appointment Punjab mobile application. This appointment can be used for the transfer, registration, and token tax payment of your car.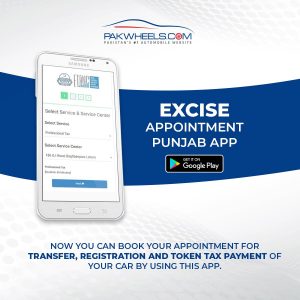 Stay tuned for more news-related content like this one and drop your thoughts in the comments section below.
Recommended for you: Pakistan To Get Euro 5 Petrol As PSO Starts Its Import