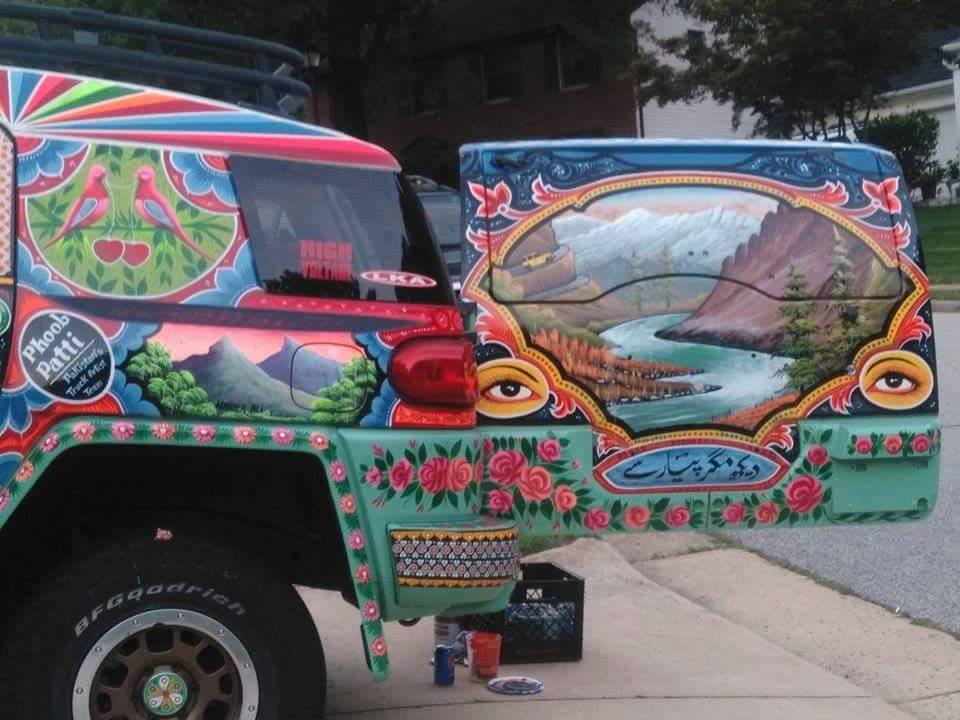 Pakistani Truck Artist Haider Ali Bring An FJ Cruiser To Life With Truck Art In Washington
Pakistan truck art is our recognition across the world, like Japanese Dekotora, our's is an open book with poetry and portraits. Beautifully decorated trucks and other vehicles make the roads more colorful, especially at night on highways, driving right behind a decorated truck illuminated with shining sticker and lights, makes the efforts put into decorating the gigantic art piece worth seeing. Truck drivers though call them their brides and hence, the decorations.
The truck art is globally recognized but a country marred by terror and corruption, Pakistanis waste no opportunity to bring up the real and softer image of Pakistan to project the true beauty. In the recent images shared by the American general consulate on their Facebook page, the marvelous art piece shows Toyota FJ Cruiser draped in Pakistan's truck art. Undertaking the masculine features of the car, the décor has been done accordingly.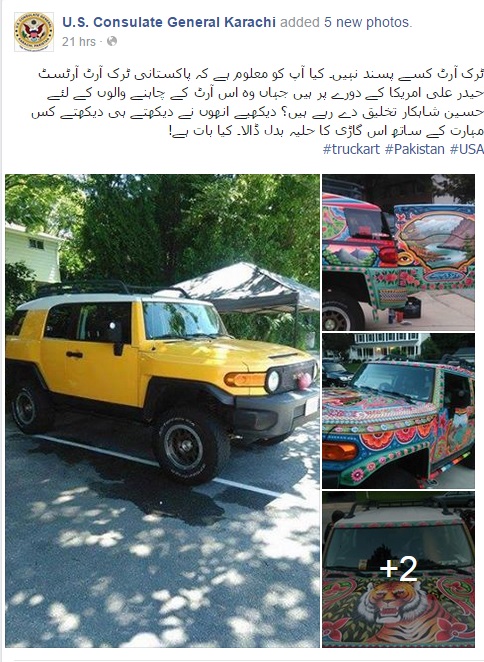 Designed with vibrant colors and scenery, Haider Ali's piece of art is certainly going to grab some attention on the roads of Washington, USA. This isn't the first time that Haider Ali has traveled across the oceans to spread his art on the lands far away from Pakistan. He has been to Turkey, England, USA and India as an ambassador of peace, art and love from Pakistan. The artist and his forefathers have been in this business for more than 60 years by now.
This is not the first time that Pakistan's truck art and the artist made their mark through their mobile artifacts, truck artists have made their trips to the whole world transforming vehicles and much more into art pieces with the vibrant colors and interestingly funny yet deeply meaningful quotes.
Also seen on the streets of Melbourne was a tram transformed into Karachi's famous W11 route bus and was much appreciated by the passengers as well as those watching it running on the road. Pakistan's truck art has done much to show the lighter and much softer side of the beautiful nation to the world. Paksitan's truck art culture is a way to show the world how this nation takes even boring and dull things and changes them into artifacts something worth seeing.