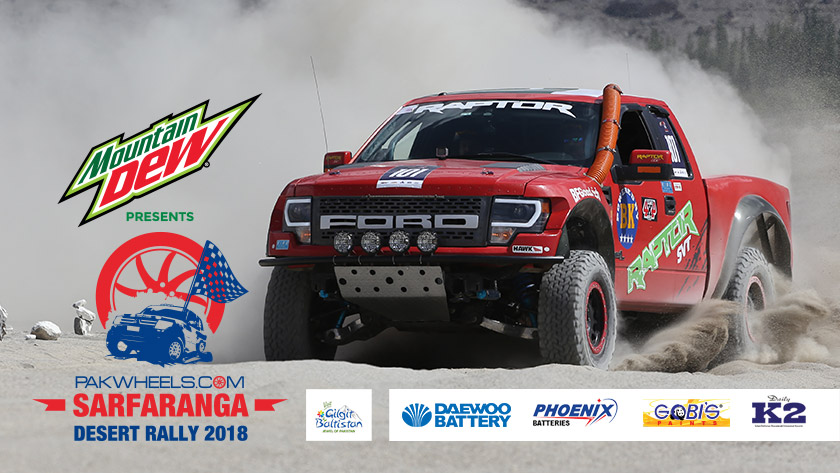 The eventful PakWheels.com 2nd Sarfaranga desert rally concludes
PakWheels.com 2nd Sarfaranga Desert Rally 2018 concludes on 2nd September 2018. The three-day event was a mix of passionate rally drivers and challenging tracks, and the local competitions and festivals like Zakh Competition, Polo Match, Mayphang, Cultural Night made it even more entertaining for the visitors.
The best thing about PakWheels.com Sarfaranga Desert Rally is that it fosters unity and brings people from all five provinces together for a thrilling race experience.
The beauty of racing on Sarfaranga track is that it provides the combination of different terrains like Soft sand, Gravel and Water Crossing.
With 80 rally drivers and 12 bikers participating in the event, there was a grand Opening Ceremony which was followed by amazing performances by local school kids and a local band. At the ceremony, Senior Minister Haji Akbar Taban, Chief Secretary Gilgit-Baltistan Babar Hayat Tarrar, Commissioner Baltistan Muhammad Hamza Salik, Secretary Tourism Gilgit-Baltistan Mr. Waqar Ali Khan and Chairman PakWheels.com Suneel Sarfraz Munj were present.
Day 1: Vehicles Inspection
On 31st August 2018, after the technical inspection and registration of rally cars, there was a which was a Polo Match, which was followed by participants meet and greet.
Day 2 – Qualifying Round
1st September 2018 was a Qualifying round day, where the rally drivers competed on 3 KM long track. After the Qualifying round results, to make the event more exciting for the participants and the visitors, TDGB organized a Zakh Competition, which is Baltistan's local wild water rafting activity, followed by Mayphang – a festival of fire and a Cultural Night.
Day 3 – Final Race Day
Winning the Qualifying round, Babar Khan led the Race day on 2nd September 2018. He won in the Prepared Category A, completing the 40kms track in 25 minutes and 05.95 seconds, and Fawad Zakori in the Stock Category A, completing the track in 28 minutes and 48.78 seconds, and Salma Khan in Women Category, completing the track in 37 minutes and 43.06 seconds.
After the final jeep race, the Dirt Bike Race took place, with 12 participants from Bikers & Hikers Group, which was led by Zaigham Chouhan. The bikers compete on the same 40kms long track, and M.Shafiq came out as a winner.
Winners by Category:
Prepared Category: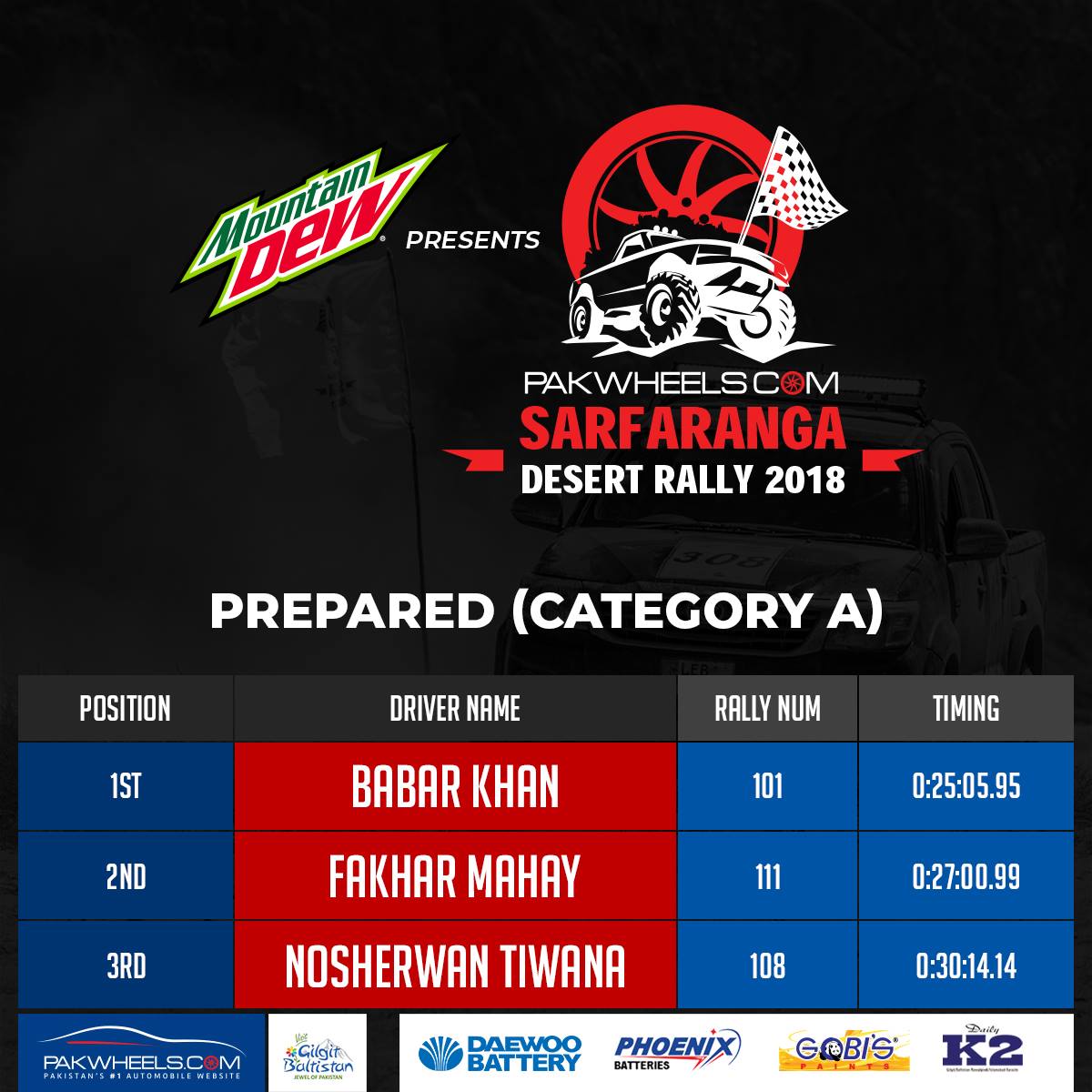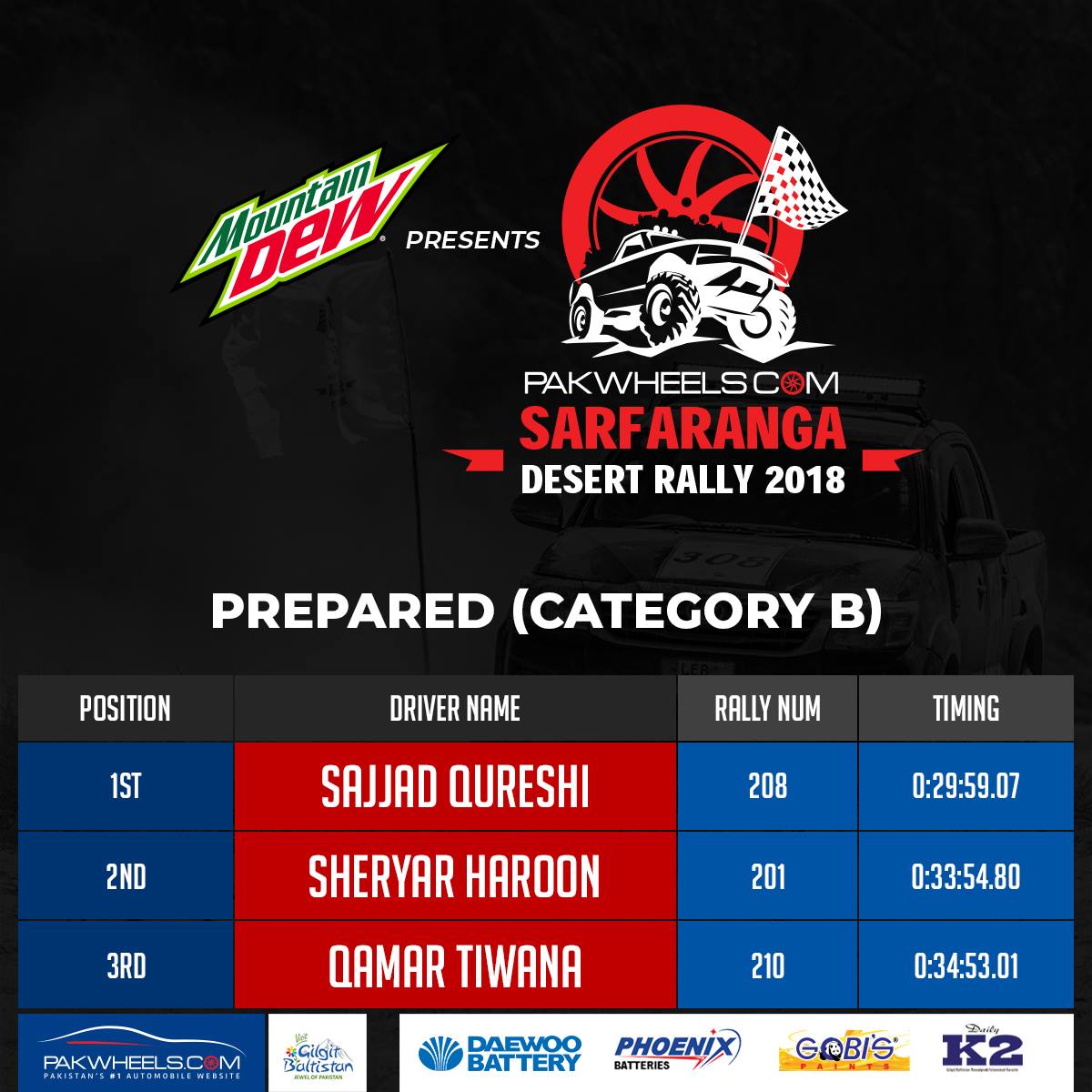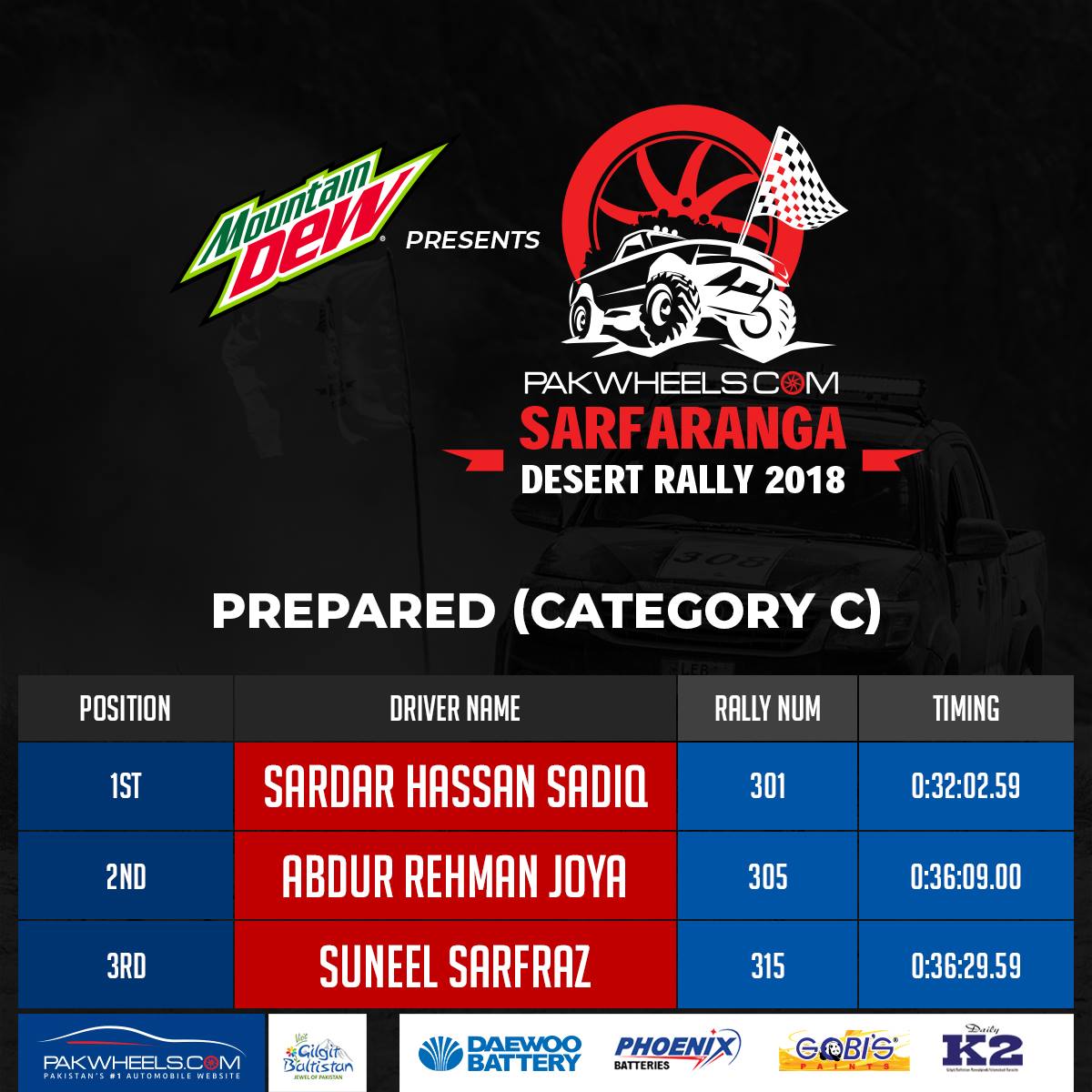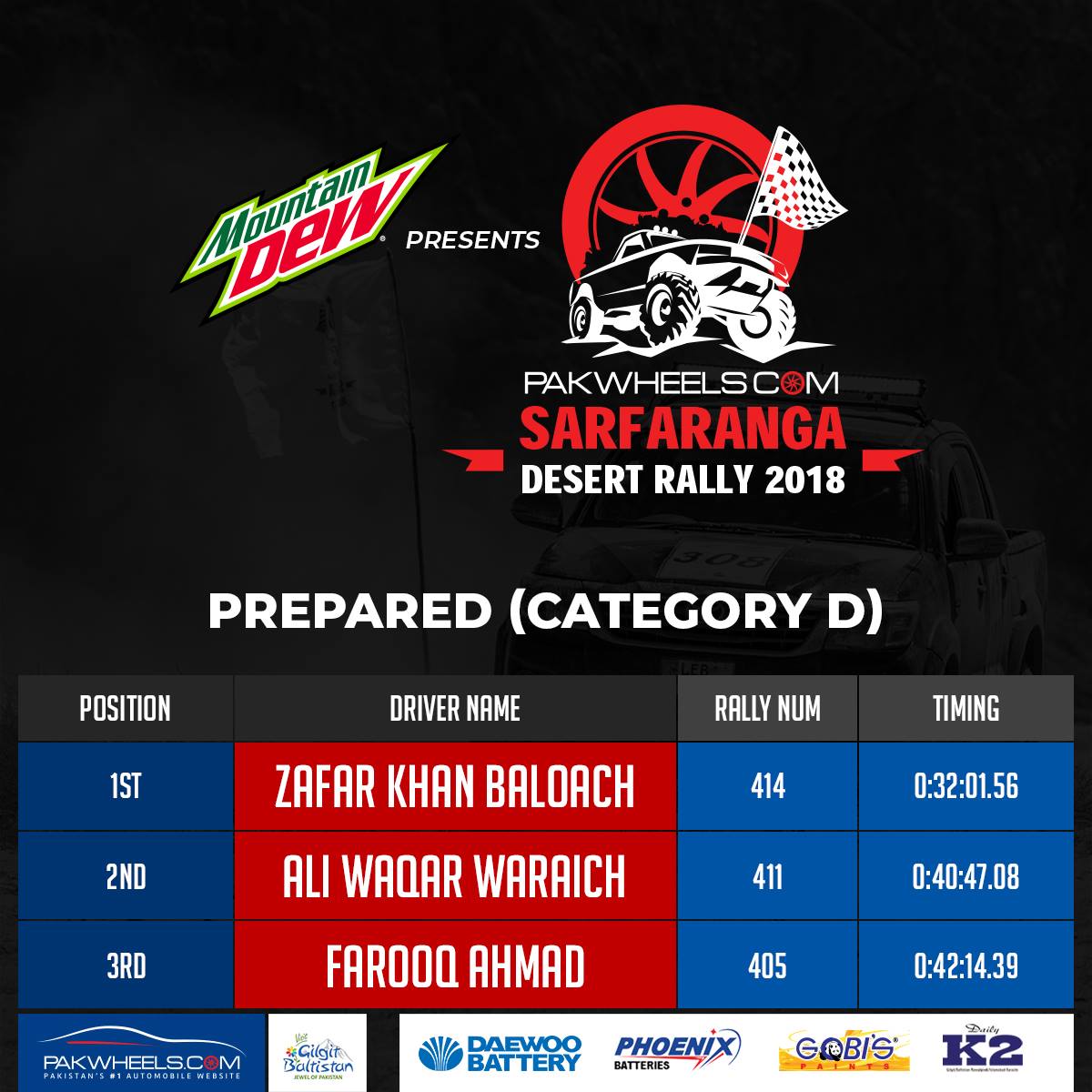 Stock Category: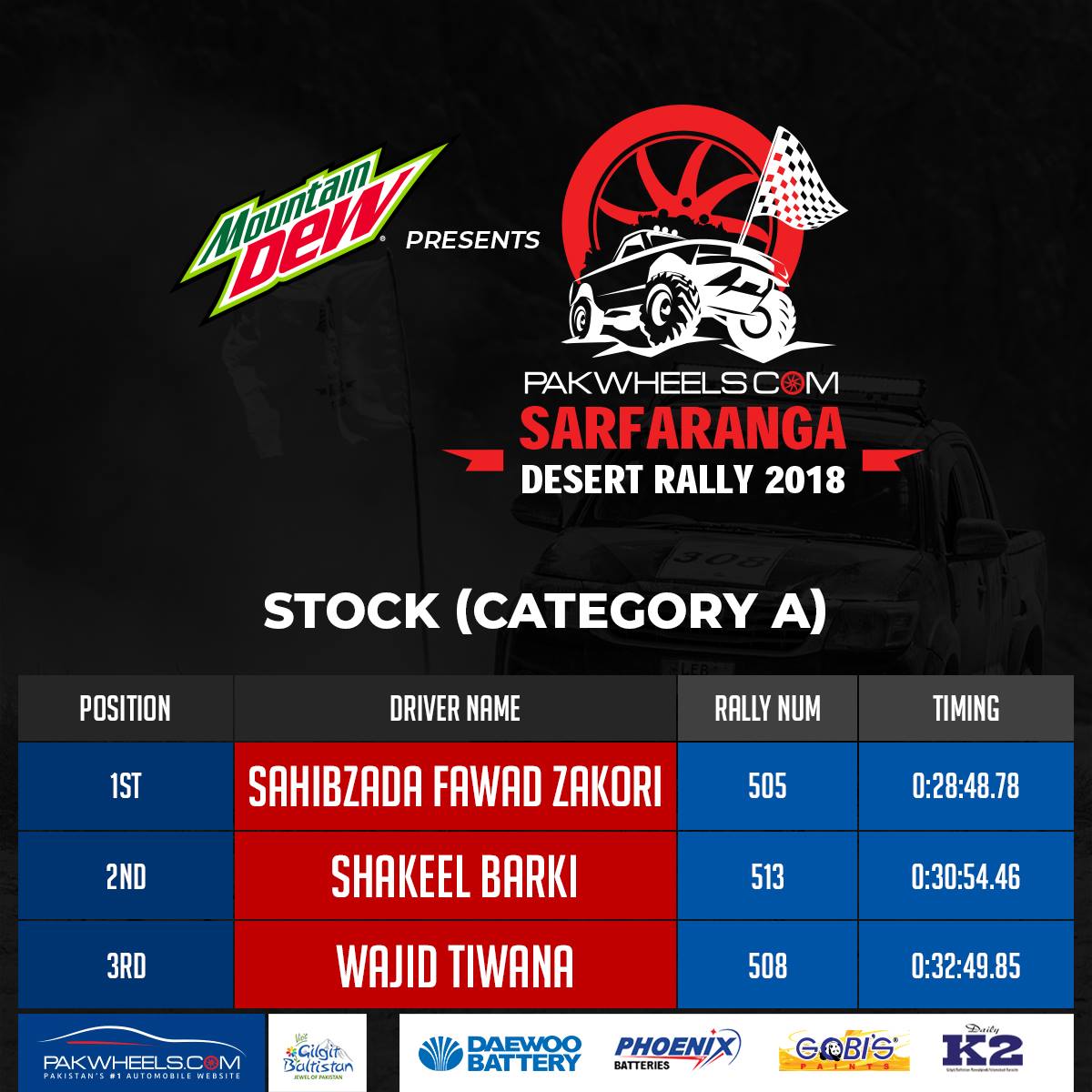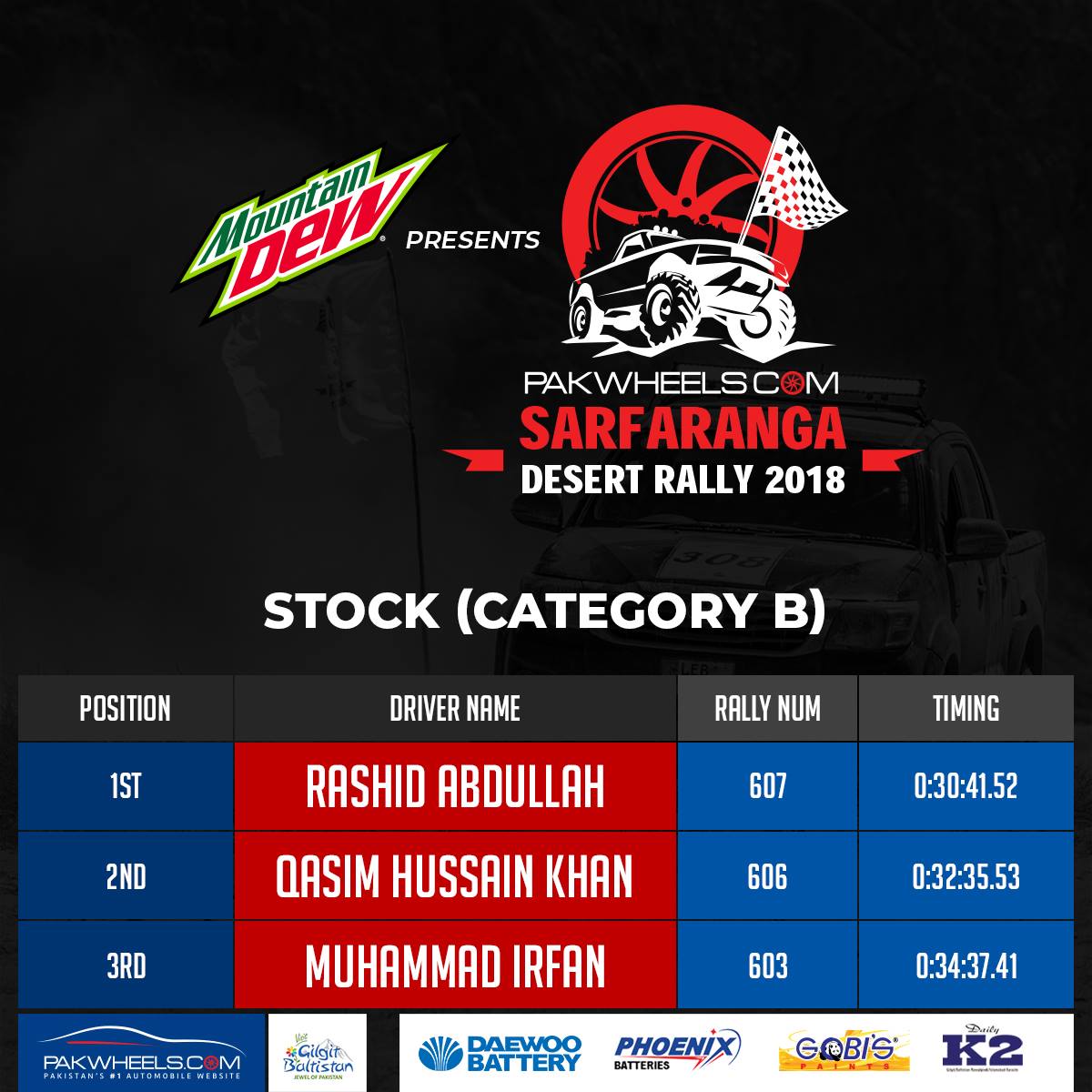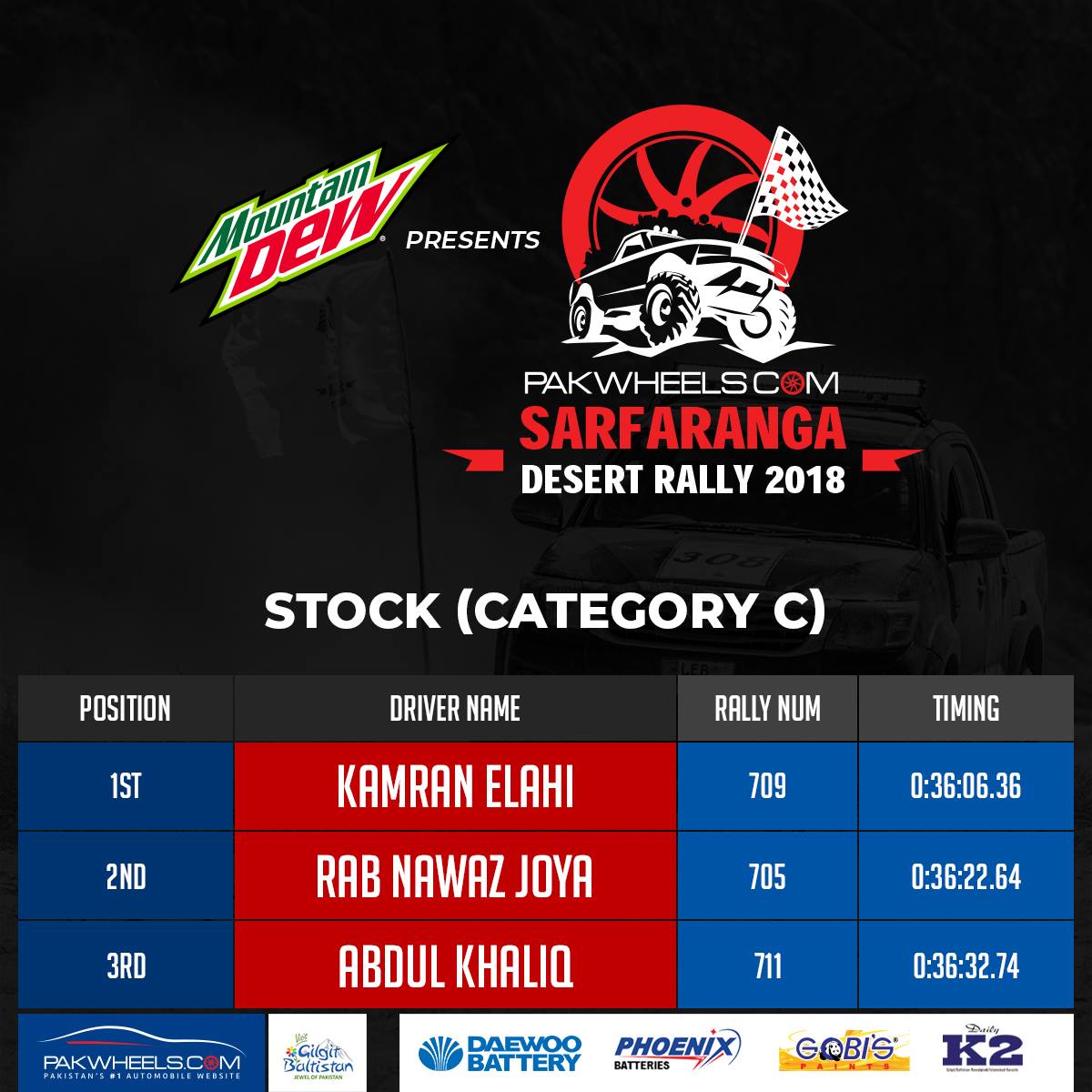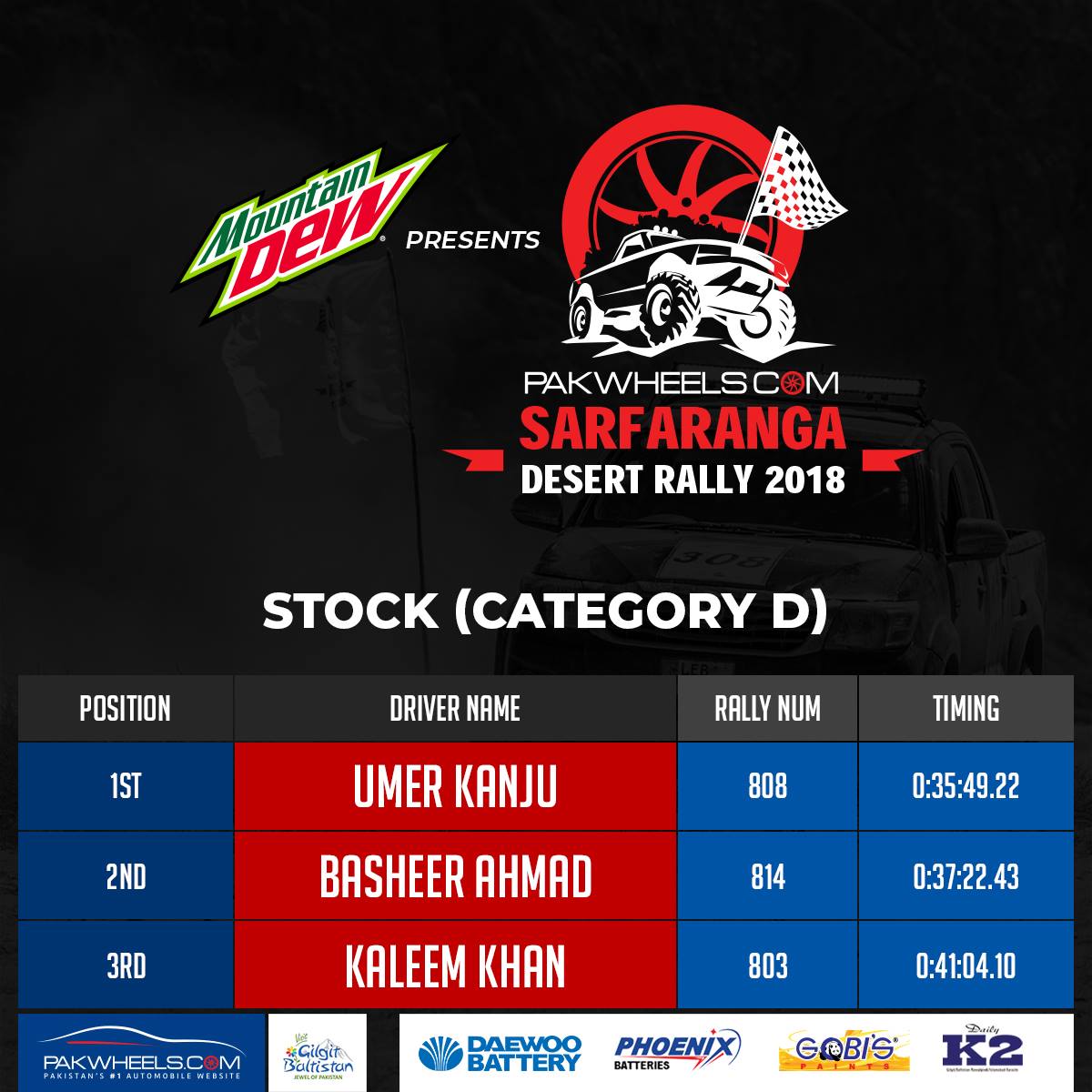 Women Category: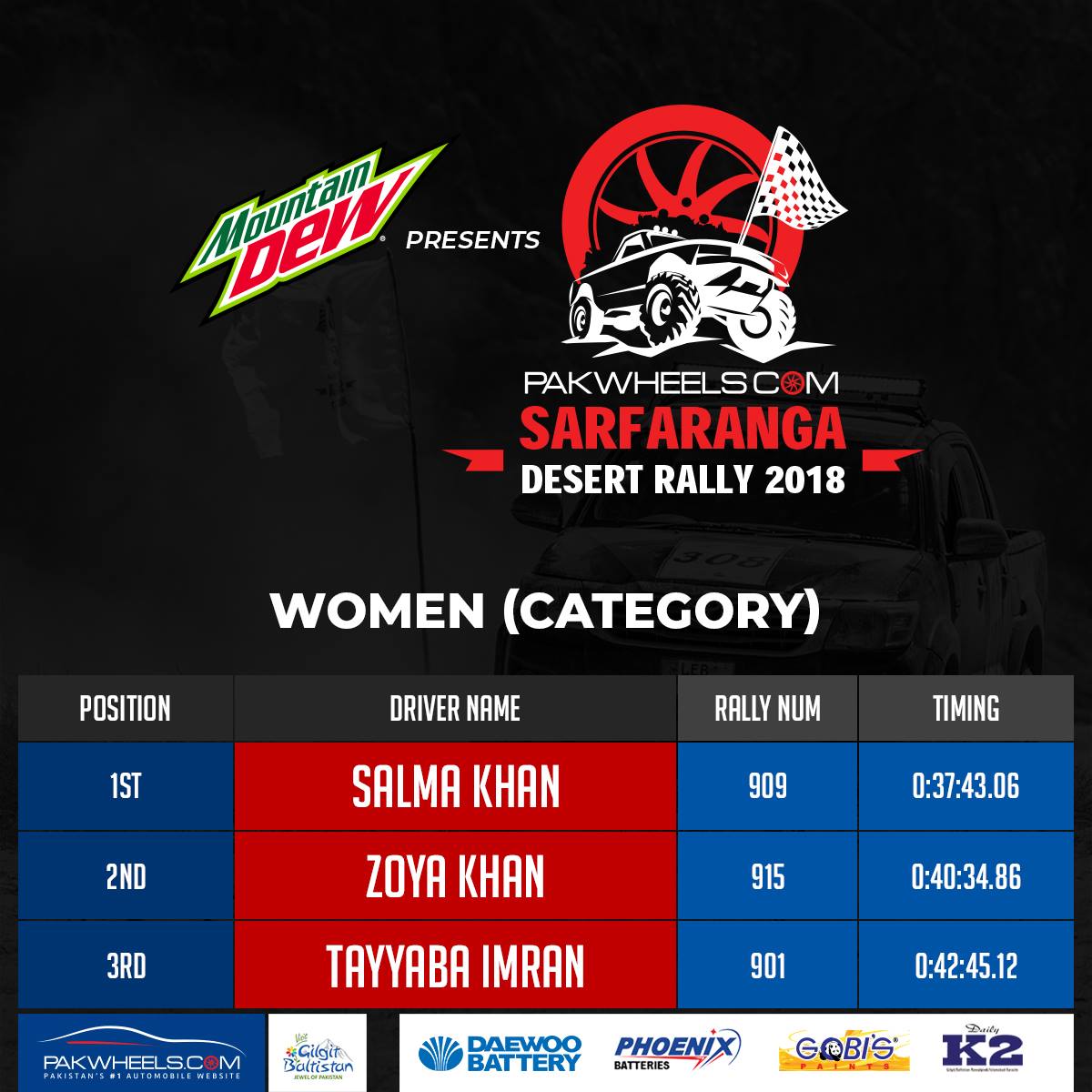 And the event concluded with a Closing Ceremony at Serena Hotel, where the winners were given prizes. At the ceremony, Chief Minister Gilgit-Baltistan Hafiz Hafeez-ur-Rehman was present as the Chief Guest, along with the Chief Secretary Gilgit-Baltistan, Senior Ministers, DIG G.B., Commander 62-Brigade.
This time around, there were 10 categories in total, out of which 4 were for Prepared Category, 4 for the Stock category, 1 Women category, and 1 Bike category. Moreover, a French tourist – Tim also participated in the rally.
It is notable that in 2 years time, PakWheels.com Sarfaranga Desert Rally has become the second biggest motorsport event after the Cholistan Desert Jeep Rally. It is one of the most organized rally events that draws thousands of national and international visitors to witness the intense rally on the terrains of Sarfaranga near Skardu, Gilgit Baltistan.
PakWheels.com extends special thanks to Mountain Dew, Gobis Paints, Phoenix Batteries, and Daewoo Battery for their participation as our esteemed event sponsors.
Special thanks to CM Gilgit Baltistan – Hafiz Hafeez Ur Rehman and the whole team of Tourism Development Gilgit-Baltistan, without their support the event wouldn't have achieved excellence and we hope to organize such great motorsport events all across the country.